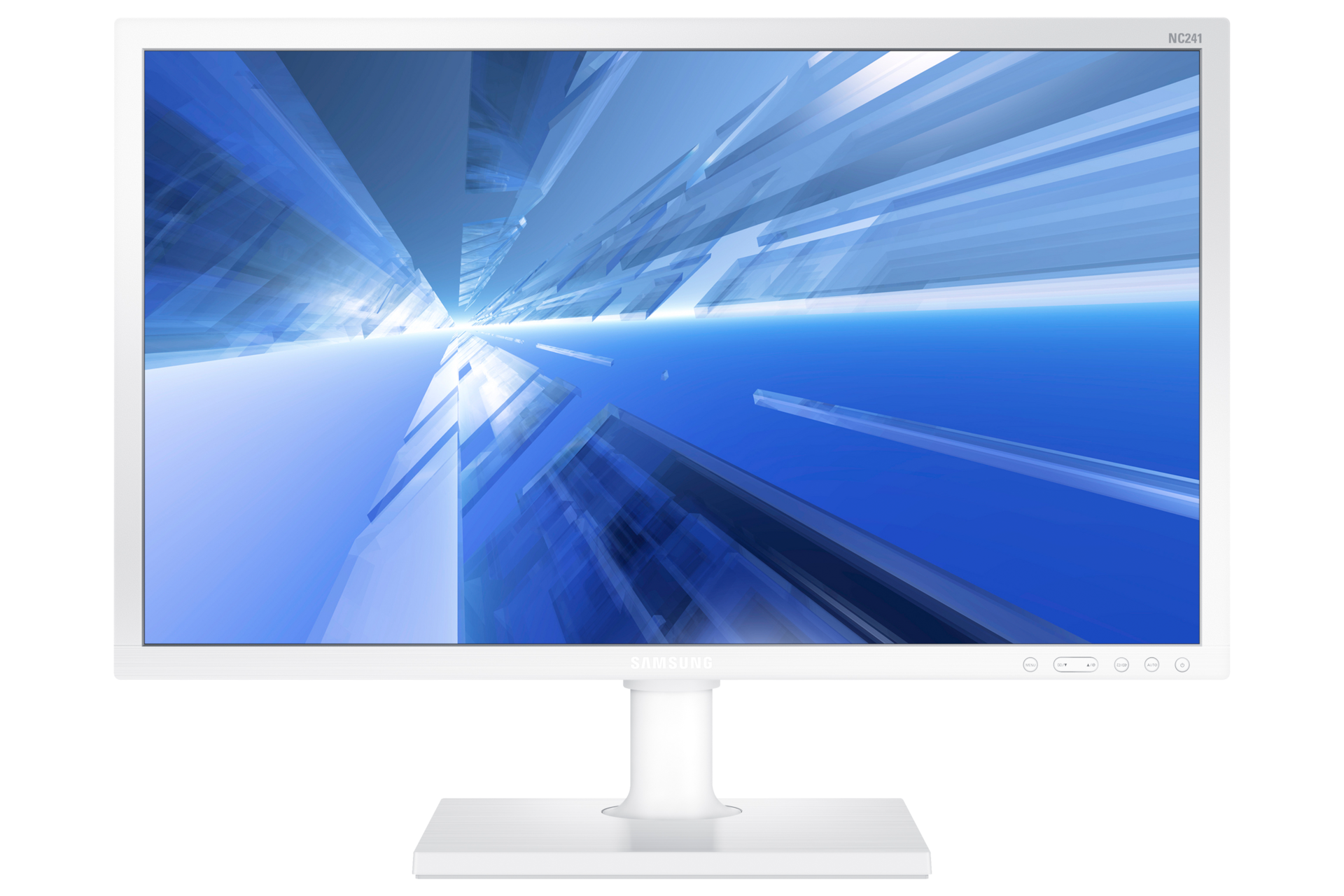 LF24NEBHBNW/EN
Zero Client Display NC Series 24" (D)
Enjoy greater efficiency with connected Cloud displays
Streamline your IT operation with enhanced connectivity
Enjoy a safer and more cost-effective computer network
Offer a Clean, Productive Workspace with Streamlined Cloud Displays
The all-in-one form factor promotes a clean working environment and easier deployment, with fewer cables and simplified assembly. Cloud displays have multiple ports to connect directly to most peripherals.
Enable Safer, More Cost-effective Network Computing
Corporate computing has evolved, and companies that want to upgrade face several challenges. Regulatory requirements in many industries demand a higher level of data security. The cost of maintaining and supporting a large collection of computing hardware can be prohibitive. Companies that want to retain good employees must provide flexible ways for them to be productive. Samsung NC241 Cloud Displays help businesses overcome these challenges. Data is stored only on the server, so it remains more secure. Cloud displays are typically less costly to purchase and maintain than conventional PCs. Cloud displays also provide convenient on-site access to virtualised desktops, so workers can access individual resources more easily. With a small footprint (just 0.05 square meters, or 82 square inches), these all-in-one zero client displays help save valuable office space. The displays include an embedded Teradici Gen2 chipset, with no external hard drive chipset.
Streamline IT Maintenance and Support
NC241 is a zero-client PC-over-IP® (PCoIP®) cloud display that is designed to connect easily and effectively with a company's data centre. Because software is centrally deployed, IT infrastructure can be easier and less time-consuming to manage. Most maintenance and support tasks, including software upgrades and patches, can be performed centrally and simultaneously, with no need to visit employees' desks.
PCoIP
NC241 Cloud Displays also use PCoIP technology, a remote workstation protocol. PCoIP is the result of a breakthrough in display compression for connecting desktops over existing standard IP networks. The PCoIP technology compresses, encrypts and encodes the entire computing experience at the data centre. It then transmits it "pixels only" across any standard IP network to stateless PCoIP zero clients. With this system, data never leaves the data centre. The PCoIP technology is implemented in silicon for hardware accelerated performance, and in software in VMware® View™. PCoIP supports high resolution, full frame rate 3-D graphics, HD media, and multiple large displays. PCoIP also offers full USB peripheral connectivity and high-definition audio, all connected over a corporate LAN or WAN.
Ergonomic Design
The NC Series Cloud Display integrates a variety of ergonomic features to enhance working conditions and ensure comfortable use over long periods. Its Height Adjustable Stand (HAS) increases the monitor's height range by up to 130 mm, and its tilt-and-swivel settings can be adapted to suit every user's needs.
Specification
Performance

Processor

TERA2321

Memory

512 MB

Display

Screen Size

23.6" (16:9)

Brightness (Typical)

300 cd/m²

Colour Support

16.7 M

Contrast Ratio

1000:1

Panel Type

LED

Resolution

1920 x 1080

Response Time

5 ms

Viewing Angle (Horizontal/Vertical)

170 / 160 deg (CR ≥ 10) / 178 / 170 deg (CR ≥ 5)

Audio
Connectivity

Audio In

2

Audio Out

1

RGB In

D-Sub In

Video Out

DVI-I

Interface
General Feature
Design

Color

White

HAS(Height Adjustable Stand)

Yes

Pivot

Yes

Swivel

Yes

Power

Power Consumption

Max : 52 W, Typical : 28 W

Power Consumption (Stand-by)

Less than 1.1 W

Power Supply

100 - 240 V (50 / 60 Hz)

Type

Internal Adaptor

Dimension

Package Dimension (WxHxD)

626 x 400 x 195 mm

Set Dimension with Stand (WxHxD)

Max: 554.6 x 510.3 x 224 mm / Min: 554.6 x 380.3 x 224 mm

Set Dimension without Stand (WxHxD)

554.6 x 330.5 x 61.2 mm

Mechanical Specification
Weight

Package Weight

7.6 kg

Set Weight with Stand

6.1 kg

Accessory

Included

User Manual, Warranty Card, Quick Setup Guide, Power Cord

Security
Manual Download
Zero Client Display NC Series 24" (D) (LF24NEBHBNW/EN)
Manuals

29 Sep, 2016

User Manual ver 1.0

(ENGLISH)

29 Sep, 2016

Quick Guide ver 1.0

(KOREAN, ENGLISH, ARABIC, FRENCH, GERMAN, HUNGARIAN, ITALIAN, POLISH, PORTUGUESE, SPANISH, SWEDISH, TURKISH)

30 Nov, 2012

Quick Guide ver 1.0

(KOREAN, ENGLISH, ARABIC, CHINESE, CHINESE, FRENCH, GERMAN, HUNGARIAN, INDONESIAN, ITALIAN, JAPANESE, KAZAKH, POLISH, PORTUGUESE, RUSSIAN, SPANISH, SWEDISH, TURKISH, UKRAINIAN)

28 Nov, 2012

User Manual ver 1.0

(ENGLISH)

4 Dec, 2012

Device(Install) ver 1.0

(MULTI LANGUAGE)