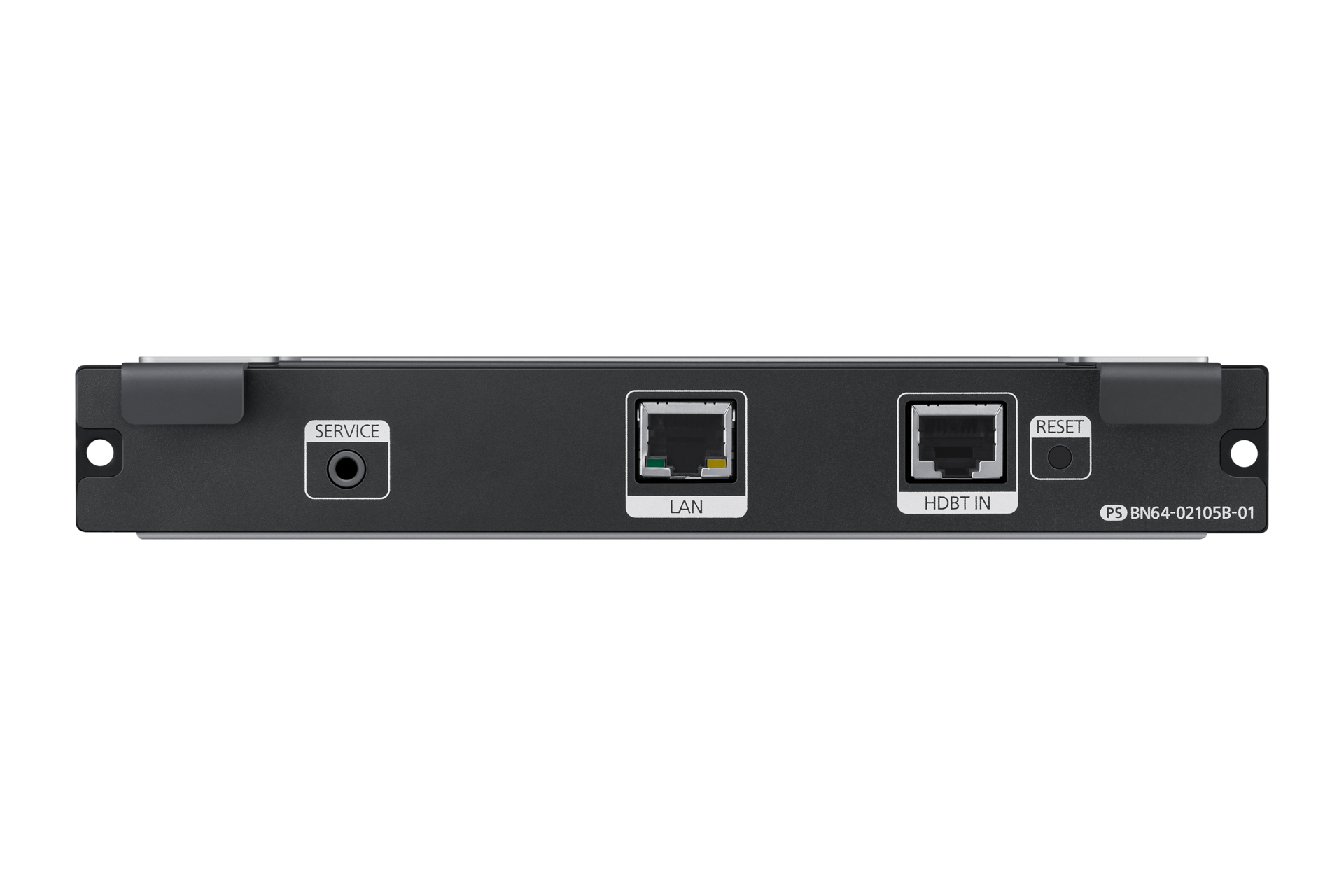 SBB-HRCA/EN
Plug-In-Module PIM-HDBT
Stream FHD content over long distances.
Connect easily using a single LAN cable.
Minimise the amount of cables you use.
A new integrated way to stream media with a single LAN cable
Samsung has combined two elements: Plug-in-Module (PIM), a slim, cable-less extension that enhances display functionality and HDBaseT (HDBT), connectivity technology that uses a single integrated LAN cable to transmit video, audio, remote control and Ethernet signals. Simply connect the LAN cable to the PIM that attaches to the back of Samsung SMART Signage and you're done. Samsung PIM-HDBT provides you with a unified connection between an FHD video source and remote display. The solution functions as a receiver and is compatible with other market-available HDBT TX transmitters.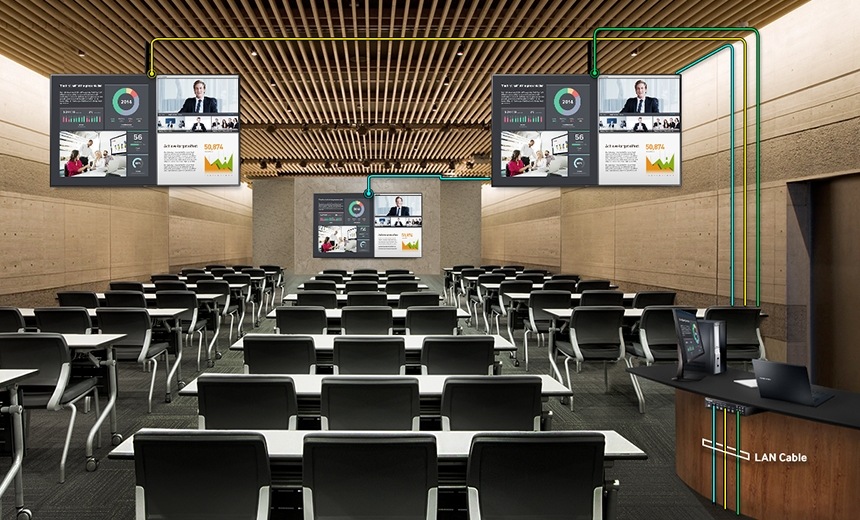 A no hassle, low cost way to stream media over long distances
Using Samsung PIM-HDBT, IT manager can stream FHD multimedia content to SMART signage in multiple conference rooms on different floors of a building simultaneously. Or, airport staff can replace bulky cables at a check in counter with a single cable for transmitting real-time flight updates to multiple displays in different locations cleanly and without clutter. In both cases, installation can be done swiftly and conveniently so operations can run smoothly. Samsung PIM-HDBT offers FHD media streaming over distances of up to 100m in real time with no data loss thanks to all-in-one media signal integration through a single LAN cable along with a compact PIM. This means, PIM-HDBT simplifies the setup by eliminating the need for additional cables, repeaters or amplifiers. The solution offers an elegant display environment at a lower cost.
Specification
Power

Power Consumption (On Mode)

10 kW

Dimension

Set Dimension (WxHxD)

200 x 175.6 x 34.4 mm

Package Dimension (WxHxD)

430 x 250 x 55 mm

Weight

Set Weight with Stand

1.2 kg

Package Weight

1.9 kg

Operation Conditions

Temperature

10 - 40 °C

Humidity

10 - 80%

Certain features with the Smart Hub may not be available without expressed consent regarding the collection and use of personal information. Content available through Smart Hub may vary among product categories, models and territories. Certain applications must be purchased and may not be available in all regions.
Manual Download
Plug-In-Module PIM-HDBT (SBB-HRCA/EN)
Manuals

30 Jun, 2014

Quick Guide ver 1.0

(KOREAN, ENGLISH, ARABIC, CHINESE, CHINESE, FRENCH, GERMAN, HUNGARIAN, INDONESIAN, ITALIAN, JAPANESE, KAZAKH, POLISH, PORTUGUESE, RUSSIAN, SPANISH, SWEDISH, TURKISH)

8 May, 2014

CE DoC ver 1.0

(ENGLISH)

19 Mar, 2014

User Manual ver 1.0

(ENGLISH)