WDS-A403E/EUS
11ac Access Point WEA403e
Enjoy the fastest Wi-Fi in high-density environments
Equipped for external antenna type access
AirEqualizer allocates equal airtime to multiple devices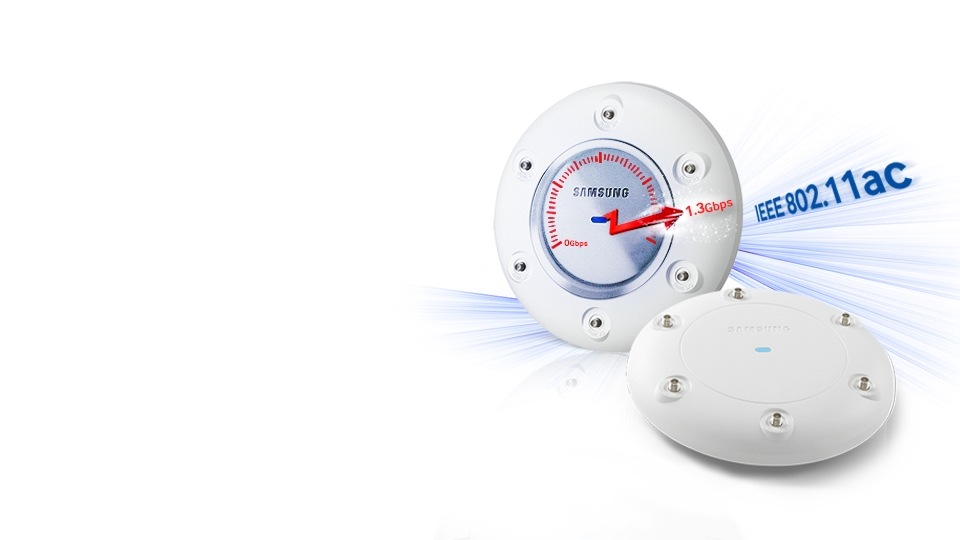 Enjoy the fastest Wi-Fi
WEA403e supports the latest 802.11ac standard, the next-generation of Wi-Fi. The 3x3 MIMO AP (WEA403e) can use its 3 Spatial Streams to provide up to 1.3Gbp of throughput. WEA403e offers enterprise customers realiable service and the fastest Wi-Fi in high-density environments.
External Antenna Type Access point
WEA403e is equipped with three external antennas for Wi-Fi services and three antennas for the security WIPS. All these antennas are dual band with RP-SMA connector. Samsung offers three types of antennas for the 2.4GHz band: the 2dBi, the 4dBi dipole antenna models (omni-directional) and the 6dBi patch antenna model (directional). ※ Antennas are sold separately.
AirEqualizer
Samsung AirEqualizer optimises wireless resources by applying traffic schedule technology to the AP and allocates equal airtime to multiple devices. When numerous devices concurrently connect to an AP, AirEqualizer guarantees best performance by analysing individual connection requirements, typically delivering a gain of 50 or more compared to competitors.
AirMove enables a seamless handover with LTE Technology
In legacy Wi-Fi handover, a device scans for other APs and connects to the appropriate AP when the AP signal detected by the device is below a certain threshold. This technology basically requires a long scan time and degrades service quality. Samsung AirMove uses LTE Handover technology that allows the AP controller to determine the best timing and target AP for the handover. This way, users enjoy seamless service during voice calls and video, and a greater throughput that is double than what legacy Wi-Fi handover guarantees.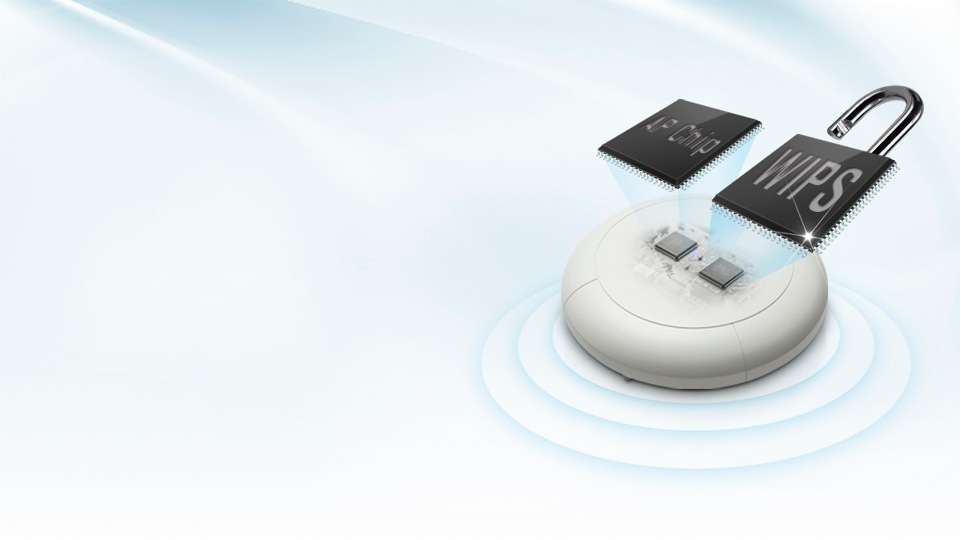 Dedicated Security Monitoring Module
Samsung AP built-in security monitoring module offers RF monitoring, which helps you avoid the need of additional sensors for WLAN security (Wireless Intrusion Prevention System - WIPS). Samsung Access Points ensure a secure wireless service across the network, making it ideally suited for business environments that need to protect confidential information.
Specification
Management

Operation

Controller Based, Standalone

Wireless

Standard

802.11a/b/g/n/ac

# of Radio

Dual Concurrent Radio

Frequency

2.4 GHz, 5 GHz

Antennas

External Type

MIMO

3 x 3 : 3 streams

Spectrum Analysis

Yes

Hardware Feature

Network Interface

2 GE, 1 Console

Power-Over-Ethernet

802.3 af / at

Environment Class

Indoor

Dimension (WxHxD)

205 mm / 45 mm

Security Feature

Standard

802.11i, WPA / WPA2

Multiple SSID

Maximum 16

Rogue AP Detection, Protection

Yes

Encryption

DTLS

QoS
Ceritification

WiFi Certified

WPA / WPA2, WMM, WMM-PS

CE

Yes