The travel-ready lens
At only 31mm in length and 111g light, this lens is a fraction of the size and weight of most lenses with this zoom range. The 16-50mm Power Zoom Lens is compact and light enough to be taken anywhere you go.
Quick control with electro zoom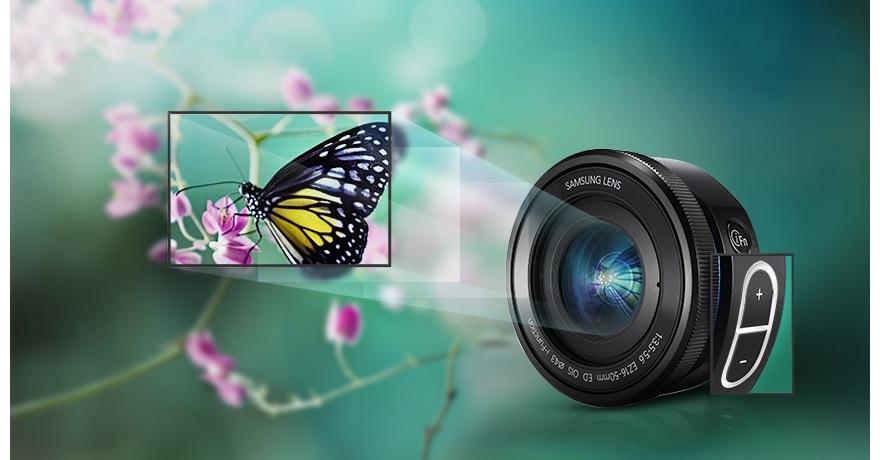 The Power Zoom Button smoothly zooms in and out for you with its intuitive design, making it perfect for quick and easy control. While the intuitive operating mechanism of i-Function lets you use this lens like a pro.
Designed to help create better videos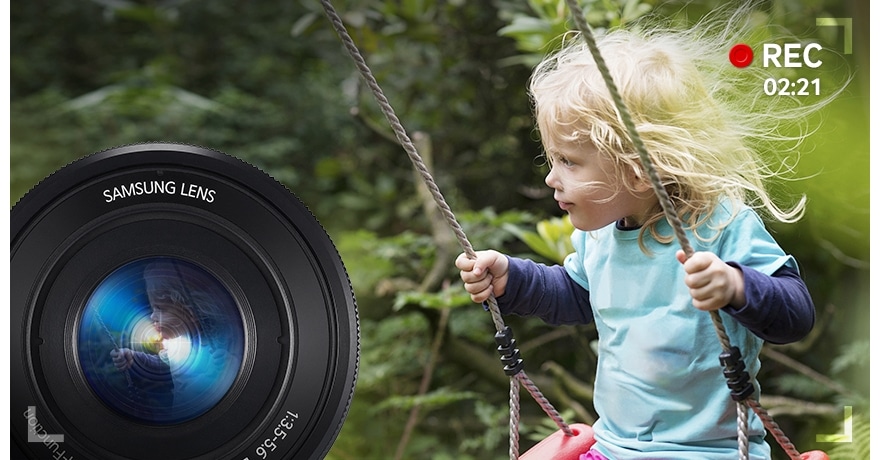 This lens was made to steadily zoom in and quickly focus on the subject. Also, this lens is so quiet that you only record what's going on and nothing from the lens. Recording better videos couldn't be any easier.
16-50mm f3.5-5.6 ED OIS Power Zoom Lens
is rated out of
5
by
3
.
Rated

5

out of

5
by
gpsviews
from
Great keeper
Most reviews I have found are regarding the photographic properties of the NX lenses. Even on "big" forums the video feature seems to be dismissed. But the power of this lens is all about video. Samsung with the NX1 made history breaking many molds and habits of the industry used to limit consumers access to technology. NX1 is as great for stills as for videography. The main dedicated NX lens for videography, the 18-200mm is a great tool for its purpose while not that much for photography though but its heavy weight limits its use sometimes. This is where this little lens is superb despite its small size and accessible price. You can do photos with it, as well as videos, but in my opinion this lens is all about video as a light lens for all these new approaches needing smaller sizes and weight. This is, to use the great capabilities of the NX1 in a drone, your first lens choice would be this 16-50mm PZ OIS. Idem for underwater use inside a housing (Ikelite made one for the NX1). The same way, this is the lens if you want to operate the NX1 on a gimbal (e.g. feiyu-tech MG-lite or V2 etc). The camera and this lens are about 661g which is in the middle of the weight range of several of these gimbals and they do not hit any part of the gimbal as they rotate. Together with the wireless control capabilities of the camera, this lens and then the gimbal, you can really to new things. To make it perfect I would have added three features to this small lens: 1) the zoom buttons should have been potentiometers or a-like so the pressure on them controls the speed of zoom change just as a camcorder would do. 2) please in a new firmware add a distance scale instead of the icons... That would help so much. 3) wake up Samsung, listen the call of your customers and get the NX line active again. If you do video with an NX1, this lens is a must. I fully recommend it.
Date published: 2017-04-13
Rated

5

out of

5
by
TjienPing
from
Great lens
I love that the lens is very compact, so it's easy to carry in my small pouch. The auto-focus motor is SILENT! which is awesome!! Admittedly the zoom motor is not as silent, but it's not that loud either. I love this lens!
Date published: 2016-05-06
Rated

3

out of

5
by
Nabil
from
Noisy
I bought a new NX500 camera with this lens. The lens is great. It is contact, powerful and handy for travel. However, its motor create non-stop audible noise that affect the quality of video. I sent it to Samsung and they return it to me saying it is normal! I am just wondering how come they said on this page under the video script that it is very quit?! If this camera can be quieter it will be the best ever.
Date published: 2016-02-29
User manual & Downloads
Live Chat
Get stock alert
Get alerts when this item is back in stock and available to buy, by adding your email to opt into alerts.
We will email you when inventory is added.
Thank you.
Create your wishlist
Don't miss out on the products you love.
Sign in/Sign up now to access your wishlist on all your devices and get updates on great promotions.
Add to wishlist
Do you want to add this product to your wishlist?
Wishlist
This product has been added to your wishlist.
Sorry, the product you added to wishlist is not available anymore.
Installment Calculate
Installments are provided by Santander Consumer Bank S.A.
Estimate your installment plan