Perfect pictures at your fingertips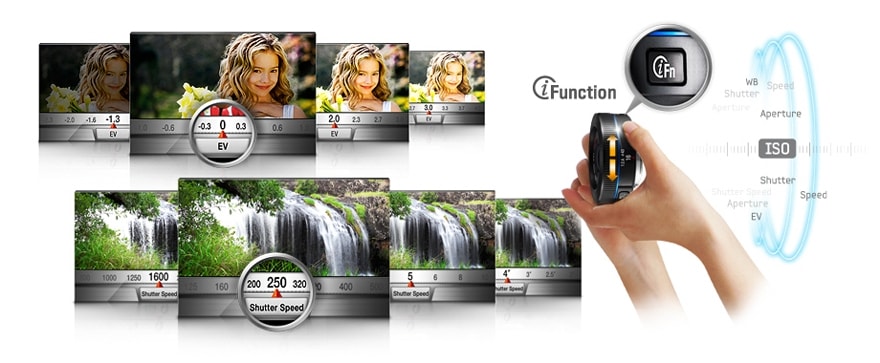 Taking professional-quality pictures is now as easy as smiling for one. The intuitive i-Function lens gives you quick and easy, one-touch access to all your camera's manual settings. Adjust shutter speed, aperture and more with just a twist of the lens while previewing the image in real-time. Now you can see how your settings affect the shot before you take it. Whether you're an enthusiast or an expert, the convenient i-Function lens truly revolves around your photographic needs.
A slim lens that delivers all the details

Ultra-compact, ultra-light, and ultra-powerful: the Samsung 16 mm lens preserves the slim profile of the NX series. In fact, its slim size makes it the perfect general-purpose lens for photo buffs who need flexibility and portability. Whether you're walking around downtown or out in the country, you can capture incredibly beautiful cityscapes or landscapes in a variety of conditions.
To be available after July 2011
[WARNING] ALL FUNCTIONALITY, FEATURES, SPECIFICATIONS AND OTHER PRODUCT INFORMATION PROVIDED IN THIS DOCUMENT INCLUDING, BUT NOT LIMITED TO, THE BENEFITS, DESIGN, PRICING, COMPONENTS, PERFORMANCE, AVAILABILITY, AND CAPABILITIES OF THE PRODUCTS ARE SUBJECT TO CHANGE WITHOUT NOTICE OR OBLIGATION. SAMSUNG RESERVES THE RIGHT TO MAKE CHANGES TO THIS DOCUMENT AND THE PRODUCT DESCRIVED HEREIN, AT ANYTIME, WITHOUT OBLIGATION ON SAMSUNG TO PROVIDE NOTIFICATION OF SUCH CHANGE.
Fastest lens in its class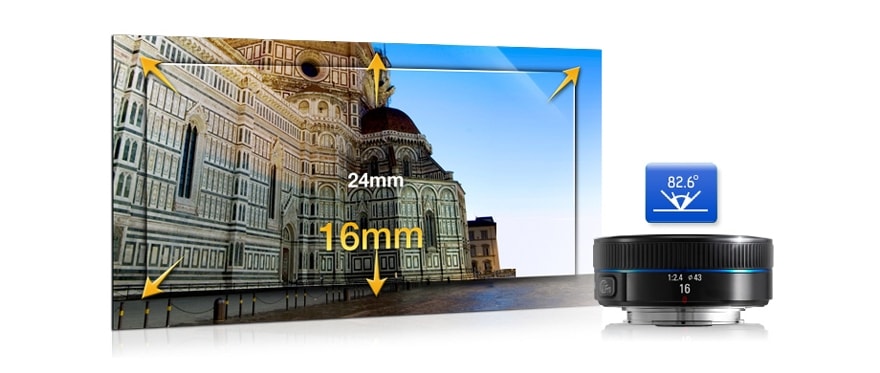 It's stylish and compact, but more than that, the Samsung 16mm pancake lens is one fast lens. Actually, it's the fastest of any ultra-wide compact system camera lens, thanks, in part, to its F/2.4 aperture. And its fast shutter speed lets you capture sharper images in low-light settings — even without a tripod. Ideal for wide landscapes, it also lets you create dramatic background blur effects for images that truly stand out.
User manual & Downloads
Live Chat
Get stock alert
Get alerts when this item is back in stock and available to buy, by adding your email to opt into alerts.
We will email you when inventory is added.
Thank you.
Create your wishlist
Don't miss out on the products you love.
Sign in/Sign up now to access your wishlist on all your devices and get updates on great promotions.
Add to wishlist
Do you want to add this product to your wishlist?
Wishlist
This product has been added to your wishlist.
Sorry, the product you added to wishlist is not available anymore.
Installment Calculate
Installments are provided by Santander Consumer Bank S.A.
Estimate your installment plan