NZ5000H Induction Hob with Flex Zone
NZ64H57477K/EU
Sorry! This product is no longer available
600 x 520 x 56 mm
Net (WxHxD)
Cook more together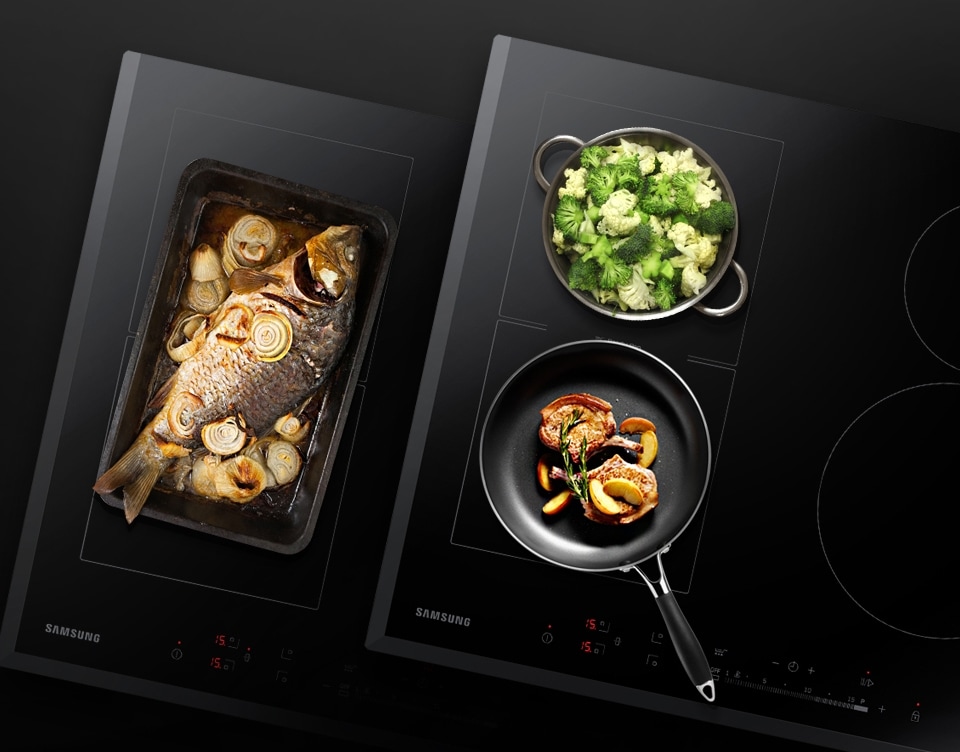 The Samsung NZ5000 Induction Cooktop features a Flex Zone, which is a large, rectangle-shaped, open area on the cooktop that is specially designed for cooking multiple dishes. It can accommodate pots and pans of varying shapes and sizes at once, and is also flexible enough to handle large cookware. So it makes cooking large, family meals much easier.
Simply pre-heat pans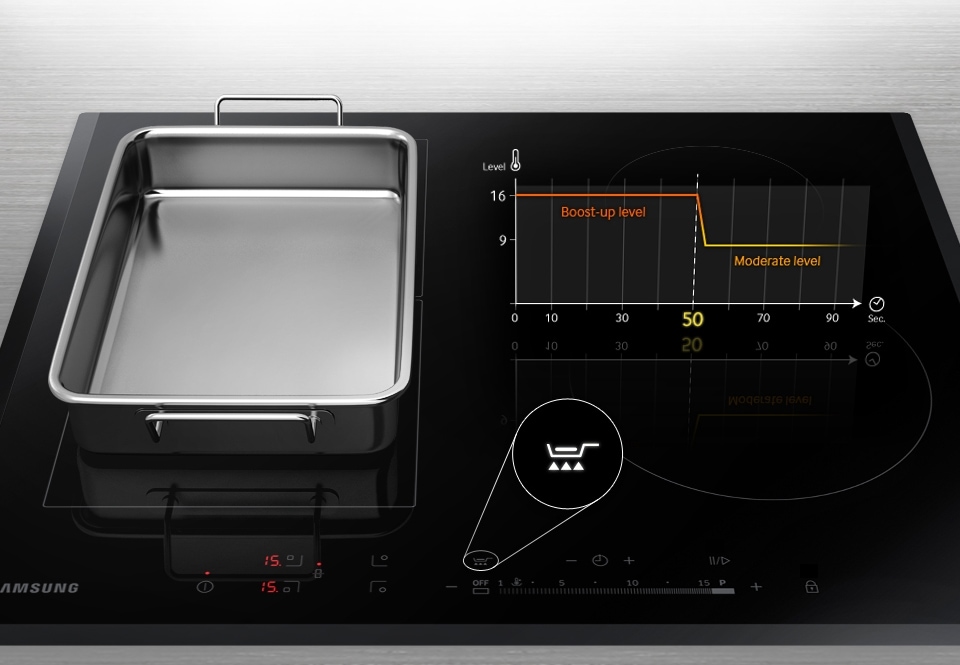 The Samsung NZ5000 Induction Cooktop's Ready Pan function lets you rapidly preheat your cookware with one simple touch. Instead of having to manually adjust your preheating and cooking temperatures, when you use Ready Pan it immediately boosts the heat level for 50 seconds to quickly preheat the pan, and then automatically reduces the temperature to a moderate level (level 9) that's typically used for general cooking.
Instantly high heat
The Samsung NZ5000 Induction Cooktop's Quick Start option reduces the steps and time it takes to start cooking by delivering an instant high heat. When selected, the cooking zone immediately begins heating food at the maximum temperature level of '15', which can then be gradually reduced. So there's none of the usual delay involved when you have to increase the power level from '0' upwards.
Step-by-step control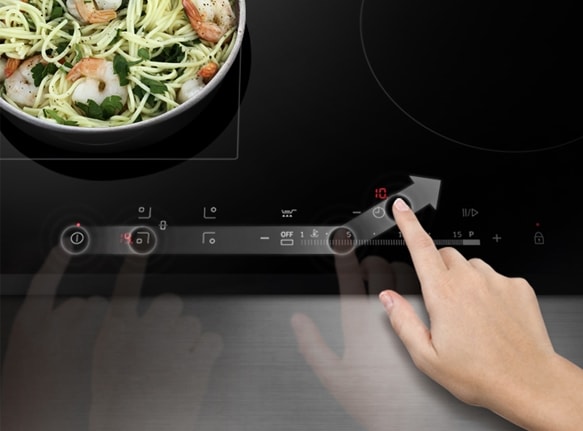 The Samsung NZ5000 Induction Cooktop features a Easy User Interface (UI) that shows you what to do at every step, so you can effortlessly streamline the way you cook. In common with most consumer systems, the operations always move logically from left to the right, so you'll never waste time looking for the right buttons to complete the next step.
Safer for children

To maximise kitchen safety, a Child Safety Lock prevents even the most determined children from activating the cooking surface. With a simple touch of a button, the control panel can be completely locked, so it's impossible to turn on the hob accidentally or intentionally – minimising the risk of little hands getting burnt.
Automatically safer

A Safety Shutoff provides complete peace of mind. It automatically turns off any of the cooking zones if things have been left cooking on them for a long time or there's no change in the operation after a certain period has elapsed. So when you're busy entertaining friend and family there's less chance of costly or dangerous accidents.
Efficient heat use

Includes a 2 Stage Residual Heat Indicator, so you can safely and efficiently make use of any residual heat. It will clearly show an 'h' if a cooking zone is hotter than 45 °C, so it can still be used for cooking, or an 'H' if goes above 60 °C. But the indicator will switch off when it's cool and safe to touch.
4 EA

Number of Burner

600 x 520 x 56 mm

Net (WxHxD)