Samsung Premiere 2013 :Galaxy & ATIV
By Alex on 21st Jun, 2013
At an exclusive event in London's Earl's Court, Samsung unveiled the latest Galaxy and ATIV products to the world. Read on to discover everything we saw on the night.
Introducing the Galaxy Collection
After the phenomenal success of the Galaxy S4, the crowds at the Samsung Premiere 2013 were eager to see what was next. The Galaxy S4 mini, Galaxy S4 Active and Galaxy S4 Zoom made their debut at the event, which was hosted by Gadget Show presenter Jason Bradbury. The new devices offer the same elegant design aesthetic and useful functionality as the original Galaxy S4.

As well as having innovative smart features like Sound & Shot, S Health and Group Play, each new version of the Galaxy S4 has been crafted to meet specific needs, from active outdoor types to those who love to take and share photos instantly.

D.J. Lee, Samsung President and Head of Sales & Marketing said that the new Galaxy S4 devices would fit all kinds of lifestyles, "no matter who you are, where you live or what you enjoy."
Galaxy S4 mini
The lightweight and highly compact Galaxy S4 mini weighs only 107g – much less than many smartphones. This means it offers superb portability and can be carried with total convenience and operated easily with one hand.

Despite its compact size, the device still delivers great entertainment and a smooth user experience. With a powerful 1.7GHz dual core processor and vivid 4.3" qHD Super AMOLED display, the Galaxy S4 mini offers big performance. Jean-Daniel Ayme, Samsung's Vice President of European Telecom Operations told the audience, "Nothing has been compromised to put it together."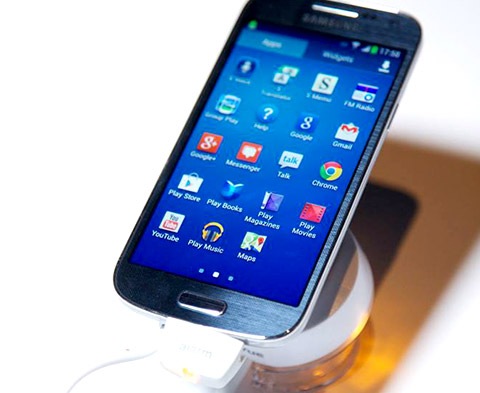 Galaxy S4 Active
Developed for travel and exploration, the Galaxy S4 Active has been purpose-built to handle the elements. Its fully-sealed design stops harmful dust particles from entering the case. This can make all the difference in a dusty environment, for instance a hiking trail in the wilderness or a dirty construction site. The Galaxy S4 Active is also protected against water damage. The audience saw a demonstration of how the smartphone can be submerged for up to 30 minutes underwater at a depth of one metre. This robust new device even lets you shoot photos and video underwater, with a special optimised camera setting named 'Aqua Mode'.
A no compromise Android smartphone fit for the great outdoors.
@TheNextWeb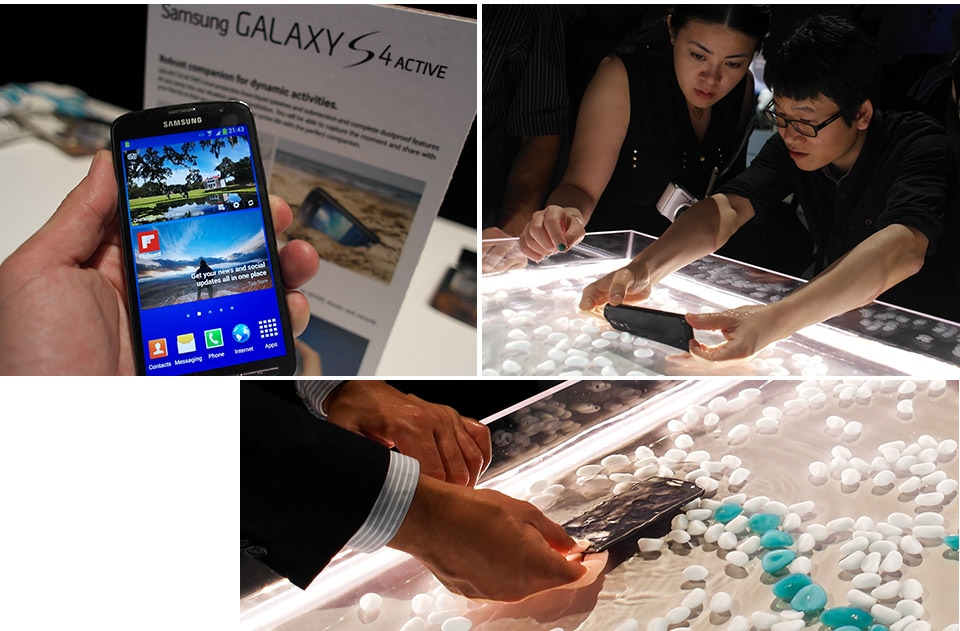 Galaxy S4 Zoom
With so many photos taken using mobile phones these days, the Galaxy S4 Zoom is the logical next step. This versatile new device brings together the style and functionality of a Galaxy S4 smartphone with advanced photographic capabilities.

The new device was unveiled as the only smartphone in the world with 10x optical zoom. It also features a 16 megapixel CMOS sensor, xenon flash and optical image stabilisation. This means that users don't have to carry both a phone and a compact camera with them anymore. The Galaxy S4 Zoom is all that's needed to take great shots and share them using your smartphone. With the In-Call Photo Share feature, you can even take a spur-of-the-moment shot in the middle of a call and send it to whoever you're talking to – all with the greatest of ease and without having to hang up first.
Smarter Shooting with the Galaxy NX Smart Camera
Another new device was revealed that brought together the ultimate fusion of photography and smart mobile technology. The Galaxy NX Smart Camera was introduced as "the world's first interchangeable lens Android camera with 4G LTE". This means that as well as featuring a 20.3-megapixel APS-C sensor for professional quality shooting, it also offers compatibility with a range of NX lenses, the Android 4.2 Jelly Bean operating system and advanced connectivity including 3G, WiFi and even superfast 4G.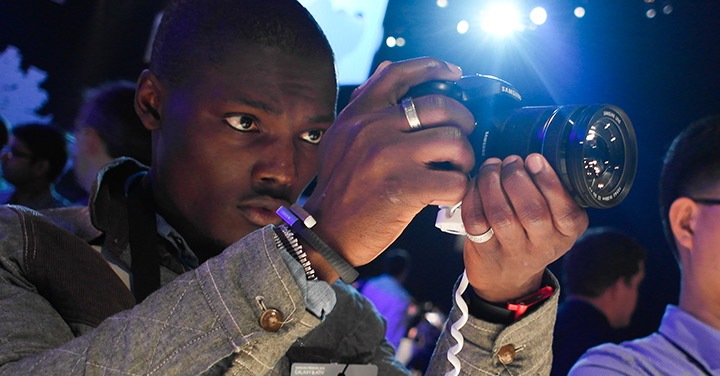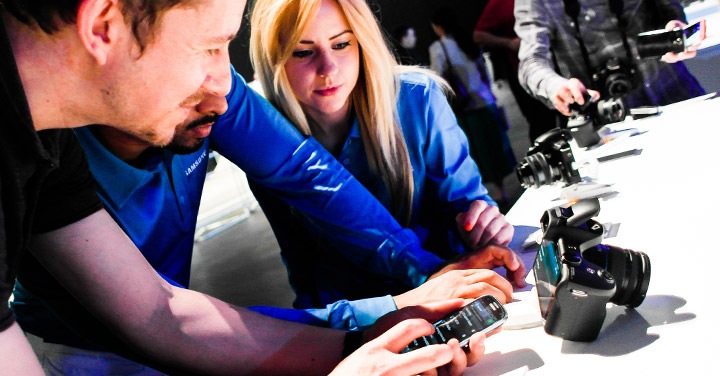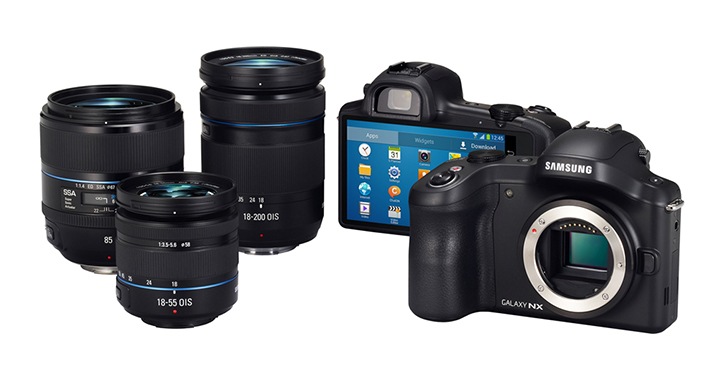 With the new Galaxy NX Smart Camera, professionals and other more advanced photographers can bring all the benefits of a cutting-edge mobile device to their craft. This includes a wide range of great Android photography apps and innovative Samsung functionality such as Sound & Shot, Drama Shot and Story Album, earlier seen on the Galaxy S4. Users can now capture high-quality images using powerful NX hardware, manipulate photos directly on the camera and share or back up – wherever they are.
Versatile ATIV devices
A range of new ATIV devices were revealed at the Samsung Premiere, from notebooks to all-in-one PCs to tablets. Some even let you use two platforms: Windows 8 or Android. They also showcased a new technology, SideSync, that brings together Samsung's latest products and makes life much easier.
ATIV Book 9
Available in both Lite and Plus versions, the ATIV Book 9 was the new notebook PC to be unveiled. The ATIV Book 9 Lite wowed attendees with its slim and lightweight design, great visual performance, fast boot-up time thanks to Solid-State Drive (SSD) storage and enhanced reliability. Meanwhile, the ATIV Book 9 Plus features an elegant metal chassis and delivers an incredibly high resolution with a pixel density that's 2.8 times higher than Full HD. It also offers a massive 9-hour battery life. With performance of this calibre, users have all they need to work or play on the go. Technology pundits CNET were clearly impressed by the ATIV Book 9's visual capabilities saying: "Samsung's ATIV Book 9 Plus has a staggeringly high-resolution screen."

Pre-register with these retailers to get the latest ATIV Book 9 as soon as it is available: PC World | Currys | Amazon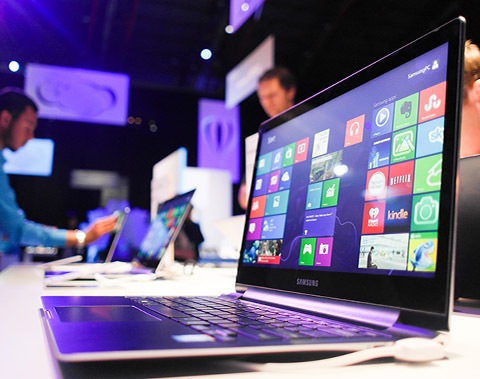 ATIV Tab 3
Samsung's slimmer and lighter new ATIV Tab 3 weighs only 550g and is just 8.2mm thick. It also has an impressive 8.5 hour battery life, so it offers the kind of portability that makes it perfect for travel as well as the home. Its S Pen, which can be used with the preloaded Microsoft Office 2013, also allows greater opportunities for creativity and productivity. Another important feature of the ATIV Tab 3 is its operating system. It offers the full Windows 8 platform and is in fact the world's thinnest Windows based tablet. This means you can use all the Windows applications that you can use on your desktop PC. Self-confessed "tablet fan" Jason Bradbury said that this powerful functionality "could be a game changer."

Pre-register with these retailers to get the latest ATIV Tab 3 as soon as it is available: PC World | Currys | Amazon
ATIV One 5 Style
The new ATIV One 5 Style all-in-one PC is a perfect example of how today's Samsung smartphones and PCs are in harmony with each other. Sharing the same elegant design aesthetic as the Galaxy S4, it makes a similarly impressive visual impact.

With a powerful quad core processor, high-quality SoundAlive audio and ATI Radeon HD8330 graphics card, the ATIV One 5 Style also packs the performance to ensure that users experience applications, games and multimedia as seamlessly as possible.

Pre-register with these retailers to get the latest ATIV One 5 Style as soon as it is available:
PC World | Currys | Amazon
A Windows 8 all-in-one with Galaxy design
- Engadget
There's more. Phone Screen Sharing Mode brings your phone's screen onto the desktop. That means you can do everything you usually do with your phone, now enhanced by big-screen viewing and comfortable navigation with mouse and keyboard. This powerful and convenient new functionality allows you to bring the latest Samsung Galaxy and ATIV devices together and use each of them to the full.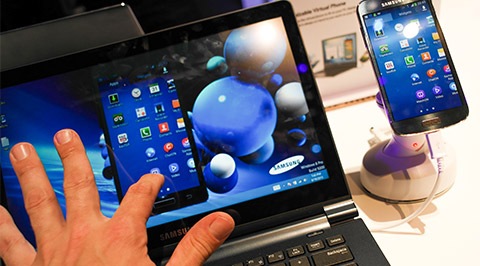 Watch our coverage of the Samsung Premiere 2013 : ATIV & Galaxy and see all the new products unveiled.
Want to find out more about these devices?
If you would like to know all about the devices featured here, just visit the links below. You can find all the important information about the new collection of Galaxy S4 smartphones, the Galaxy NX Smart Camera and the latest ATIV products.