It's time to watch your favourite TV shows
and movies in 4K
By Michael on 12th May, 2016
From the latest cameras to top-of-the-range TVs, 4K Ultra High Definition (UHD) with High Dynamic Range (HDR) technology has entered the mainstream. Unbox a new Samsung SUHD or UHD TV to experience stunning detail and clarity like you have never seen before.
4K UHD TV – what to look out for
With the development of HDR technology, you can now experience an even further enhanced UHD visual masterpiece. SUHD with Quantum Dot TVs are capable of displaying HDR content that is beautifully bright and vibrant within a colour space of over 1 billion colours, and with brightness levels that will dazzle your senses. You will experience movies and TV shows exactly as the content creator intended them to be.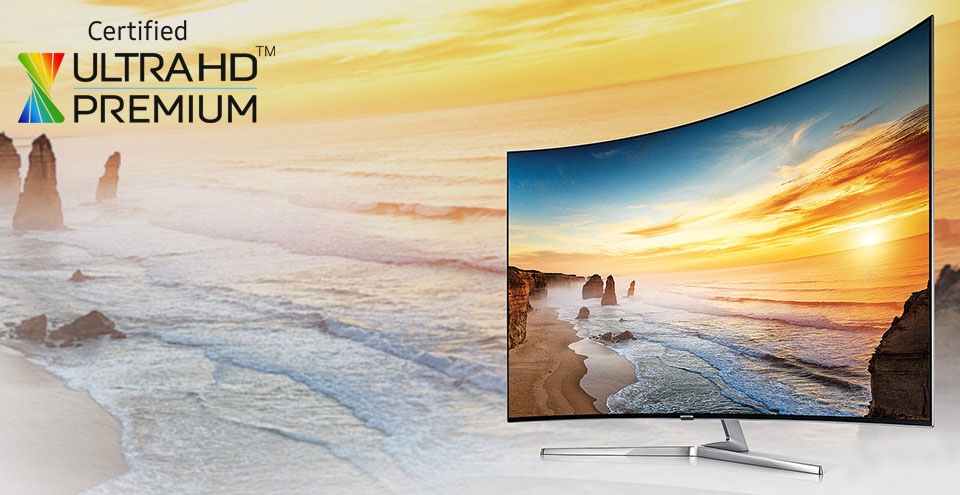 When selecting your 4K UHD with HDR TV, make sure you look out for TVs carrying the Ultra HD Premium Certified logo . Only TVs carrying this marque – a quality standard set by the UHD Alliance – will ensure you experience the very best, beautiful HDR content.

One thing to note, however, is that not all Ultra HD Premium Certified TVs are created equal. SUHD with Quantum Dot Display features HDR1000 Technology, delivering brightness levels of 1,000 nits (the minimum level at which content is created) and in a colour space meeting the most stringent of quality standards. This ensures striking brightness, exceptional shadow detail and vividly accurate colour for the best possible viewing experience.
Where can you stream 4K UHD?
We've all been there. What starts off innocently enough as one episode rapidly turns into a six-hour marathon of the latest online series everyone is talking about. From the criminal mind of Walter White in Breaking Bad to the corridors of power in House of Cards, some of the most talked about shows around the water cooler are available to stream in breath-taking 4K Ultra HD on Samsung TVs. With access to both Netflix 4K and Amazon Instant Video's libraries, your choice of streaming shows and movies is ever expanding, with both companies adding to their UHD with HDR titles.
Be part of the action with sport in 4K
If you are more of a fan of goals than gripping drama, you will love the improvement UHD brings to sport. With a picture four times the quality of Full HD, watching the match from the comfort of your sofa feels like you are in the stadium – minus the uncomfortable seats and overpriced snacks. In the UK, BT recently launched the nation's first Ultra HD content on its TV service and broadcasts at least one live event each week during the sporting season. Highlights include the UEFA Champions League and Europa League, Barclays Premier League and the FA Cup, as well as Aviva Premiership Rugby matches and MotoGP races.
All your favourite films
Hollywood is getting in on the act too, and studios are releasing a growing number of blockbusters on 4K Blu-ray with HDR, bringing the magic of the cinema into your front room. Samsung's Ultra HD Premium Certified UHD Blu-ray player which includes The Martian - 4K Ultra HD disc*, makes for a perfect pairing with your 4K TV , as you will not only be able to enjoy the latest releases with stunning clarity, you will also see your old favourites upscaled to near UHD quality. The cinema experience improves further when paired with a soundbar or multi-room speaker system, immersing you in the action.

* The Martian - 4K Ultra HD disc included with every Samsung Ultra HD Blu-Ray player while stocks last
Where to next?
To experience lifelike picture quality for yourself, check out our range of SUHD Quantum Dot Display TVs.
Discover our Ultra HD Premium entertainment experiences and offers.