Turn your home into a Smart home
By Michael on 3rd Nov, 2017
Create a smarter home with a world of Smart devices. You can connect your Smart TV, speakers, refrigerator and much more to make life that bit easier.
Can you remember what a difference switching from a phone to a Smart phone made to your everyday life? Suddenly, you had internet access in the palm of your hand, and that opened up a whole world of opportunities. Today, there are all kinds of Smart devices being developed to make the same difference to our domestic lives, and connecting all our devices can grant us a pleasing level of home automation – allowing us to put our feet up that little bit more. Understanding your command in an instant, Smart technologies can help clean, entertain or simply adjust the room temperature. A Smart home will save you time to do more of what you want, and less of what you don't.
The living room
A Smart TV can do far more than simply play the latest episode of your favourite show. Firstly, you'll only need one remote control – while a single remote can control everything from your blu-ray player to your set top box, many Samsung Smart TVs can be operated using a Smart phone or voice control.

There's an extraordinary amount of content available to watch too – far beyond the set programming schedules of terrestrial television a decade or so ago. With films and TV shows from Netflix, catch-up services and YouTube, there's a world of entertainment at your fingertips. And more and more 4K UHD HDR content is being created all the time to help you get the most out of the brilliant display.

Hosting a movie night? Why not sit back and dim the lights from your very own Smart phone? With the Smart lighting system, your living room light is dimmed to 20%, transforming your home into your very own cinema. When it's time for bed, 'Goodnight' mode will dim your hallway to 10% brightness and turn off all other indoor lights.

When you're ready to watch, you can connect your soundbar in seconds. Smart speakers provide cinematic surround sound sound that instantly immerses you in whatever you're watching – and with a huge amount of wireless options, you won't need to look at unsightly cables either. If you're using your Smart TV to listen to music from apps such as Spotify and Deezer, you can connect all the speakers in your house so you can listen to the same music from every room.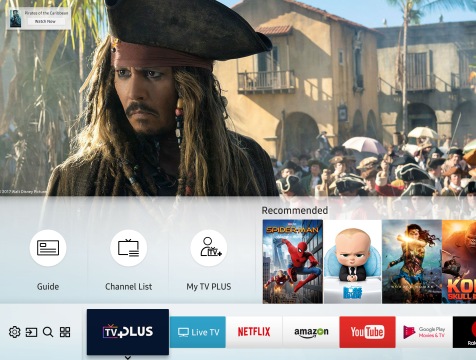 The kitchen
There's no denying we can spend a lot of time in the kitchen, and a Smart refrigerator means the entertainment doesn't have to stop while you're cooking. You can stream your favourite music through its speakers, or even mirror your TV right onto the screen on the fridge door – so whether you're wandering between rooms to check on your food or simply following a cooking show, your fridge will make sure you never miss a scene.

As well as kitchen entertainment, a Smart refrigerator can create shopping lists and order groceries online. And if you're out and can't remember how much of a particular ingredient you have left, simply take a look inside your fridge on your phone with the internal camera.

When you're at the office, busy cooking or just relaxing on the sofa, your device scan take care of the cleaning. A Smart robot vacuum cleaner is a convenient device that can save stress and effort, and can be set on a daily circuit or for one-off activities such as a last-minute run around the house before friends come over. Meanwhile, a Smart washing machine means you can set a load to be done as soon as you get home, rather than having to leave it damp in the drum all day.
What next?
Interested in making your home a Smart home? Begin with a Smart TV that has both brains and beauty, the QLED TV.