Your health
in your hands
The Samsung Health app is your wellness hub. Track every stat, get the perfect programme, challenge friends and discover a happier, healthier you. And with our wearables, it can take you even further.
* The device shown is Galaxy S8. UI of the actual product may be different.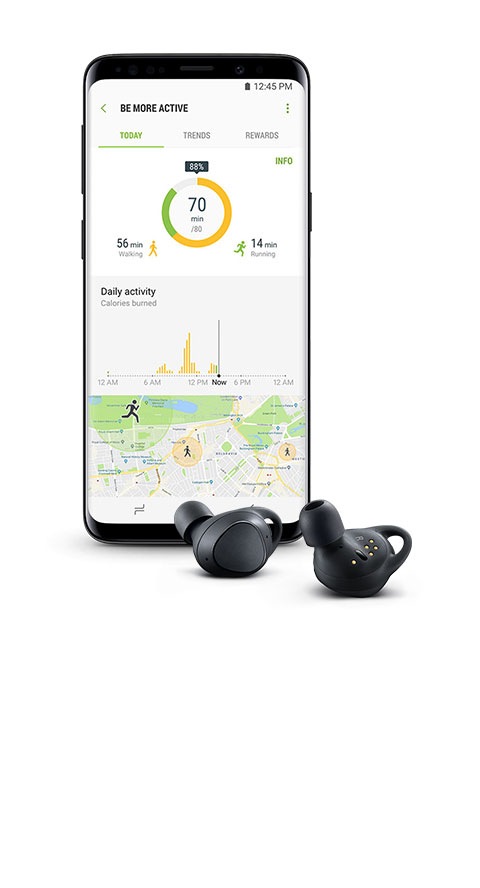 Find your activity balance
Set activity goals that fit your lifestyle, and get reminders that help you reach your personal milestones. The Gear IconX wireless earbuds come with a built-in fitness coach, helping you maximise your workout.
Reach your diet goals
Establish nutrition goals and see a detailed breakdown of what you eat to make sure you stick to your plans. With the Gear Spot synced to Samsung Health, you can log every meal and snack from your wrist.
Feel more rested
Samsung Health helps you get on track to a good sleep schedule and reminds you when you're not getting enough rest. Wear your Gear Fit2 Pro at night, and it'll log your sleep hours in the app.
Bring wellness with you
Strap on a fitness wearable to get more out of your workouts and track factors like diet, sleep and daily activity.
Each one syncs up with Samsung Health to give you handy fitness breakdowns with a tap.
See fitness
wearables in action
Every Samsung wearable is packed with features that help you live healthier and exercise smarter.
Find out how they work in the videos below.