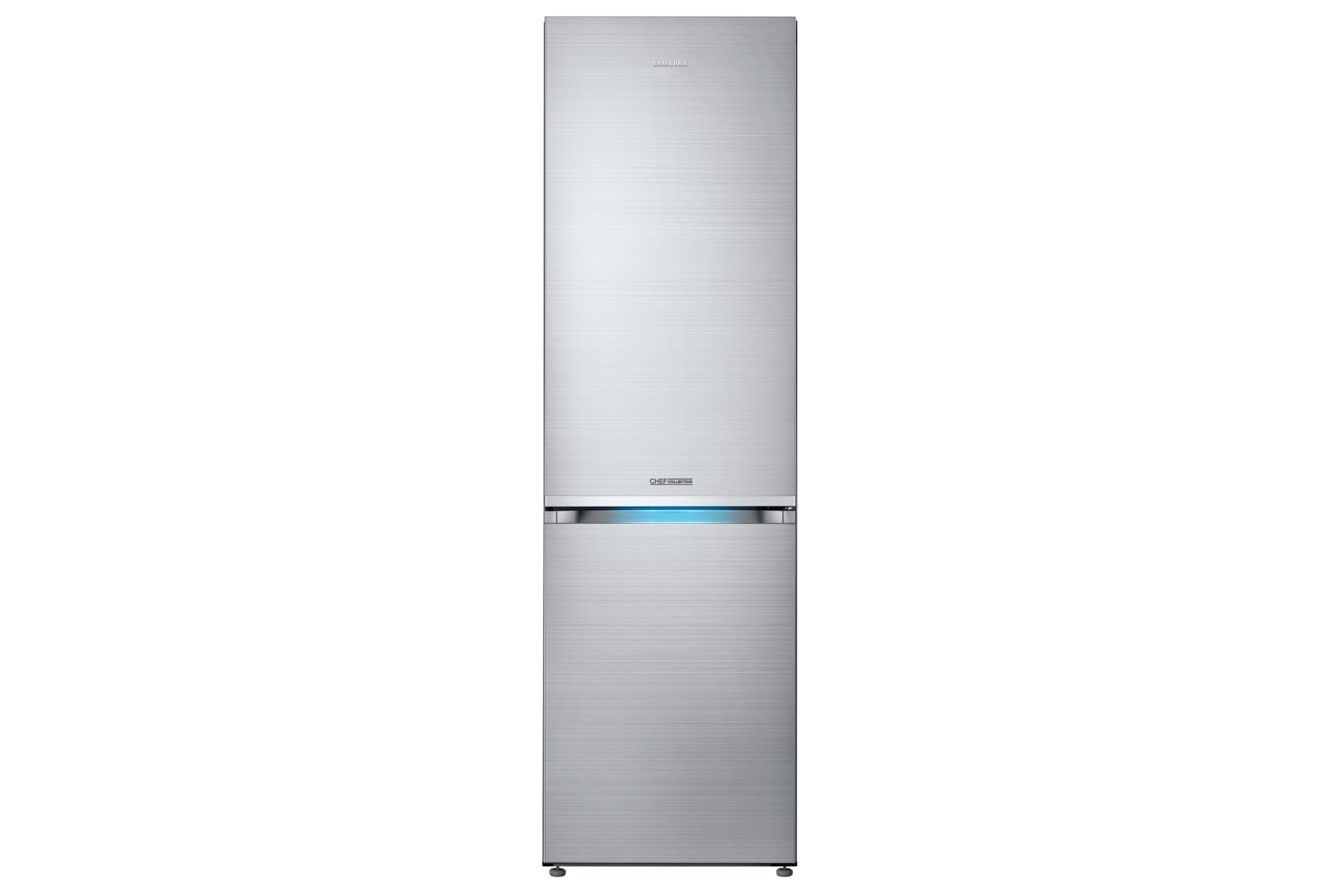 RB8000 Chef Collection Fridge Freezer with SpaceMax Technology, 350 L
RB36J8799S4/EU
RB8000 Chef Collection Fridge Freezer with SpaceMax Technology, 350 L
is rated out of
5
by
2
.
BUNDLE
Sorry! This product is no longer available
Twin Cooling Plus™
Chef Mode
Total No Frost+
Metal Cooling Panel
More inside, same outside
The Samsung Chef Collection Refrigerator offers up to 30% more storage space*, thanks to SpaceMax Technology™ that creates extra internal capacity without increasing external dimensions. *In comparison with Samsung RL55VTEBG1 / RL50RGEMG1
Seamless integration
The Kitchen Fit™ design seamlessly completes your culinary space thanks to its flush integration with your kitchen furniture. It's a new type of freestanding refrigerator that meets both your aesthetic standards and storage needs.
Precision cool for ultimate freshness
Chefs say that precise and stable temperature control is the key to keeping food at its freshest. Precise Chef Cooling™ minimises temperature fluctuation, so all your ingredients retain their original textures and flavors.
Pro chef temperatures at home
If you're not a chef, it can be a challenge to know the right temperatures to store different foods. Chef Mode™ helps you out by preserving each type of food at exact chef-recommended temperatures for ultimate freshness.
Keep meat & fish market fresh
The Chef Zone™ is the perfect place to store meat & fish, as it preserves food at the optimal temperaturewhich chefs consider ideal for maintaining the best flavour and texture. Your surf n' turf will stay fresh until it's ready to be grilled.
Prep, store and cook all in one pan
Prep and cook like a chef with the oven-ready Chef Pan™. This hygienic stainless steel tray can be used to prepare, store and cook food, and then go straight into the dishwasher.
Store it your way
4 Adjustable Door Bins help you easily organise and flexibly store differently sized items. You can adjust the bins to fit all sizes of bottles, cartons and other items for maximum use of your storage space.
Optimal humidity
Twin Cooling Plus™ technology cools the fridge and freezer compartments separately. Independent evaporators and cooling systems ensure optimal cooling and humidity, so food stays fresher for longer and odours don't mix.
No more ice buildup
No Frost Technology prevents the buildup of ice and maintains a constant temperature in every corner. It also cools nearly twice as fast*,placing less demand on the cooling systemand increasing its durability. * Based on a comparison of the Samsung frost fridge RL39THCTS and no frost fridge RB31FERNCWW. Individual results may vary depending on consumer usage.
Elegant glow
The Ice Blue Handle emits a stylish blue light that complements the exterior's stunning brushed metal finish. Not only does it add a touch of modern and elegant style, it also functions as a light when accessing the freezer.
Built for cool
The Metal Cooling Guard on the interior back panel adds both beauty and function. It keeps food and drinks extra cold while looking sleek and attractive at the same time.
380 ℓ

Gross Total (Litre)

595 mm

Net Width (mm)

2017 mm

Net Case Height with Hinge (mm)

590 mm

Net Depth with Door Handle (mm)

89.5 kg

Net Weight (kg)

Twin Cooling Plus

Cooling Type
Rated

5

out of

5
by
JanetR
from
Excellent Fridge Freezer
We bought our fridge freezer six months ago and are very happy with its performance. We noticed that items stay fresher in the fridge for much longer than our previous appliance. One small comment though is that the website shows this model as coming with a Chef Pan. This was not included with the fridge freezer we bought and we were advised that not all suppliers include this. It does not seem possible to order it separately either?
Date published: 2018-12-05
Rated

1

out of

5
by
NotSatisfied
from
Disturbingly noisy!!
This fridge is making me crazy with its very disturbing gurgling noise I can't get rid of even after more than six months it's been installed. I called customer service a few months ago, they told me it's normal it might even go on for six months until it adapts itself! Called them again, the technician came to take a look. Unfortunately at that moment it behaved and didn't gurgle anymore! So the case remained unresolved. Also I don't find the compartments layout inside very comfortable, the bottom drawer takes up a lot of space. It is meant to be for conserving meat or fish. But I usually don't keep meat in my fridge. Either I consume it fresh as soon as I buy or else i'll keep it in the freezer. So this has reduced the space in the top fruits and vegetables drawer a lot. The fridge comes with a long useless egg holder which you can't fit anywhere. What was wrong with the good old handy egg holder almost all the other fridges have which you could easily place on one of the door bins? Also talking about the door bins, the long one on the top is so useless and frustrating. It has such a low cover you can't fit anything inside, if not some tiny containers or tubes which you can't even get a grip to take them out. This product boasts 350L of space but sadly much of it is wasted! No I won't recommend this fridge to anyone, and if I could go back in time myself I would definitely choose another model. I was fooled by its appearance when I bought it. I liked the idea of it as a freestanding but with the characteristics of a built-in fridge. Alas! That's the only positive point it has!
Date published: 2018-08-13
User manual & Downloads
Live Chat