FEATURES
Save energy with Heat Pump technology and A++ energy efficiency
Load and unload clothes easily thanks to the extra-large door
Handle bigger loads of laundry easily with an 8kg capacity
Get a reminder for filter cleaning from the Filter Clean Alarm
A++ energy efficiency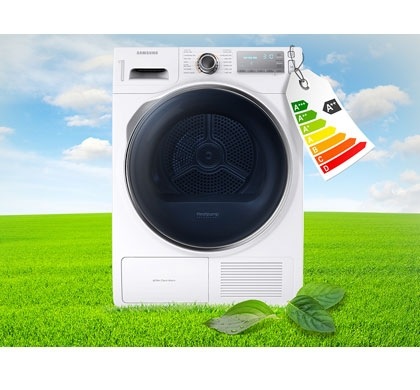 Innovative Heat Pump technology means that Samsung's tumble dryers offer fantastic energy efficiency as well as superb drying performance. With an A++ energy rating, it uses 'refrigerant' instead of electricity to heat the air. So it consumes significantly less power than conventional condensing dryers and also improves overall performance by recycling air to avoid wasting energy.
Crystal Blue Door
A dryer that features an extra-large door, with a Metal Double Hinge that opens wider, so it's significantly easier to load and unload clothes. Its minimal frame allows it to fit perfectly within a modern style living space, whilst its translucent Crystal Blue door refracts light to create a beautiful spectrum of colours. It
Big capacity. Less laundry time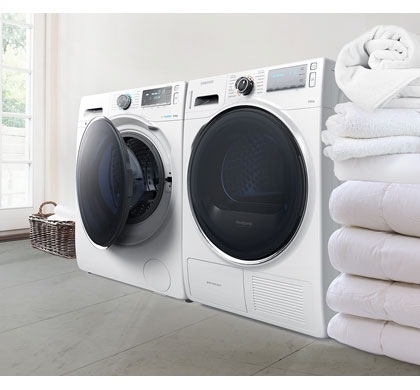 Extra large capacity lets you take care of more clothes in one load. Drying up to 9 kg in one load saves you time by not having to dry as many loads each week.
Helpful reminder for filter cleaning
The condenser filter in your dryer needs regular cleaning, so it's easy to forget. But the Filter Clean Alarm provides a helpful reminder when it's time, so your dryer maintains optimal performance. And then it simply sets the counter to zero – but only after a sensor on the cap has checked to make sure the condenser really has been cleaned.
Instant water level check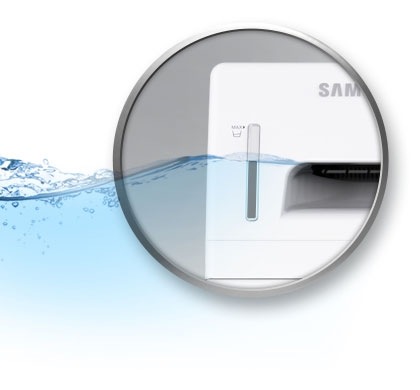 The Samsung Heatpump tumble dryer features a Water Tank Indicator on its front to show how much condensed water has been extracted from your clothes. This simple gauge measures the level of water collected in the tank, so you can quickly see if it needs emptying before you start another load – ensuring that the dryer won't stop unexpectedly if the tank gets full.
Easy troubleshooting
The Samsung Heatpump clothes dryer includes Smart Check, an automatic error-monitoring system. It detects and diagnoses problems at an early stage and provides quick and easy troubleshooting solutions using a smartphone App*. So it saves you time – and potentially expensive repair bills. * Available on Android and iPhone devices.
Heat Pump Technology
8 kg
Drying Capacity (kg)
A++
Energy Efficiency Class
8 kg

Drying Capacity (kg)

A++

Energy Efficiency Class

52 kg

Net Weight

598 x 850 x 645 mm

Net Dimension (WxHxD)
Rated

5

out of

5
by
TonyParish
from
Great machine
Just does what it should but so well, easy to use and very economical to run
Date published: 2017-06-29
Rated

5

out of

5
by
Caroline
from
smarter then smart
I have rhis tumble dryer and instantly fel in love woth not only the stylish design but also the features I love the merry little tune it plays when you turn it on. And love how well it drys my clothes . No need for a vent or anything I love been able to dru my clothes withoit worrying about anything. My kitchen is not that big so i have my tumble dryer in the lounge and its nice and quiet when its on meanig i can still watch tb and talk to friends and family. Very great value for money love the smart check app too very handy
Date published: 2015-03-02
Rated

4

out of

5
by
Linda1966
from
HE message
We have a HE code and it has stopped working - can anyone help?
Date published: 2018-08-28
Rated

4

out of

5
by
Robbie
from
Energy efficiency over drying results
I've had this dryer for about 3 months and have managed to get the hang of how to use it if you want properly dried clothes. Just set it onto 'Extra Dry' and 'Dry Level 3' and 90% of the time your clothes will be fully dry. A bit of a faff compared to other dryers where u can just click go, but I guess there's lots of settings here for energy saving if you don't mind your clothes being slightly damp, ideal for ironing perhaps?? On a positive note, if you have had a standard Condenser Dryer before, you'll know it gives off a lot of heat into you kitchen, this doesn't. It gives off very little heat actually, due to using a Heat Pump instead of just an electric heating element. I don't know how accurate this statement is, but my guess is that as there is no hot heating element for the clothes fluff to gather up in, then maybe there is less chance of it catching fire, as some types of dryers have been recalled / have been on the news recently. It doesn't get your clothes as hot as other dryers, maybe that's why they can still feel damp, but they usually come out feeling softer as a result. There is an extra fluff filter to clean/rinse compared to a normal dryer, but it's not exactly difficult to do. And it plays a tune when it's finished. Quite a long tune in fact. Can be connected to waste water pipe so it never needs emptying of water. Expensive, not as easy as others, but still good when you know how to use it and apparently energy efficient, though I've not had the chance / bothered enough to compare it
Date published: 2017-01-21
Rated

3

out of

5
by
LynneC
from
Looks great but....
I'm disappointed with this dryer. It just doesn't always dry the clothes enough. I don't think I would buy a condenser dryer again. It looks great and water empties easily but I prefer vented for drying. I don't like the auto shutoff either but all the dryers have that now.
Date published: 2018-09-30
Rated

1

out of

5
by
ValM
from
Awful
I have had this 'dryer' for two years now and after a great deal of wrangling with Samsung and the retailer I was refunded £200. Samsung told me that it was meant to dry my clothes as though they were line dried in a gentle breeze. So, really not dry at all. The duvet covers are completely tied in knots and a small load of king size sheet and 4 pillow cases does not sensor dry at all. When the empty lint trap icon comes on there is nothing in the filter. The ONLY upside is that a full load of towels costs 17p to dry and they are the ONLY things that actually dry. This 'drier' does not work and I would never have another heat pump appliance.
Date published: 2018-04-18
Rated

1

out of

5
by
rupert
from
DO NOT BUY
How did they get this machine on the market, full of design faults, you cannot dry large items it rolls sheet & duvet in a ball dry on outside wet in the centre, you have to open door every 10 minutes to pull laundry apart, cannot dry 8kg,you have to split the load, takes at least 5 hours to dry 1 load cannot use sensor dry turns it self off and clothes still really wet. Have to use timed dry, drys clothes unevenly leaves damp patches, in my opinion this machine was not tested before being released on the market.At the beginning of cycle it reverse the drum a couple of times then the drum only goes 1 direction, which rolls large items into a ball so you have to keep pulling the laundry apart or else they come out wet in centre and dry on the outside.
Date published: 2017-12-09
Rated

1

out of

5
by
MeNotHim
from
Its going back - I want something that dries clothes, not leaves them damp
As the title says: The tumble dryer just doesnt work. Put it on for 1 hour, (a specific timed setting) it stops after 4-5 minutes. Someone else says that it should be set to dry level 3 on the extra dry setting. That stops after 4-5 minutes, too. The worst item to try and dry is bed linen. I ties stuff up in knots, tells you its dry, (when it blatantly isnt), then wont run for more than 5 minutes before stopping again, (to that annoying tune). We have an engineer coming out - I dont think they can fix this - its just a duff bit of a machine. Shame - because it looks great!
Date published: 2017-09-18
User manual & Downloads
Live Chat
How It Stacks Up
DV8000 Tumble Dryer with Heat Pump Technology, 8 kg
DV80H8100HW/EU
Heat Pump Technology
Swirl Drum
Anti-Crease Function
Free delivery

Get free delivery on all orders with no minimum spend


Free returns

Free, easy and convenient returns.

28 days to return

Change your mind? Just let us know and return your order within 28 days.

24/7 parcel tracking

Once you've place your order with us, you can track when it's coming.
Get stock alert
Get alerts when this item is back in stock and available to buy, by adding your email to opt into alerts.
We will email you when inventory is added.
Thank you.
Create your wishlist
Don't miss out on the products you love.
Sign in/Sign up now to access your wishlist on all your devices and get updates on great promotions.
Add to wishlist
Do you want to add this product to your wishlist?
Wishlist
This product has been added to your wishlist.
Sorry, the product you added to wishlist is not available anymore.
Installment Calculate
Installments are provided by Santander Consumer Bank S.A.
Estimate your installment plan