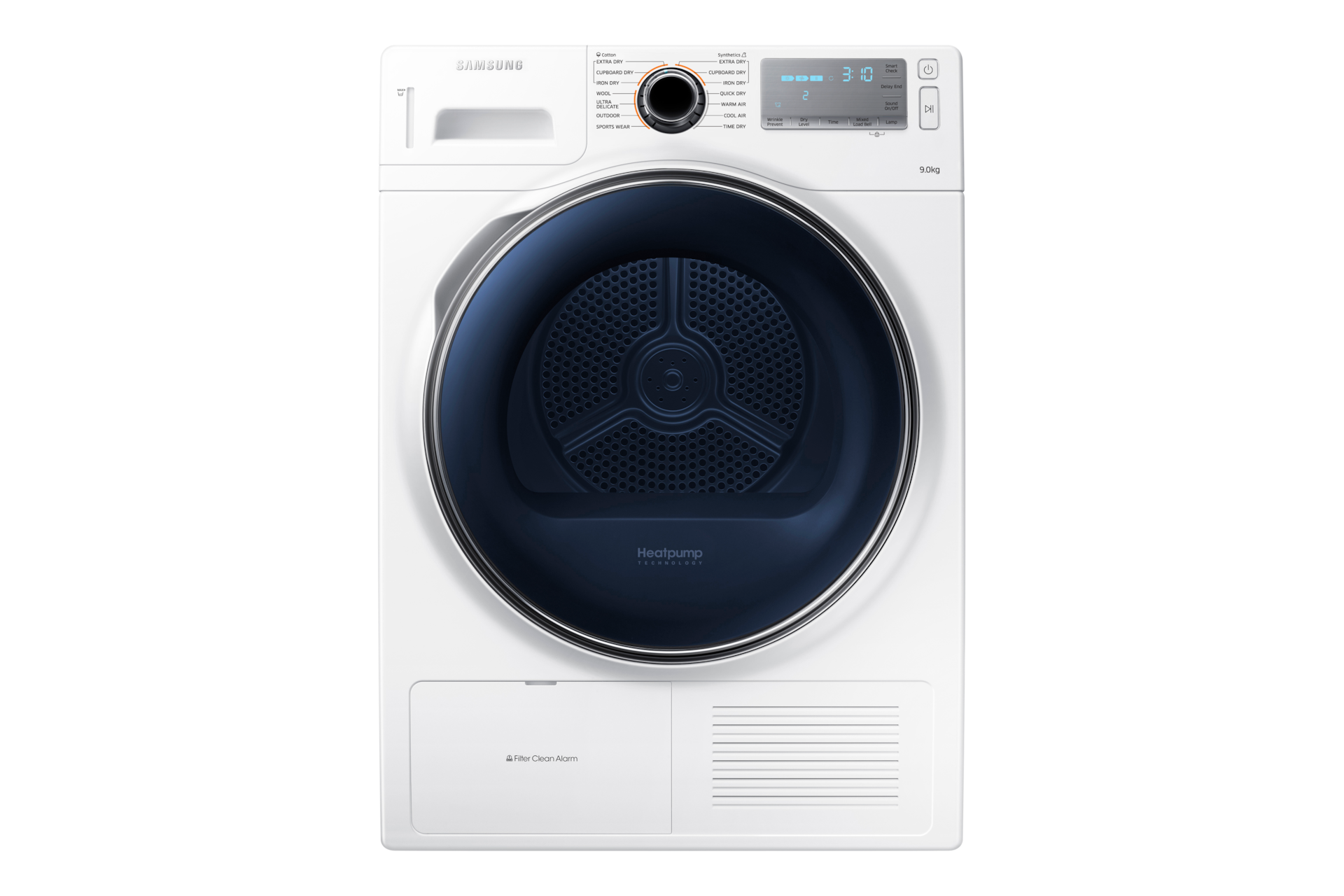 DV8000 Tumble Dryer with Heat Pump Technology, 9 kg
DV90H8000HW/EU
DV8000 Tumble Dryer with Heat Pump Technology, 9 kg
is rated out of
5
by
11
.
BUNDLE
Sorry! This product is no longer available
Heat Pump Technology
9 kg
Drying Capacity (kg)
A++
Energy Efficiency Class
A++ energy efficiency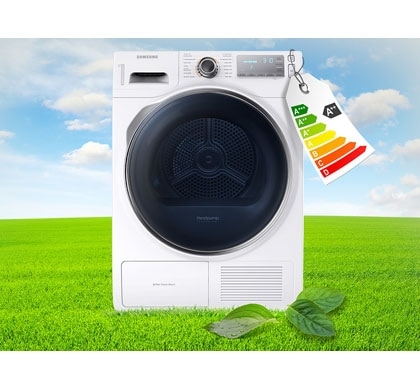 Innovative Heat Pump technology means that Samsung's tumble dryers offer fantastic energy efficiency as well as superb drying performance. With an A++ energy rating, it uses 'refrigerant' instead of electricity to heat the air. So it consumes significantly less power than conventional condensing dryers and also improves overall performance by recycling air to avoid wasting energy.
Crystal Blue Door
A dryer that features an extra-large door, with a Metal Double Hinge that opens wider, so it's significantly easier to load and unload clothes. Its minimal frame allows it to fit perfectly within a modern style living space, whilst its translucent Crystal Blue door refracts light to create a beautiful spectrum of colours. It also matches brilliantly with WW7000, WW8000 and WW9000 washing machines.
Big capacity. Less laundry time
Extra large capacity lets you take care of more clothes in one load. Drying up to 9 kg in one load saves you time by not having to dry as many loads each week.
Helpful reminder for filter cleaning
The condenser filter in clothes dryer needs regular cleaning, so it's easy to forget. But the Filter Clean Alarm provides a helpful reminder when it's time, so your dryer maintains optimal performance. And then it simply sets the counter to zero – but only after a sensor on the cap has checked to make sure the condenser really has been cleaned.
Instant water level check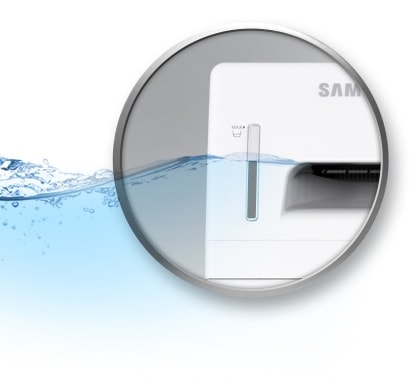 The Samsung Heatpump clothes dryer features a Water Tank Indicator on its front to show how much condensed water has been extracted from your clothes. This simple gauge measures the level of water collected in the tank, so you can quickly see if it needs emptying before you start another load – ensuring that the dryer won't stop unexpectedly if the tank gets full.
Easy troubleshooting
The Samsung Heatpump clothes dryer includes Smart Check, an automatic error-monitoring system. It detects and diagnoses problems at an early stage and provides quick and easy troubleshooting solutions using a smartphone App*. It even lets you control your machine remotely and sends you notifications when your laundry is finished! So it saves you time – and potentially expensive repair bills. * Available on Android and iPhone devices.
9 kg

Drying Capacity (kg)

A++

Energy Efficiency Class

52 kg

Net Weight

598 x 850 x 645 mm

Net Dimension (WxHxD)
Rated

5

out of

5
by
moko studios
from
Love this quiet Dryer, no more condensation in my Laundry. 100% recommended
I love the quietness of the Heat Pump Dryer and the ease of cleaning the filters and emptying the water tray. It appears that i have saved around $400 in power costs since I purchased said dryer 3 months ago. I love the super quietness and the music. There is one thing that I notice comes to mind occasionally - when I turn on the machine I have to give about 3 seconds before it will allow me to press the start button. That is the ONLY thing that comes to mind that bugs me.
Date published: 2015-07-07
Rated

2

out of

5
by
Tim59
from
Auto drying does not dry
I bought this model from Appliances Online. Next day delivery was great. The dryer stopped working after 1 week. Repaired under warranty swiftly but you don't expect to have the whole circuit board replaced after a week. The only setting that seems to dry the clothes is timed dry. Sensors stop the cycle with clothes still damp- auto it is not. Online support could not help. Manual does say if you have a full 9kg load you need to use timer. Good on noise and timer dry is energy edficiwnt when you get it right.
Date published: 2017-11-18
Rated

1

out of

5
by
M Hockey
from
Poor product disappointed for the price paid.
Purchased this machine 28.03.2017, from an online retailer. Samsung UK service agents unable to fix HE fault after replacing various parts/boards. Awaiting a fourth and final service engineers visit! Fix or replace? The machine is less than 16 months old, the last two months the machine has been down due to failure. Feel very disappointed and let down by Samsung and their customer service. I'm afraid this may be the last piece of white good I purchase from this manufacturer. Prior to the failuer, the machine functioned well, shame its unrepairable / not robust enough to last more than 16 months, expected more from a machine in this price range.
Date published: 2018-08-29
Rated

1

out of

5
by
DJE1
from
It just does not work
We have had this dryer for a number of years and just suffered with its poor performance. We contacted customer service on many occasions and once an engineer even came out and said there were no problems with it. Well, there is a problem it does not work! It takes ages to dry anything and still after 3 hours the clothes and towels are still damp. As a result, we have had smelly towels and clothes having been put away slightly damp because they don't seem to get completely dry. So disappointed in this tumble dryer and would absolutely not recommend to anyone.
Date published: 2018-08-04
Rated

1

out of

5
by
Stevieweevie
from
If I could give it less I would
I'm a fan of Samsung normally but this dryer is beyond shocking it simply does not dry clothes we bought this dryer after some seeing some rave reviews but they seem to have dissapeared ! I wonder why it leaves all clothes damp and is simply not worth the money we paid for it , it constantly request the filter to be cleaned even after it has just been cleaned
Date published: 2018-03-09
Rated

1

out of

5
by
Ian P
from
Poor Job Samsung
I have had this machine quite a long time, 2 years. It has never reached the expectations I expected from Samsung. Bought it to match the washer, what a bad decision. It doesn't dry even nearly completely, runs sheets into a ball as the reverse tumble action only happens twice. I am trying to sell it on so I can buy another but everyone other than me has too much sense and I cant get a carrot for it. no more Samsung for me, even put me off buying their phone!!
Date published: 2018-02-08
Rated

1

out of

5
by
Muz177
from
A disappointment
Exactly same problems as other reviews - a dryer which does not dry and now getting the HE error code which will mean a support visit and cost. Such an expensive machine is very damaging to the brand when it clearly is not fit for role.
Date published: 2017-12-26
Rated

1

out of

5
by
jbbaehr
from
Poor performance
I bought this machine with high expectations but have been thoroughly disappointed by its performance - only 1 setting seems to actually dry clothes (sometimes). Worse the two stage filter is badly designed - ok so you have to clean the fluff filter regularly - nice and easy to access and expected. However, almost every other drying load I have to prise open the second stage filter and clean that out as well - if it was once a month - maybe not an issue, but once or twice a week its a problem. Even more problematic, my wife isn't technically inclined and she gives up when the secondary filter is full - she just comes complaining to me that the drier is working even worse than normal. Samsung - you need to fix this!
Date published: 2017-10-31
User manual & Downloads
Live Chat