F500 Washing Machine with ecobubble™, 8 kg
WF80F5E0W4W/EU
F500 Washing Machine with ecobubble™, 8 kg
is rated out of
5
by
9
.
BUNDLE
Sorry! This product is no longer available
How ecobubble™ saves you money
Samsung's breakthrough ecobubble™ technology pre-mixes and froths detergent with water and air bubbles to help wash your clothes evenly and efficiently. With ecobubble™ technology, washing your clothes in cool water is just as effective as washing in warm water using a non-ecobubble™ washing machine. Time to start saving energy!
Samsung's Crystal Gloss™ Design language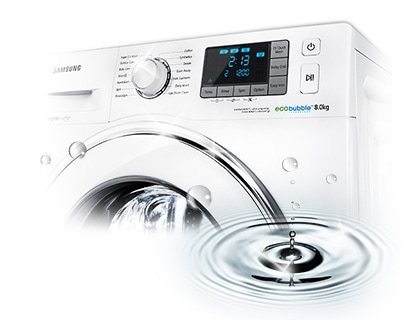 A gently curved façade, striking wide-bezel door rim with White Crystal Touch of Colour™ technology and the subtle smooth shimmer of the Crystal Gloss™ Design finish all produce a modern look and feel. Even the control layout have design in mind, with an electric blue G.LED display and touch sensitive buttons. * Design specification may vary depending on model.
Troubleshoot problems with your smartphone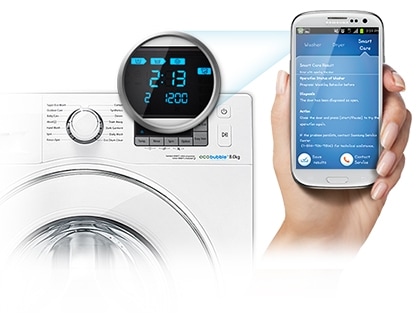 Smart Check lets you use your smartphone to diagnose and solve problems. Simply put the machine into Smart Check mode and use the Smart Check app on your phone to find the solution. You don't even have to consult the user manual – you can correct the issue before it becomes a real headache.
Remove stains easily without ruining fabrics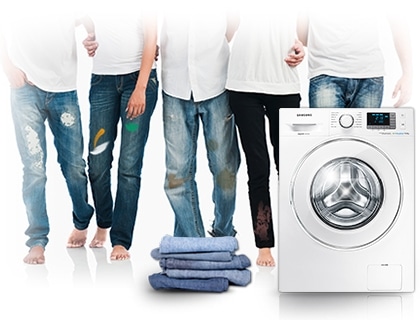 Accidents happen, from evening dinner red wine spillages to muddy splashes on a rainy day. The washing machine's Stain Away feature uses ecobubble™ technology to deeply, gently and thoroughly clean clothes. Remove the most common stains, like wine, tomato, blood, chocolate and grass, and many more.
Last Memory

Last Memory stores the last-used setting, even if the washing machine has been turned off. Just press start and wash another load. The few seconds saved will soon add up.

Diamond Drum design
Samsung's diamond-shaped drum design ensures a deep-yet-gentle wash that avoids snagging or damaging clothes.

Quick Wash
Even when you're super-busy you can still get the washing done with the Quick Wash feature. Simply press the 15' Quick Wash button.
Rated

5

out of

5
by
layla
from
This product is the best machine ever .
This machine has really changed my life for the better. Once I had my life was so much easier.It washes things really quickly without a fuss.It has loads of option and space I would defintely recommend it
Date published: 2015-02-09
Rated

4

out of

5
by
loobyloo
from
My old washing machine died and this is brilliant
Ive not had the unit long, but I am impressed by the speed of the wash and how clean my clothes are. Even the 15 minute wash is excellent. Would recommend to anyone wanting a machine.
Date published: 2015-04-07
Rated

4

out of

5
by
Andrewgem
from
Overall good but has a querk
I chose this model as it sounded like it had great features which it has it is also designed to look modern as well overall it does the job well however within 3 days of owning it the unit wouldn't spin so I insisted on having a replacement rather than an engineer visit, replacement arrived next day and worked fine, now this unit has developed the same fault...... If you have just one or two items in the machine it won't spin it leaves the clothes soaking wet, I called samsung and they advised its because of the weight detector which I can't believe yes that should work so the machine knows how much water to fill verses the amount of clothes but I think if you select spin @1400 then it should spin !!
Date published: 2014-02-16
Rated

3

out of

5
by
teirrah
from
The ecobubble has disappointed me, my machine is only 11 months old and it's has already develop a fault (3e) so furstrating,
I'm so disappointed with my ecobubble washing machine, the machine is only 11 months old and it's has already develop a fault (3e) I do not know what this means but it's driving me crazy, sometimes it takes four > five hours to do an hour wash coz it keeps stopping, can not wash.
Date published: 2016-04-28
Rated

2

out of

5
by
Sammey
from
Clothes dont smell clean.
I have tried different washing powders, I have tried all the cycles and different variations and I cant get my washing to come out smelling like the washing powder. It smells like its been sat in the washing machine for days. U even used 3 scoops of washing powder and the max of fabric condition and liquid in the drum but still the same! Iv tried doing only half loads to see if that helps. Im really scratching my head about this, and hate getting my washing out the machine and no smelling the powder! Im not contemplating selling it on even though iv only had it about 2months.
Date published: 2014-10-24
Rated

1

out of

5
by
GBai
from
Waste of money
I've had my washing machine less than 2 years and the control panel has stopped working, I notice other people are experiencing the same problem, I'll certainly never by Samsung again
Date published: 2018-06-25
Rated

1

out of

5
by
Poppy
from
Very Disappointing
Had the machine 3 years and the control panel stopped working. As it is out of warranty Samsung refuse to fix it. I expected better service, considering such a major fault shouldn't happen so quickly. Avoid this machine and any other machine that has such a short warranty on parts and labour. If the company doesn't trust their machines to work longer than that, neither should you.
Date published: 2017-09-08
Rated

1

out of

5
by
Posh
from
Extremely poor value
This broke after two years very careful use by one person. Out of warranty. My advice is Do not buy!
Date published: 2017-05-29
Smart Simulator
User manual & Downloads
Live Chat
*Samsung received the highest numerical score for clothes washers (2009-2011) and dryers (2008-2011) in the proprietary J.D. Power and Associates Laundry Appliance StudiesSM 2011 study based on 11,215 total responses measuring 17 brands and measures opinions of consumers who purchased their washer or dryer from a retail store or their new-home builder during the previous 24 months. Proprietary study results are based on experiences and perceptions of consumers surveyed in March-April 2011. Your experiences may vary. Visit jdpower.com.