FEATURES
Save energy thanks to ecobubble™ technology
Bring a great look into your home with elegant design
Smart Check to resolve issues using a smartphone
Get rid of troublesome stains with Stain Away
Wash Cool, Save Energy A Revolution in Washing
Now you can wash just as effectively in cool as in warm wate—The Samsung washing machine with Eco Bubble™ technology. It saves energy with every load and is a revolution in washing. Wash Cool. Save energy.
How Eco Bubble™ works?
Breakthrough Samsung Eco Bubble™ technology froths detergent with air and water before the cycle begins, generating cleansing bubbles that penetrate fabrics faster than concentrated detergent. Wash clothes as effectively in cool water as you would in warm water which saves energy.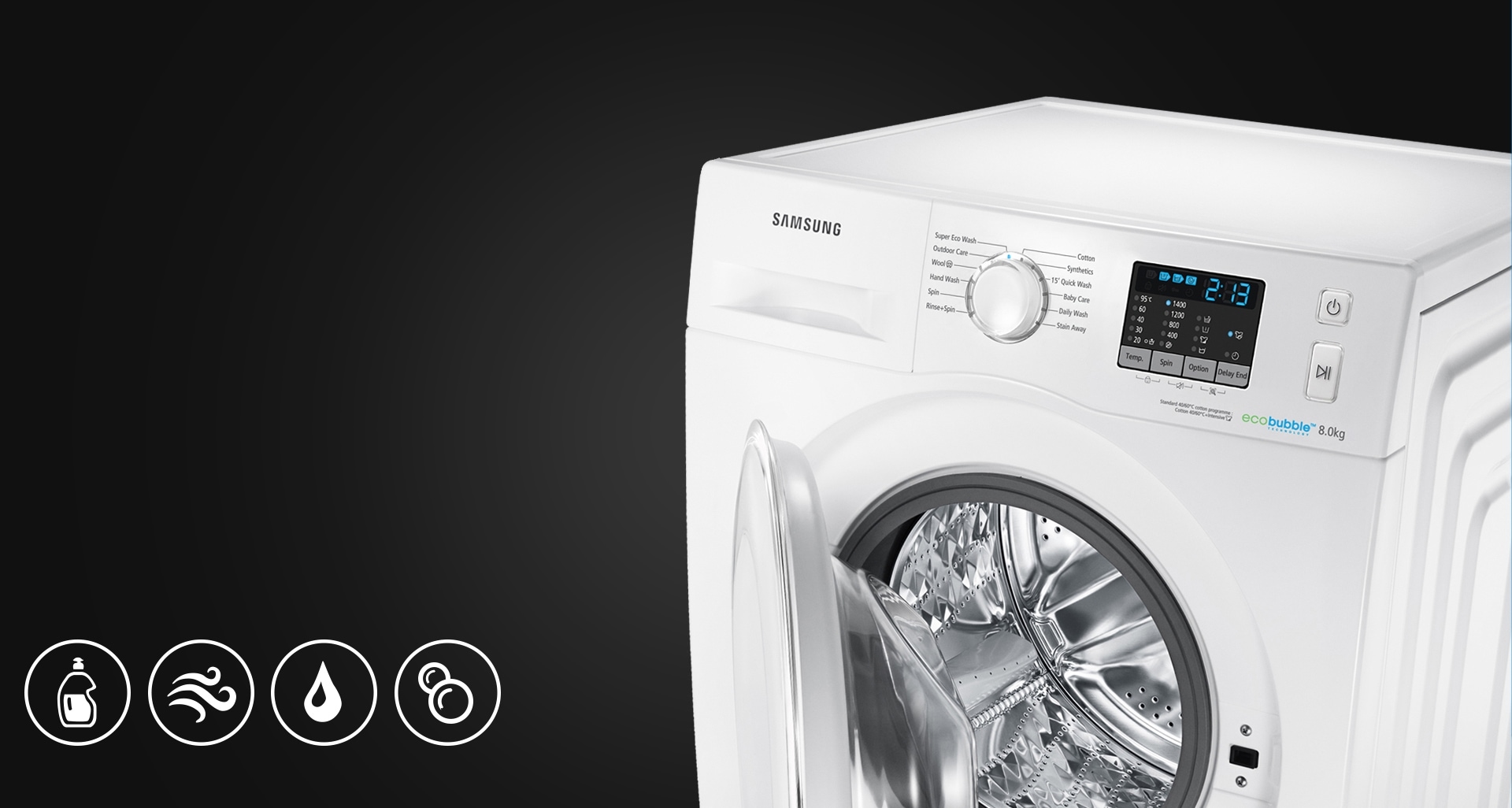 Add elegance to your home décor
Enhance your home décor with Crystal Gloss™ Design. Instead of a mundane, boxy look, the washing machine's facade is slightly curved for a more inviting aesthetic. It incorporates Samsung's Touch of Colour™ technology, which adds a deep and elegant transparency to the door's rim. Complementing the washing machine's organic design is the wide display, featuring flat buttons that respond to your slightest touch.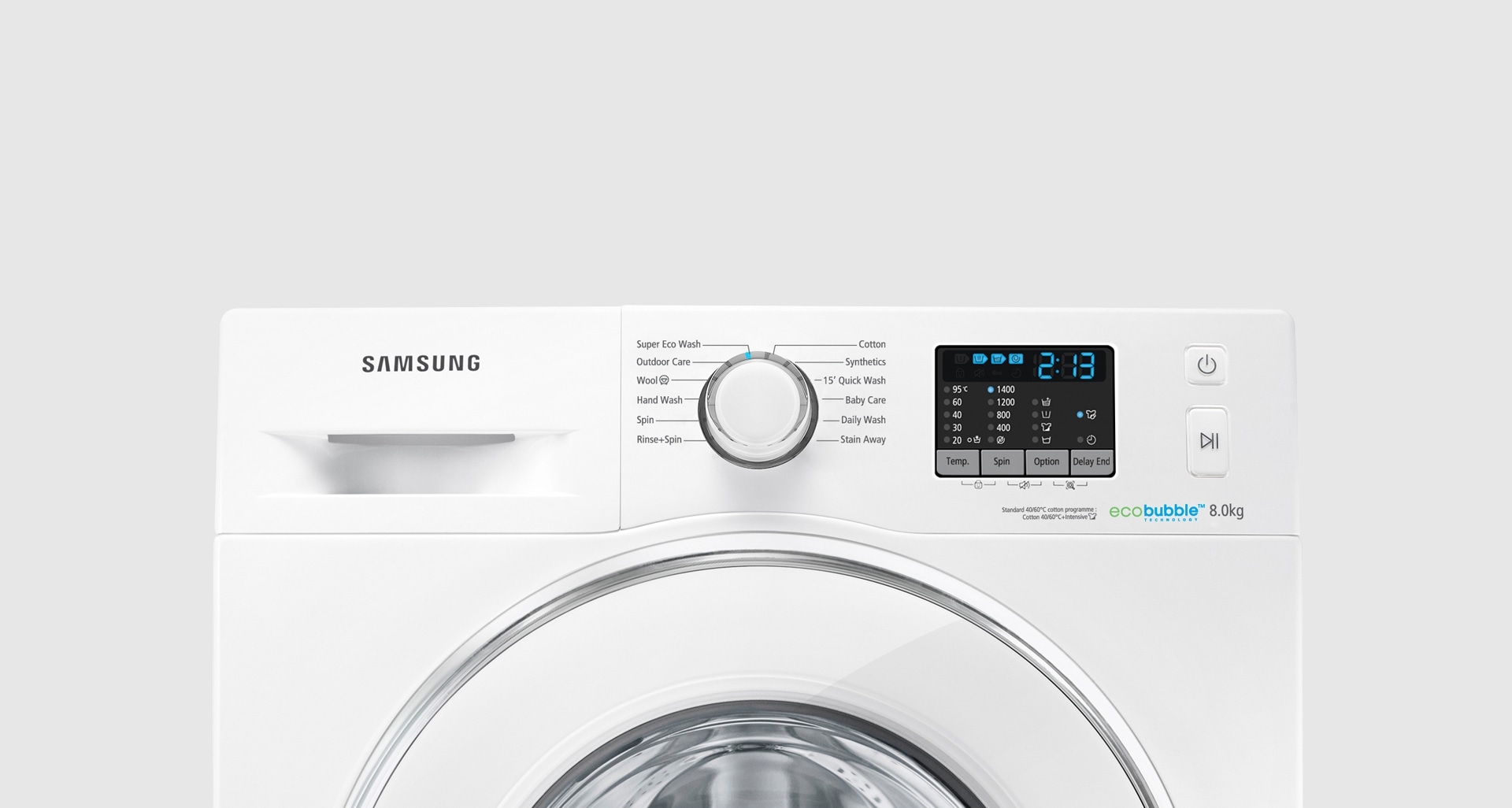 Let Smart Check diagnose and troubleshoot problems for you
Imagine not having to call a repairperson when there's a problem because your washing machine notified you first with the solution. The new Samsung washing machine comes equipped with the innovative Smart Check. Smart Check detects and diagnoses errors at an early stage and provides easy troubleshooting solutions through the use of a smartphone with LED scanning. You don't even have to consult your user manual — you can correct the issue before it becomes a real headache.
Remove stains - and extra steps
There are many ways to dirty your clothes. And one unique way to clean them. Stain Away uses Eco Bubble™ technology to deeply, gently and effectively clean clothes. Remove the most common stains—such as wine, tomato, blood, chocolate and grass—as well as less common ones.
Last Memory
If you're washing load after load without changing the settings, you don't need to reprogramm the cycle every time. Last Memory stores the last setting used—even if the washing machine has been turned off. Just press start and wash another load. The time you save will add up fast.
Diamond Drum
The streamlined shape of the Diamond Drum provides a powerful yet gentle washing performance. The diamond embossed drum gently moves clothes along the uniquely designed drum, while smaller water holes prevent fabrics from snagging and being damaged. Get fabric care with deep-clean results.
Compare
WW6000, 8 kg

WW6000, 8 kg

F500, 8 kg

F500, 8 kg

WW5500, 8kg

WW5500 AddWash™, 8kg

Available colours

ecobubble™

AddWash™

VRT

Super Speed Wash

Digital Inverter Motor
EcoBubble
Diamond Drum
F500 Washing Machine with ecobubble™, 8 kg
is rated out of
5
by
5
.
Rated

5

out of

5
by
SusanAudrey
from
I love my ecobubble
This is my first ever automatic washing machine. I bought this after 30 odd years of my beloved twin tubs ( you can't seal bottled fruit in an automatic!# and I was a bit apprehensive but I'm now in what I hope is my forever home and there were the fixings for an automatic, I thought go ahead. I chose this as it was the Which? best buy and it hasn't let me down. Clothes are definitely cleaner although I have found a few small towelling products seem to be more frayed, is the cotton cycle too long or were my towels just getting old anyway? I now put little towels and flannels in a washbag and they're absolutely fine. Only gripe is that mentioned by another reviewer, no matter how carefully I close the drawer, the fabric conditioner just disappears before the last rinse. I don't want to have to be on the ball and hover waiting for the last rinse to start and then dive in before the water starts flowing , I want to just come back and find the whole thing done. Is there an inner storage place where the fabric conditioner goes or is this a design fault? Also, there is no 50 degree cycle which I like for sheets. Anyhow, I'm still in love with the cleanliness of my clothes and the ease of use of an automatic.I also love the little tune at the end and wonder if it has a name. #It sounds like something we dance to at country dancing).
Date published: 2014-02-19
Rated

5

out of

5
by
banjo
from
fantastic washer
I am so pleased with this washer my washing is smelling fresher and is looking cleaner some of the wash programmes are long but I find the daily programme is just right for us the only thing I don't like is when you but the fabric condioner in it seems to disappear you cant see it the the draw I like the tune when the wash has finished it is very quiet and like the fact that you can see how long the wash has got to it finishes.
Date published: 2014-01-25
Rated

5

out of

5
by
Anon
from
Fantastic machine - well worth the extra money
We replaced a well used washing machine with a cheap 8 kg machine and had nothing but problems with it. After another fault, we bought this machine, taking the risk of paying double the money than our last machine. I don't regret it. I have to often check that it's on due to the quietness of the machine. I was sitting next to the machine whilst cleaning the french door listening to the radio when I realised it was spinning it's last spin. That's how quiet it is. Clothes come out cleaner than my previous machine and I haven't changed anything - apart from the machine! The only thing I don't like about this machine is that is automatically switches off once it's finished washing. The diddy tune it plays at the end is a great reminder but if you don't hear it, your washing can be sitting in the machine for a long time - especially if like me - you haven't heard it do it's final spin and know that it's nearly time to put the washing out. I didn't give it full stars for the design as the outlet pipe is in the middle of the machine and can't be moved and due to this, it hits my outlet pip to the outside and therefore can't be pushed as far back as my previous machine and it's not flush with my dishwasher and slightly sticking out. Otherwise, will recommend this to other people.
Date published: 2013-12-15
Rated

2

out of

5
by
Anonymous
from
Trouble with the Ecobubble
Got this machine about 5 months ago a replacement for my trusted bosh which had just got to old. At first yes great washed well and thought this is fantastic, but about 3 months in started to squeal when spinning so ok I thought get the engineer out as it came with a 5 year warranty, engineer came fiddled about in the back and hey presto it stopped the squealing. However I am currently sitting waiting for the engineer again as it's squealing again it's driving me mad this machine is less than 6 months old and has had two visits from the engineer so far I'm very disappointed to be honest , looks like a quality product but sadly in this case it is not.
Date published: 2014-02-04
Rated

1

out of

5
by
Elgin Joe
from
Inherent Faults!
Had this machine for three years - Main Control Board has failed for a second time - this time it's out of warranty :(
Date published: 2018-09-17
Smart Simulator
User manual & Downloads
Live Chat
How It Stacks Up
F500 Washing Machine with ecobubble™, 8 kg
WF80F5E5U4W/EU

Wash cool and save energy with ecobubble™ technology
Elegant design that fits your style
Resolve problems using your smartphone with Smart Check
Free delivery

Get free delivery on all orders with no minimum spend


Free returns

Free, easy and convenient returns.

28 days to return

Change your mind? Just let us know and return your order within 28 days.

24/7 parcel tracking

Once you've place your order with us, you can track when it's coming.
*Samsung received the highest numerical score for clothes washers (2009-2011) and dryers (2008-2011) in the proprietary J.D. Power and Associates Laundry Appliance StudiesSM 2011 study based on 11,215 total responses measuring 17 brands and measures opinions of consumers who purchased their washer or dryer from a retail store or their new-home builder during the previous 24 months. Proprietary study results are based on experiences and perceptions of consumers surveyed in March-April 2011. Your experiences may vary. Visit jdpower.com.

Get stock alert
Get alerts when this item is back in stock and available to buy, by adding your email to opt into alerts.
We will email you when inventory is added.
Thank you.
Create your wishlist
Don't miss out on the products you love.
Sign in/Sign up now to access your wishlist on all your devices and get updates on great promotions.
Add to wishlist
Do you want to add this product to your wishlist?
Wishlist
This product has been added to your wishlist.
Sorry, the product you added to wishlist is not available anymore.
Installment Calculate
Installments are provided by Santander Consumer Bank S.A.
Estimate your installment plan