Galaxy Note 10.1 Book Cover
EF-BP600BWEGWW
Galaxy Note 10.1 Book Cover
is rated out of
5
by
6
.
Sorry! This product is no longer available
Use a case designed specifically for the Galaxy Note 10.1 2014 Edition
Customised Book cover design for GALAXY Note10.1 2014 Edition maintains polished design while flattering its beauty. With this unique shade of distinguished and sophisticated black, you can express your own style. Complete sense of style with your GALAXY Note10.1 2014 Edition Book Cover. Ultra-light(173.7g) Book Cover maximises portability. With this slimmer and lighter Book Cover, keep your composure and mobility.
Simply convert it into a stand for easy viewing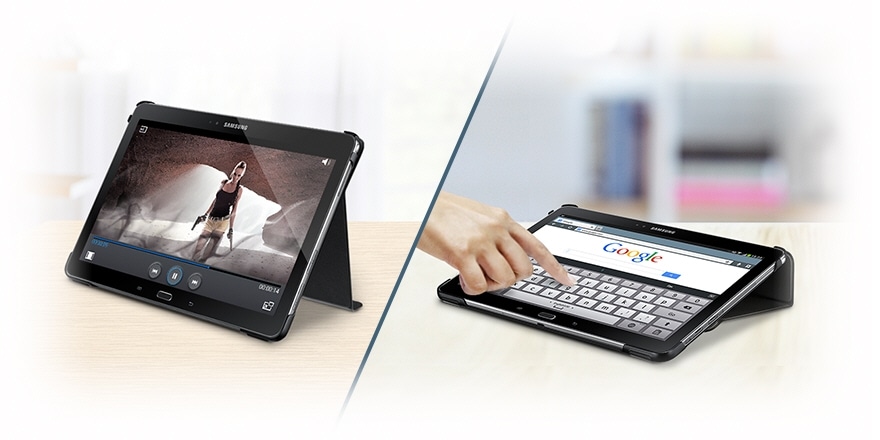 Using the Galaxy Note 10.1 2014 Edition book cover, you can position your tablet wherever is most convenient. You can open the cover, make it as a stand and you're ready whether typing, watching media, editing documents or viewing and sharing photos, etc.
Rated

4

out of

5
by
Remer_13
from
Great option
I list this as a great option but really it at this point is one of the only options. I find it a bit expensive for what it is, but it works well as a business level case. This is by no means a heavy duty protective case, I don't think it was ever designed to compete with Otterbox or others like that. It is sleek, it is light, and it keeps the design of the Note 10.1 2014 edition in tact. I'd recommend it for sure.
Date published: 2014-01-28
Rated

1

out of

5
by
fairytalephoto
from
The Note 10.1 2014 edition case/cover does nothing to protect this flawed tablet design.
I purchased the note 10.1 2014 edition, deciding not to upgrade my ipad, and wanted to get a good case for it. I purchased this case/cover and my tablet slid off the couch and onto the floor. It wasn't a hard fall, the case was on it and I really did not expect the tablet to be as shattered as it was. I would love to see a more durable case or at the very least a better designed tablet. I have actually dropped my ipad several times and never had an issue with it.
Date published: 2014-01-21
Rated

5

out of

5
by
Note 10.1 2014
from
Easy Solution
Other reviewers failed to understand that when taking pics with the case on, they can simply spin the tablet upsidedown and the flap will hang from the bottom, out of the way of the camera.
Date published: 2015-09-29
Rated

2

out of

5
by
Ibrahim
from
The Book Cover Kills the Rear Camera
When you flip the cover to the back and reveal the display, try to use the camera software, you will find a black screen, of course, because the cover was brilliantly designed by Samsung to cover the rear camera when it is flipped to the back. So to reveal the rear camera you should flip the cover to the front and in the same time cover the display and so you cant use the camera either way, the only way left for you to use the rear camera is actually to take the tablet out of the cover. Perfect flaw by Samsung.
Date published: 2014-04-26
Rated

4

out of

5
by
InMyHumbleOpinion
from
DESIGN FAULT
Whilst the cover looks really good, there are limited options for using the stand. The stand cannot be used in portrait mode. My biggest gripe is that you cannot take videos or photos when the tablet cover is on because the cover obscures the camera lens unless you use on hand to try and fold the cover out of the way - in doing so you are then left with one hand to try and zoom and take photos which is extrememly awkward. It's a design flaw that any designer should have picked up very early on in the process and it certainly should not have made it through to manufacture as is. In all other aspects the cover is great; nice and compact, good quality, slim, looks good. Too expensive.
Date published: 2014-03-26
Rated

4

out of

5
by
JayD
from
Camera
Case is nice fit. Tablet fits snuggly in case. One negative, however. When case is open it blocks the back camera. Samsung should have made an opening for this.
Date published: 2014-03-25
User manual & Downloads
Live Chat