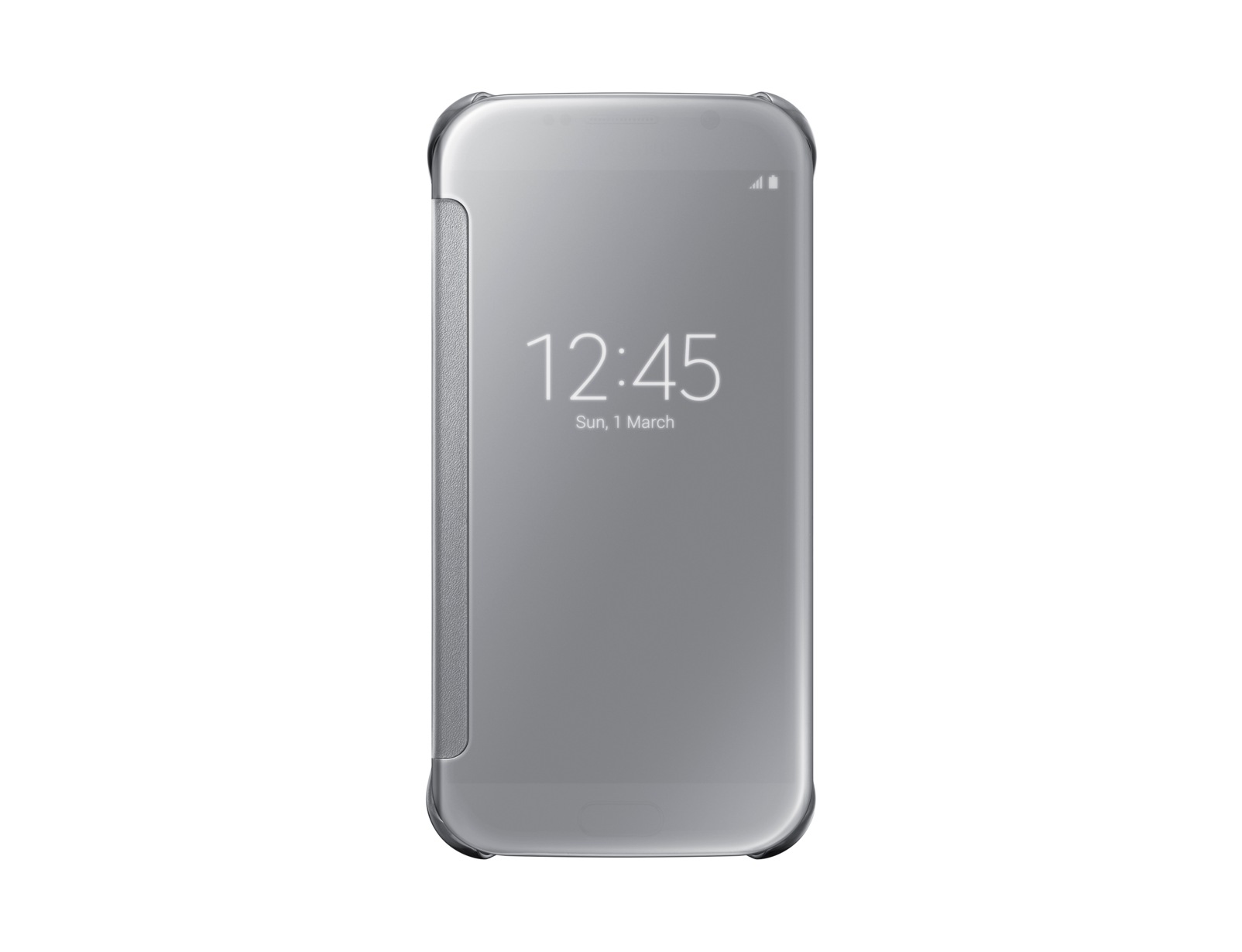 Galaxy S6 Clear View Cover
EF-ZG920BSEGWW
Galaxy S6 Clear View Cover
is rated out of
5
by
31
.
Sorry! This product is no longer available
Perfect Design
The Galaxy S6 Clear View Cover is a perfect fit for the Galaxy S6. Its reflective, translucent finish accentuates the Galaxy S6's smooth metal curves.
Perfect Match
Take the Galaxy S6's stylish glossy look to the next level with the Galaxy S6 Clear View cover. Choose between a range of fashionable hues, including: Black, Gold, Silver and Blue. All are a perfect fit for the Galaxy S6's stunning colours.
* Colours may differ from country to country.
Intelligent Display
With the Galaxy S6 Clear View Cover fitted to your Galaxy S6 it gives you a window to see key information on your phone. When closed, a dedicated UX display allows you receive or reject calls, check the time and date and get a range of notifications– without even having to open the cover.
Superior Design Meets Protection
Not only does the Galaxy S6 Clear View Cover look the part, it also offers shock resistance and lasting protection against scratches and splashes. The cover provides a layer of defense not only for the front and back of the Galaxy S6, but also the edges, allowing you to get more out of your device for longer.
Rated

5

out of

5
by
LawanX
from
Looks Awesome
Looks Awesome and great. I love my Clear View Cover but there's something that I don't like that much: No protection on the right side of Galaxy S6, leaving it at risk of "free scratches and marks" on the aluminium body.
Date published: 2016-01-12
Rated

3

out of

5
by
markster
from
Great case but sadly scratches phone
I was really amazed at this case when I first got it. The theory is brilliant. And for the best part of it. it works and protects the phone. But there is the small snag of after about 3 months I have found it scratched my screen. Which seems counter productive. As this is meant to protect screen from scratches. Sorry Samsung its good idea, but flawed.
Date published: 2016-04-06
Rated

5

out of

5
by
Pickles
from
Samsung
I am very happy with this phone case. It is made to the highest quality and I would buy another
Date published: 2016-09-16
Rated

5

out of

5
by
umar
from
Review Summary
I love this product it is great awesome Samsung is great better than iphon,Samsung all the way I love it the Samsung team should get a reward
Date published: 2015-10-05
Rated

4

out of

5
by
Jatinder37
from
Great cover but need screen protector
So as many people have stated this phone does potentially scratch or damage the screen of a phone. I think the reason for this is the cover is hard metal plastic therefore if any dirt becomes trapped underneath it causes the screen to become damaged. Therefore just buy a screen protector and this resolved the problem. I'm happy to do this due to the following: 1) Cover looks gorgeous and compliments the phone 2) Great functionality with the cover and the phone 3) Very slimline cover So put a screen protector and your phone is safe :)
Date published: 2015-08-25
Rated

3

out of

5
by
PringleKing
from
It's a cover & semi clear with questionable protection qualities
Bought this in silver (to compliment my s6 in white) with intent to protect phone back annnnd the front when not in use. Left side/Volume buttons (hidden by the flexible spine) are better usable when cover is closed but I think needs additional dexterity if cover is open as you need to access from the front, and not with fingers/hand wrapped around the back for instance. The semi clear aspect is visually appealing (once you get past the finger prints!) the silver/white is quite stunning. warning don't fold right round to the back as the camera image is , well blocked by the cover!, so you can only snap with the cover flapping in the breeze! oh, and no complete side protection. just (very) hard corners and the soft spine. Camera remains suitably recessed and sits nice and flat against the desk etc The screen reacted ok to the cover opening & closing. This setting is switchable via accessories settings in the menu. But ... and it's a big but... the cover closes completely flat against the screen. so if there is "any" amount of grit, dust, debris between the cover and the precious screen, you're in danger of damaging the screen. I had invested in a quality named screen protection film The phone was in my jeans pocket un disturbed with walking/activity for about an hour. Once retrieved, it was clear that something had got in and had lodged in the inside cover and has been scouring the screen/protector. The screen protector had been quite visibly compromised. With finger nail, the "something" was picked out of the cover and scrapped smooth. I thinks the glass screen is ok but I daren't remove the damaged protective film just yet in case I find the screen is damaged (this would pop my current s6 happiness bubble). With protection cases from, lets face much cheaper, specific case makers, I reckon, the screen would be ok as you'd avoid this closed cover/scouring action. The grit or whatever that found it's way between the cover and screen was subjected to a scouring action as the flexy spine causes the cover to move somewhat over the screen (as the spine ages, I do wonder if the cover movement about the screen will increase!) I'm somewhat disillusioned by this product, especially given the price (I at 35gbp and a week later it's 45gbp... seems I was lucky to get this before they hiked the price up!) Despite ticking the box, I hesitate to fully recommend this for all the time, everyday usage but I'd treat the whole thing totally differently to a regular case. This isn't a cover to fully protect but is more a decorative, eye catching accessory. For, say, special occasions, or perhaps office/business, it's quite a looker and hikes up the cool factor in which I would recommend. Operational lesson learnt: Don't put in jeans pocket. Whilst avoiding #bendgate, a jacket breast pocket may be better as this would reduce the cover/screen loading/scouring effect Regularly check cover smoothness with finger nail /wipe as I reckon micro stuff could build up & get lodged and then scour the same spot each time. use it for appropriate occasions Hope this review helps :-) PK
Date published: 2015-05-11
Rated

2

out of

5
by
s6 user
from
Great but not working well
I love this product but its not working good..like calls or message on my s6 920A model...
Date published: 2017-07-29
Rated

5

out of

5
by
MightyJoe
from
Looks great
I really like this cover - it looks modern, and works really well
Date published: 2015-06-24
User manual & Downloads
Live Chat