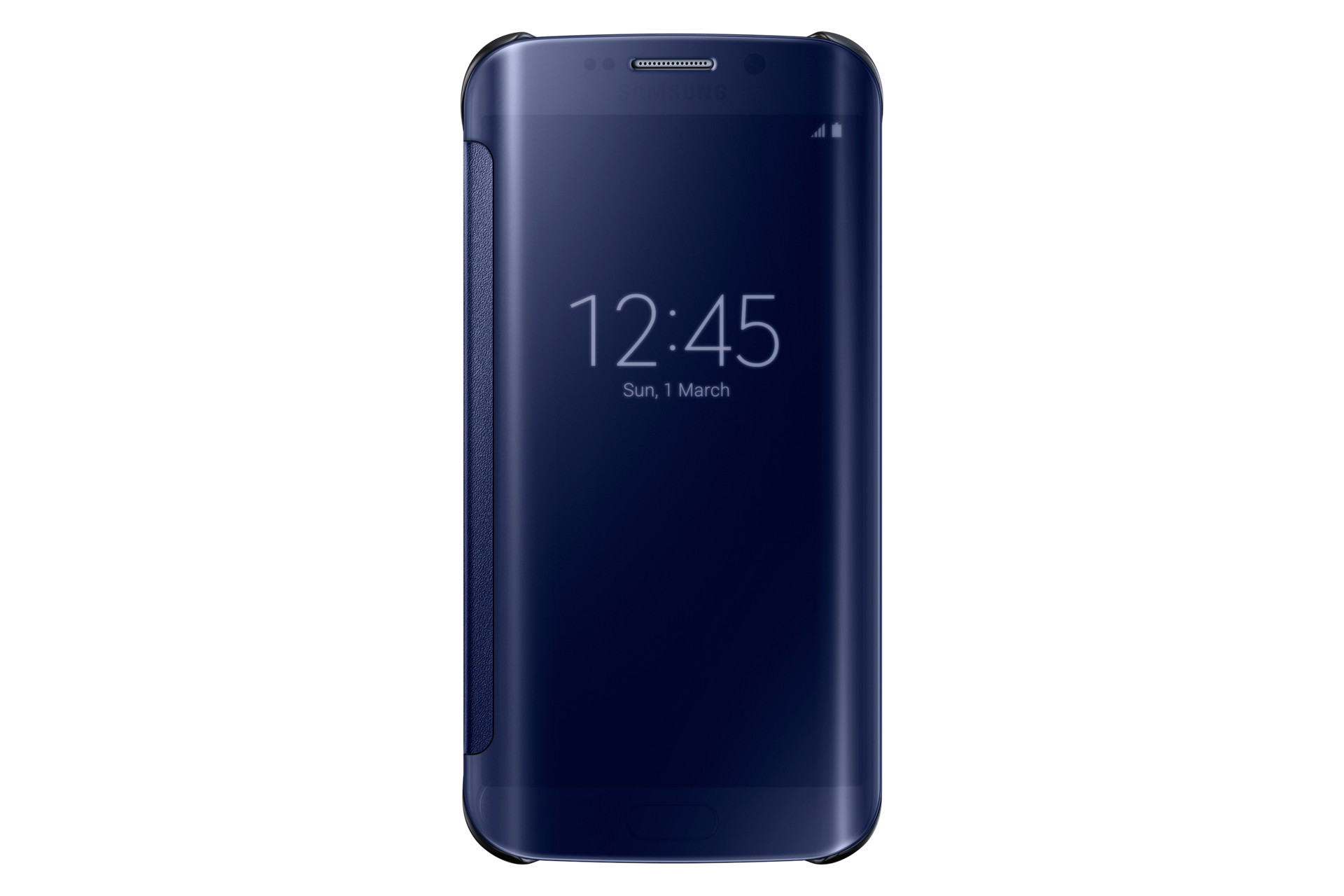 Galaxy S6 edge Clear View Cover
EF-ZG925BBEGWW
Galaxy S6 edge Clear View Cover
is rated out of
5
by
43
.
Matching Fluid Lines
The Galaxy S6 edge Clear View Cover is a perfect fit for the Galaxy S6 edge. Its reflective, translucent finish accentuates the Galaxy S6 edge's smooth metal curves.
Perfectly Matched
Take the Galaxy S6 edge's stylish look to the next level with the Galaxy S6 edge Clear View cover. Choose between a range of fashionable hues, including: black, gold, silver and green, all of them are a perfect fit for the Galaxy S6 edge's stunning colours.
* Colours may differ from country to country.
Intelligent Display
The Galaxy S6 edge Clear View Cover allows your Galaxy S6 edge to provide you with a range of important information. When closed, a dedicated UI display allows you receive or reject calls, check the time and date and get a range of notifications – without even having to open the cover.
Superior Design Meets Protection
Not only does the Galaxy S6 edge Clear View Cover look the part, it also offers great protection for everyday use. The cover provides a layer of defense not only for the front and back of the Galaxy S6 edge, but also the edges, allowing you to relax and enjoy your new device..
Rated

5

out of

5
by
MisterT70
from
Excellent!
I bought it in 2015 and still use it but needs to be replaced by new one.
Date published: 2018-06-06
Rated

5

out of

5
by
Phoned
from
I LOVE this cover
I got this cover with my phone over a year ago and it still works great . I drop my phone often, the poor thing has gotten a lot of abuse and yet it still fits, nice and snug. The only reason I have a giant crack on the back is because I dropped it, taking off the cover. I love the intelligent features especially with the new software upgrade. It use to just tell me that I had a notification but now it tells me which app it is from. Before it only worked with samsung music but now it works with Spotify as well. It covers the volume button on the side but the material there is thin enough that you can still press the buttons. You can see the time, date and battery life as well as how much longer it needs to charge if it is plugged in. My only thing is that the cover's ability to stay closed deteriorates over time so you may need to get a screen protector to prevent scratches but you can easily find a good inexpensive one anywhere online. Other than that it sits nicely in my hand and I love it.
Date published: 2017-04-26
Rated

5

out of

5
by
Bbees
from
excellent design and quality
I am very pleased with the case. The phone fitted in very well and I like that you can see through the case to the home screen for date time.
Date published: 2016-11-11
Rated

5

out of

5
by
Zain
from
The best case
This case does not scratch the phone and I love the shine on this fabulous case and I will recommend this to you
Date published: 2016-05-03
Rated

5

out of

5
by
Christine
from
Nice features.
Reasonable protection without being too bulky and nice styling. The features are accurately described. Especially like the see-through cover and the fact that the phone knows that the cover has been closed. Message alerts briefly appear through the cover and then fade. Answering the phone with the cover closed is a very useful feature. A good price and the ability to collect quickly
Date published: 2016-04-21
Rated

5

out of

5
by
Waseem
from
This case is prefect, does the job
Very great case, a bit pricly but well worth it.
Date published: 2016-03-02
Rated

5

out of

5
by
porkie
from
superb
I've had my cover 6 weeks and had no problems at all. Looks good works well. How anyone can say it scratches the screen I really can't imagine. It isn't physical possible. Unless you put your phone in your pocket, then put a handful of sand in there with it and go for a run. There's nothing abrasive to mark your screen. You just have to keep it clean. Common sense surely ???
Date published: 2016-02-27
Rated

5

out of

5
by
Mac
from
C6 Edge Cover
I wanted a quality cover for my new Samsung phone and this ticks ALL the boxes.
Date published: 2015-11-18