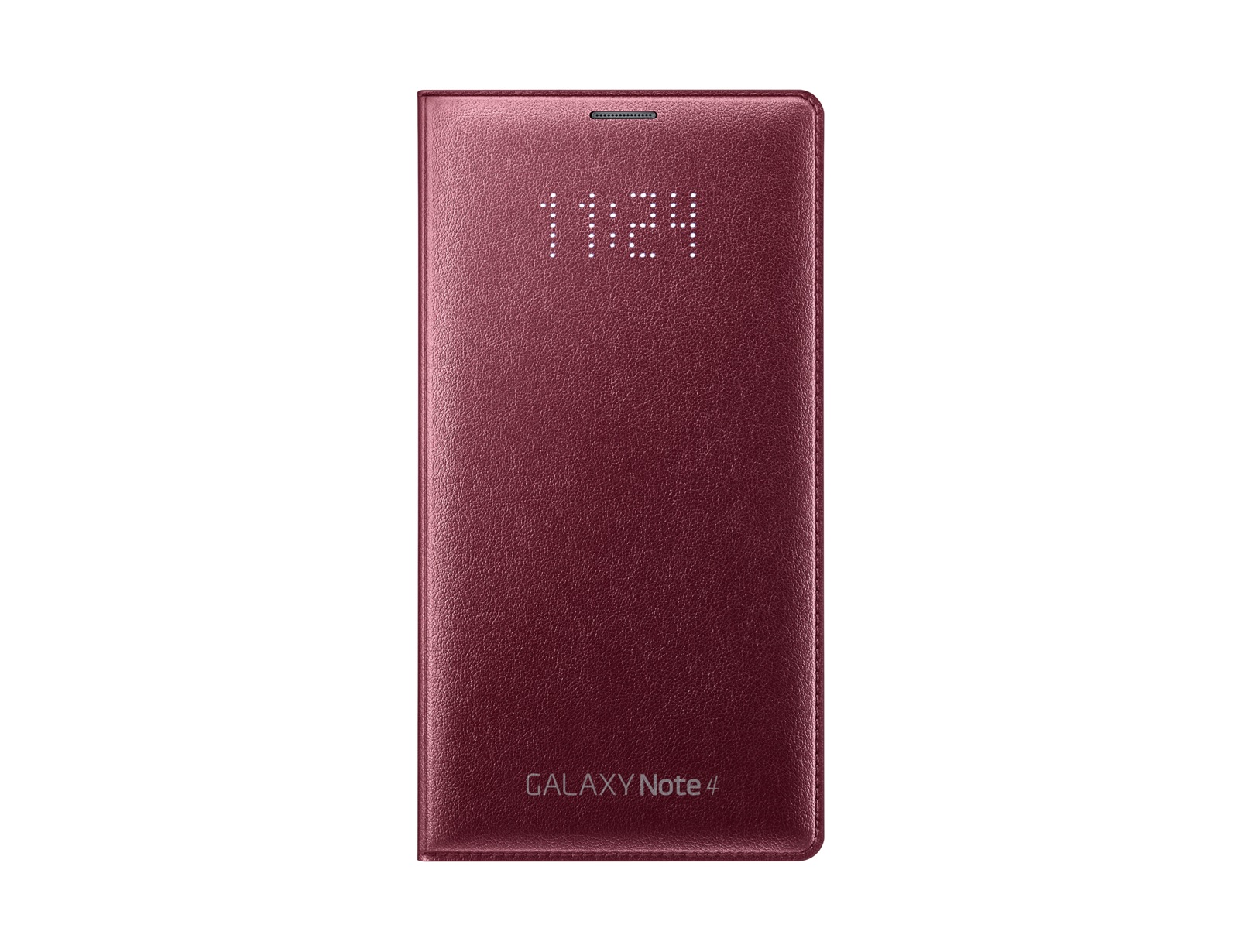 Galaxy Note4 LED Flip Wallet
EF-NN910BREGWW
Galaxy Note4 LED Flip Wallet
is rated out of
5
by
9
.
Sorry! This product is no longer available
Smart Features on the LED Wallet
The Note 4 LED Flip Wallet will amaze you from the moment you attach it to your device. Using a simple and informative LED display, you can get information on your phones status - such as current time, calls, messages, battery status and volume to name a few - quickly and easily without opening the cover.
Luxurious Colours
The Note 4 LED Flip Wallet is available in a number of stylish colours and because they're from 2015's Spring / Summer trend, you know you'll be the talk of your friends and colleagues.
Convenient and Slim
This Note 4 LED Flip Wallet has a convenient card pocket on the back of the flip cover yet still maintains it's slim design. Simply replace the Note 4's standard cover with the LED Flip Wallet and enjoy your new device without it feeling any bigger.
Edge Coating
The special Edge coating on the LED covers provides the premium finish expected with a Samsung original accessory and gives you a better and more secure feeling of grip.
Automatic Screen On / Off
The Note 4 LED Flip Wallet turns your screen on / off automatically when opening and closing the cover.
Premium Design
Though not made of leather, these covers still have that hand-made look and feel that you expect from any Samsung OEM accessory.
Premium Stitch effect
The stitch effect finish on the edges of the cover just adds those finishing touches to an already great looking cover.
Rated

5

out of

5
by
Tragger
from
it's my favorite case
hi. do you know how to fix the LED, cause mine not working anymore? its been a year i'm using this phone case.. its really nice and i still love it.
Date published: 2016-05-31
Rated

5

out of

5
by
Mr.Rous
from
Incompatibility
Great case but It isn't cooperate with motions and gestures when you have enabled pause/mute->turning device over. You have to open the case and then turn device over otherwise It doesn't work with case closed.
Date published: 2016-04-13
Rated

5

out of

5
by
Klaw
from
400 days passed daily ware and still flawless
Not a single scratch, stitches intact, no discoloration.
Date published: 2016-01-29
Rated

5

out of

5
by
Chris
from
This is an amzaing cover for Galaxy note4.
This is an amzaing cover for Galaxy note4. Thin but protective case make your phone attractive
Date published: 2015-04-06
Rated

5

out of

5
by
allandre
from
fabulous and stylish
love it.. offers great protection for phone as well as providing stylish LED info.. shame it comes with absolutely no instructions as to what displays it provides, however they just appear when needed and offer a pleasing surprise.
Date published: 2015-03-14
Rated

4

out of

5
by
ShadowFire
from
Good, but would like more features
I like this cover a lot but I would like see more features and settings that allows more customizing.
Date published: 2015-05-23
Rated

2

out of

5
by
Dunk
from
Nice but needs a settings app
It is a nice looking case. The Charcoal Grey one matches the phones colour (assuming you have the darker phone). It adds about the right amount of bulk for protection without making the phone too bulky. Its about 3mm thicker and wider than the naked phone and about 1 mm longer. The LEDs being hidden when they are off is a lovely touch. The volume rocker still works well through the spine of the case. Big problem for me though is that the phone permanently displays the four dot spiralling generic alert suggesting that I have a notification of some unknown origin. When I check my notification panel, there is nothing there. A settings app for the case to select what apps it will notify me about should be a necessity for this hardware, but does not exist. At the very least I would like the option to turn this generic notification alert off, but I cant. If Samsung make a setting app available I will amend my review, but until they do, the case is more annoying than it is good.
Date published: 2015-03-30
Rated

1

out of

5
by
Ceinaru
from
The LED screen circuit band brakes easily (pic)
This happens after at least 2 months of normal usage.
Date published: 2018-11-29
Free delivery

Get free delivery on all orders with no minimum spend

Free returns

Free, easy and convenient returns.

28 days to return

Change your mind? Just let us know and return your order within 28 days.

24/7 parcel tracking

Once you've place your order with us, you can track when it's coming.
Create your wishlist
Don't miss out on the products you love.
Sign in/Sign up now to access your wishlist on all your devices and get updates on great promotions.
Add to wishlist
Do you want to add this product to your wishlist?
Wishlist
This product has been added to your wishlist.
Sorry, the product you added to wishlist is not available anymore.
Get stock alert
Get alerts when this item is back in stock and available to buy, by adding your email to opt into alerts.
We will email you when inventory is added.
Thank you.
Estimate your installment plan
Remove item?
Are you sure you want to delete this option?
Option will be reset if you select Samsung care+.
Add to basket?
Samsung Care+
Dropped your phone and smashed it? Keep your smartphone protected from accidental damage.



Included

Accidental damage (incl. liquid damage) for mobile phone and accessories that come in the box.
Worldwide cover (up to 60 days international trips)
Maximum of 2 claims for the 2 years insurance period, subject to a per claim excess of £52
Repairs completed by Samsung using genuine Samsung parts



Not included

Loss of the phone
Deliberate damage or not adequately protecting the phone
Cosmetic damage
Theft
Any repairs carried out without Samsung approval

Samsung Care + Insurance is underwritten by AWP P&C S.A. - Dutch Branch, trading as Allianz Global Assistance Europe, with corporate identification No 33094603, registered office at Poeldijkstraat 4, 1059 VM Amsterdam, the Netherlands, registered at the Dutch Authority for the Financial Markets (AFM) No 12000535 and authorised by L'Autorité de contrôle prudentiel et de resolution (ACPR) in France. For more information on Samsung's privacy policy please click here.
Samsung Care+ Terms and Conditions
Able to Check after downloading and reading Samsung Care Terms and Conditions.
Option will be reset if you select Extended Warranty.
Add to basket?
Extended warranty
This is an extra 4 years on top of the standard 1 year warranty for parts and labour. It's another great reason to choose Samsung

During the Extended Warranty Period Samsung continues to warrant that the Samsung product shall be free from defects in materials and workmanship in accordance with the original warranty statement provided with the product.
In the event that Samsung is unable to repair your product, Samsung may at, its discretion, either exchange your existing product with a replacement product or provide you with a refund.
When warranty service involves the exchange of a product or part, subject to applicable law, the item replaced becomes the property of Samsung. The replacement may be a new or repaired item. The replacement item assumes the remaining warranty period of the original product.
Remote technical support may also be provided for the product(s).