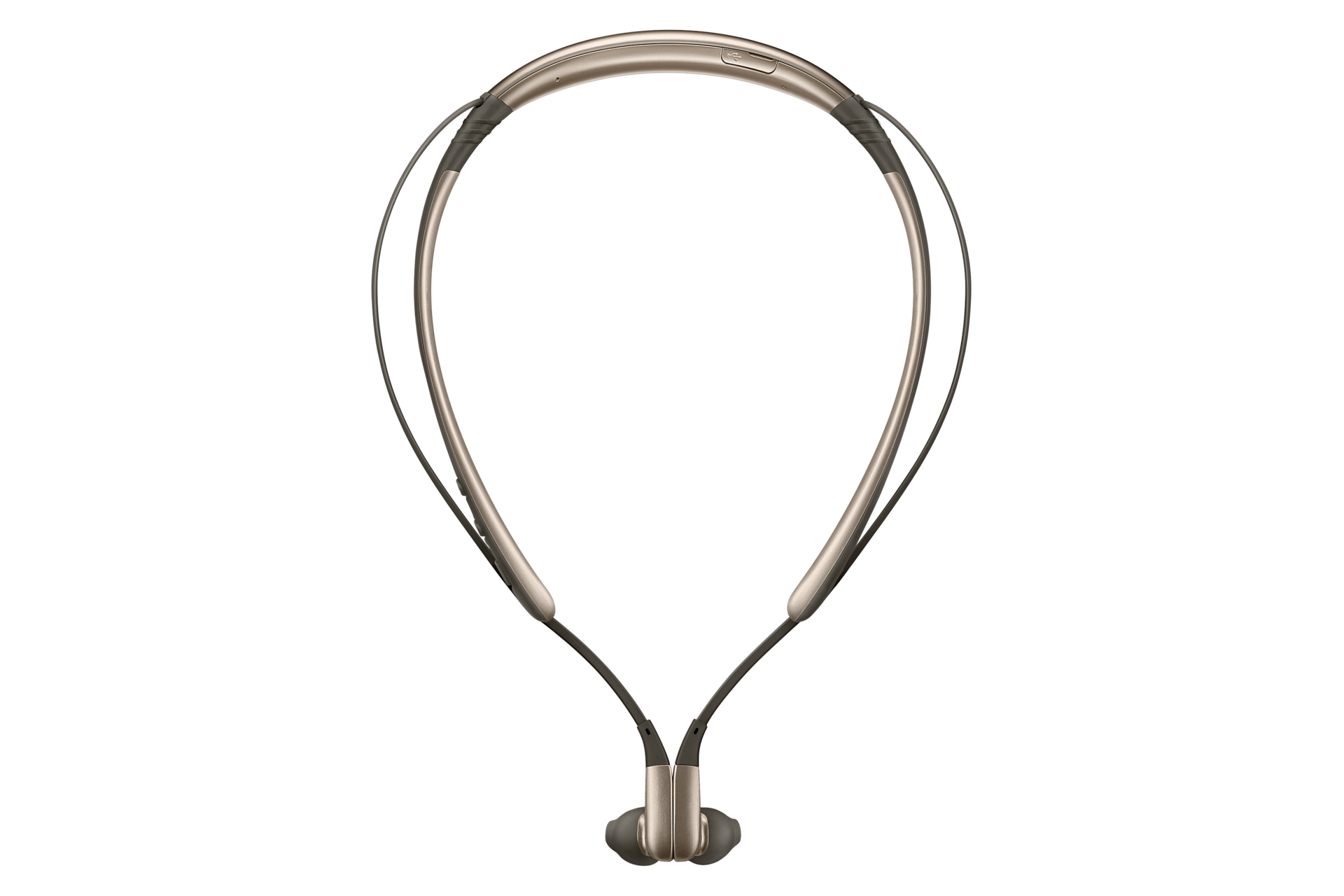 LEVEL U Wireless Bluetooth Neckband Earphones
EO-BG920BFEGWW
LEVEL U Wireless Bluetooth Neckband Earphones
is rated out of
5
by
8
.
Sophisticated Design
With sophisticated design and a selection of fashionable and striking colours, you will always look the part with the Samsung LEVEL U wireless Headphones.
Comfortable Fit
Built with soft, flexible urethane joints, the LEVEL U's neckband-type design offers you exceptional wearing comfort. Adjust the neckband for a perfect, customised fit, compatible with your neck size. Its ergonomically designed hybrid-type eartips allow you a secure wearing experience, wherever you go.
Longer Battery Power
The LEVEL U Wireless headphones provide up to 10 hours of music playback, 11 hours of voice calls and 500 hours of standby time. Say goodbye to worries about your headset's battery life with the LEVEL U Wireless headphones.
Clear Voice Quality
With two built-in microphones as well as noise- and echo-reducing NR and EC technology, the LEVEL U Wireless headphones delivers accurate and clear sound reproduction for your voice calls.
LEVEL APP
The convenient LEVEL APP allows you to customise your listening experience depending on your own needs. LEVEL APP also delivers you a range of essential information, including missed call alerts, alarms, scheduled events and remaining battery levels through Text-to-Speech (TTS) and vibration alerts.
Easy Access Controls
Built-in volume, forward/back and play/pause buttons let you enjoy easy access to your LEVEL U's functions, without the need to touch the paired device. Raised button design allows you to access functions with incredible ease, even when you are on the go.
Magnetic Eartips
The LEVEL U Wireless headphones' magnetic eartips make it easier for you to keep your headset looking tidy and safely out of the way, even when it is not in use.
Rated

5

out of

5
by
Ronin
from
Easy to use and long battery life
Got it as a gift, using it on phone and laptop, battery stays almost all day. Doesn't bother to wear it even when not using it, sometimes I forget that I got it on me. Also the app for it makes it easier to use.
Date published: 2019-04-25
Rated

5

out of

5
by
ayeazm
from
Amazing quality and amazing to use
Received these as a gift and so far they've been perfect. The battery life is really good and the sound quality is amazing. Very convenient to wear as well, no need to be dealing with tangling or in-the-way wires. Can conveniently wear this under my hijab without having to worry about wires tangling in my hair or scarf, or just worrying about how to optimally place wires while keeping my phone in my pocket. Would defo recommend
Date published: 2017-11-16
Rated

5

out of

5
by
Chimp
from
Perfect headphones
Received these today and they are the best headphones i have ever worn. I also have a Bose pair and these are better!! comfy to wear, great sound quality and great look.
Date published: 2016-05-26
Rated

3

out of

5
by
Garfield
from
Not happy
I bought these head phones a year ago and I really can't say that I am happy with it. 3 months later it was already broken and I used glue to keep the pieces together. Also ear pieces are not comfortable enough, they are too big.
Date published: 2019-03-06
Rated

3

out of

5
by
Velvinfe
from
Very mediocre for the money you spend
Positives: + the best ear puds that work for me the ones with the plastic extension on the sides. + decent battery life for a bluetooth device. + the attachment around your neck is quite comfortable and light like a feather. I don't feel it on me sometimes. Negatives: - not loud enough. I had to go through my spotify equalizer settings and put them to maximum performance. - not enough BASS for their high price as you would expect. I used to buy the Phillips xtra bass earphones from ASDA with £9 and they have a lot better bass performance. - they could have included a charger for that price. Charger is NOT included. I have to use my gear s2 charger and luckily it is compatible!
Date published: 2018-03-26
Rated

2

out of

5
by
Sabby
from
Cheaply made
I was really excited about the level u , i did my research and they were the ones i wanted, the sound quality is great but beware the neck neck gets loose and breaks, took them to the samsung store and they didnt care no help at all.
Date published: 2018-11-16
Rated

2

out of

5
by
koko
from
Could make a great headphones
Really nice design and reasonable quality (it's seems like wireless version of s6 default wired headphones. Unfortunately, only work fine with a mobile for the rest (PC etc useless (very poor quality) Samsung should make some app and drivers for PC as well..
Date published: 2016-07-04
Rated

1

out of

5
by
Kami
from
Awful
The design is great the problem is the product keeps disconnecting whilst you're on a call
Date published: 2017-11-24