Create Virtual Desktops Using Simplified Cloud Access
As businesses, schools, and other organisations move their data to the cloud, managers are seeking ways to leverage the benefits of cloud computing. Replacing bulky individual PCs with virtual desktops offers many cost and management advantages, such as centralised application management and a reduced need for IT support. Samsung testing revealed significantly lower power costs as well. However, creating a virtual desktop infrastructure (VDI) presents challenges.

Samsung TX-WN aids in providing a manageable, cost-effective path to creating workable, user-friendly VDI solutions. IT personnel can provide support and manage applications, backups and security remotely. Valuable resources can be saved by reducing the need to visit individual workstations that have a range of operating systems and software.

To access the virtual desktop, the user needs only an existing monitor and the compact TX-WN. Less equipment helps clear the physical desktop of cumbersome computers and speakers. Users can access the software, settings and data they need on a server. They can focus on assigned tasks rather than on updating software and backing up data.
Reduce Costs and Management Time with a More Efficient VDI Solution
TX-WN gives users access to their applications, settings and data using virtual desktops stored on an organisation's servers. Connecting TX-WN to existing monitors helps create a VDI solution with a lower initial investment, reducing the total cost of ownership (TCO).

With its AMD Ontario 1.0 GHz Dual CPU, TX-WN serves as an optimised PC, limiting the need to purchase individual operating systems or applications. Upgrading software takes less time because upgrades are performed from a central location.

VDI implementation greatly reduces the need for hardware and software maintenance support, giving IT professionals more time to focus on strategic goals. Virtual desktops also help users spend more time on their assigned duties and less time correcting technical issues.
Decrease Threats with More Secure Data
Moving sensitive data from individual PCs to centralised servers reduces opportunities for unauthorised access. It also narrows the chances of viruses and malware spreading from one user to others.
Using VDI technology, IT personnel can more easily follow standard best practices and meet regulatory requirements
for data storage. VDI solutions also make it easier to perform regular backups, install security patches, detect potential problems and speed disaster recovery from one central location.
Clear Desktop Clutter with a More Compact and Versatile Device
TX-WN has a sleek, slim design and takes up much less space than typical desktop PCs. The horizontal model, for example, is 210 mm (8.3 in.) wide, 54.8 mm (2.2 in.) high and 122 mm (4.8 in.) deep. A vertical model with a stand is also available. X Series Thin Client TX-WN weighs just 0.8 kg (1.8 lb).
In addition to taking up less space, the fanless device uses less power than most PCs, which helps reduce electricity expenses. The versatile X Series Thin Client TX-WN also has built-in stereo speakers and offers multiple ports for connecting various peripherals.
MagicRMS 2.0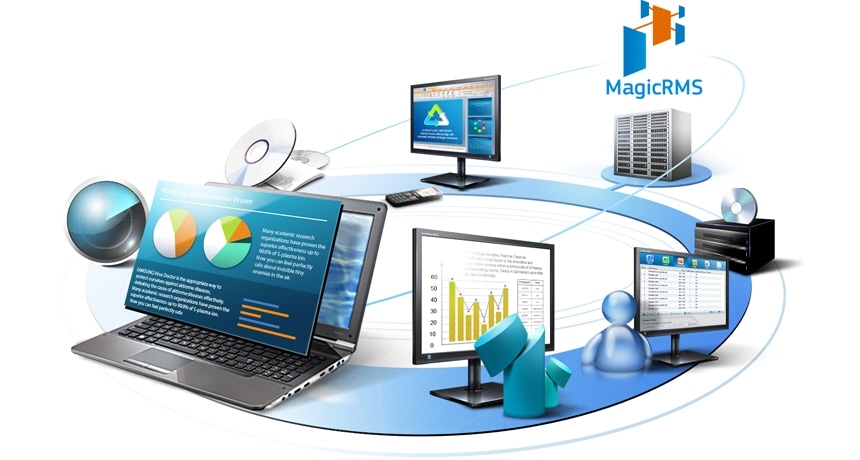 Samsung MagicRMS 2.0 software provides remote manage-ment for Samsung thin-client products, including the TX-WN platform. The application is based on the Microsoft® .NET Framework, has a Microsoft Windows® user interface (UI) and supports the Microsoft SQL Server® database platform. MagicRMS 2.0 aids in simplifying device management with device control and helps avoid business loss with prompt error detection.
With MagicRMS 2.0, IT personnel can update firmware, send files, view device details and collect asset information from a centrally located console. Additional information that can be gathered includes import and export profiles, report statuses and events, and hardware and software application versions.
User manual & Downloads
Live Chat