Certified performance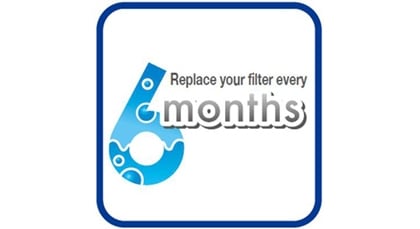 Drinking filtered water rather than buying branded bottled water not only saves you money, it also reduces plastic waste.
Save money, and the environment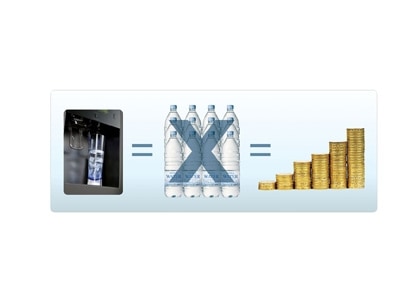 Samsung water filters are tested and certified by NSF International, a non-profit non-governmental organisation dedicated to public health, safety and environmental protection. Its certification is widely recognised around the world as a guarantee of safety.
Samsung genuine parts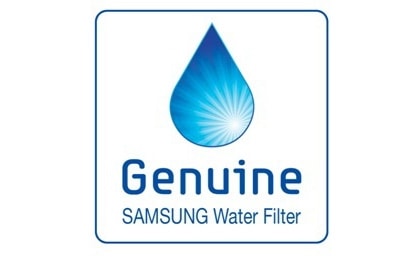 Purchase only authentic Samsung water filter cartridges for guaranteed performance. Be wary of other brands or imitations offering a cheaper price and claiming compatibility with Samsung refrigerators. We only recommend genuine water filters for use with our refrigeration products, imitation products may be of poor quality and non-compatible.
Reduce contaminants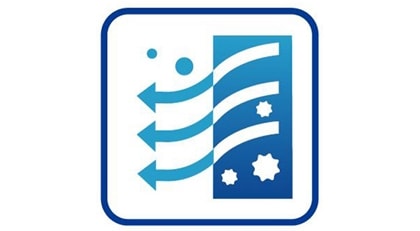 Samsung water filters use a high grade carbon block which removes contaminants such as chlorine that may be present in your water, whilst also removing odours.
Filter light indicator
Simply refer to the digital panel on your refrigerator to see whether your filter needs replacing. When the filter requires changing the light will turn red. Each filter also comes with a month sticker that can be applied to the filter cartridge as a reminder.
Fresh filtered water at your fingertips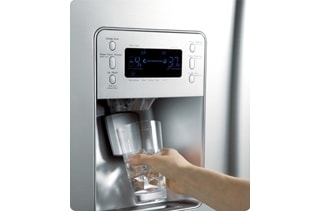 When you purchase a Samsung side by side or French door refrigerator with ice and water dispenser you can rest assured that it is equipped with a highly efficient water filtration system. Whether located inside or outside of the refrigerator, these filters guarantee a reduction in contaminants. Enjoy fresh filtered water right from the dispenser without worrying, time after time.

*NSF Trade name: DA2010CB
Manufactured by: Microfilter Co.LTD



External Water Filter
is rated out of
5
by
7
.
Rated

4

out of

5
by
whydidntIthinkofthat
from
Removal is easy when you know how!
Water filter does what it says on the tin. Like others I really struggled to remove the old unit, until I discovered what when you've removed the (red in my case) retaining clip, you need to push the grey collet INTO the filter as you remove the pipe, to release it. Just pulling on the pipe will only make the collet grip harder and will potentially stretch the pipe.
Date published: 2018-08-25
Rated

4

out of

5
by
Roglang
from
Direction of flow.
I have seen many comments regarding direction of flow not indicated. Well I have to dispute this. It is clearly marked on the label ..
Date published: 2017-03-20
Rated

4

out of

5
by
Arty
from
Poor installation instructions
There is nothing on the product to show the direction of flow. Installation is therefore guesswork. How can samsung miss something so simple? A simple arrow on the label would suffice.
Date published: 2016-04-14
Rated

3

out of

5
by
Steve41
from
As others have stated, direction still not marked
On youtube I was able to determine that the flow goes from the bottom of the unit to the top (with the samsung logo towards the top). However it is ridiculous that after several years on the market, this is STILL being sold without any flow direction marking, either on the label or the unit itself.
Date published: 2018-07-09
Rated

3

out of

5
by
Sparky
from
Why no flow direction shown on filter
Samsungs instructions tell you to install it the correct way around as shown by a direction flow arrow on the filter... That does not exist.
Date published: 2017-04-22
Rated

3

out of

5
by
billymcmurray
from
Good filter with easy to use push fit connections but ........ what is the correct flow direction??
For a genuine Samsung replacement item, why does the filter not have a flow direction marked per the information label on the item? Not acceptable for genuine replacements.
Date published: 2016-08-26
Rated

3

out of

5
by
The Old Chap
from
I have no alternative but to approve
We had our Samsung fridge freezer installed in July 2015. Alarm bells started to sound when the technicians struggled to fit the filter without it leaking. Eventually they did fit the filter, but only after going back to the store to obtain a replacement. April 2016 and the indicator light illuminated on our fridge. I ordered replacement filters; Samsung certified and after receipt commenced installation. May I say that I managed to install the filter on the second attempt, but only after I took the retaining clamps (not the red clips) from the original filter. If you visit the Samsung site they state that you remove the red clips and withdraw the pipes. The charming man on the video repeats the same instructions, but there is no of him doing it and I now know why! I removed the red clips and tried to pull the pipes off; they wouldn't budge. Tried again and again, not a mm. As I had some excess pipe and due to the fact that the filter is not easy to access, I cut the pipe at both ends. Even using pliers, gripping the plastic pipe firmly, the pipe does not detach. Eventually I took out blue/grey retaining clamps. I was then able to remove the pipes. Fitting is the opposite, but actually it wasn't. There was a slight leak, so I had to repeat the procedure, honestly and it was at this stage I damaged a clamp and had to use one from the original. After slight adjustment trimming the pipe edge, I installed the filter at the second attempt and so far it isn't leaking. May I say that I was amazed that the installers had such trouble, but now I know why. Let's get the video on the Samsung website to demonstrate how difficult it is to get the pipe off, yes it is easy to fit, but impossible to remove. Incredibly poor design and it is only due to the fact that I purchased two filters that I will be replacing it in circa 6 months time, but this time I will be prepared to sever the pipes at the start, rather than waste pipe as it stretches when you try to pull it.
Date published: 2016-05-23
How It Stacks Up
Ensure you've always got fresh water
Tested and certified by NSF International for safety and performance
Improves taste whilst removing chlorine and odours
A Samsung genuine part
Free delivery

Get free delivery on all orders with no minimum spend


Free returns

Free, easy and convenient returns.

28 days to return

Change your mind? Just let us know and return your order within 28 days.

24/7 parcel tracking

Once you've place your order with us, you can track when it's coming.
Features and specifications are subject to change without prior notification.
Get stock alert
Get alerts when this item is back in stock and available to buy, by adding your email to opt into alerts.
We will email you when inventory is added.
Thank you.
Create your wishlist
Don't miss out on the products you love.
Sign in/Sign up now to access your wishlist on all your devices and get updates on great promotions.
Add to wishlist
Do you want to add this product to your wishlist?
Wishlist
This product has been added to your wishlist.
Sorry, the product you added to wishlist is not available anymore.
Installment Calculate
Installments are provided by Santander Consumer Bank S.A.
Estimate your installment plan