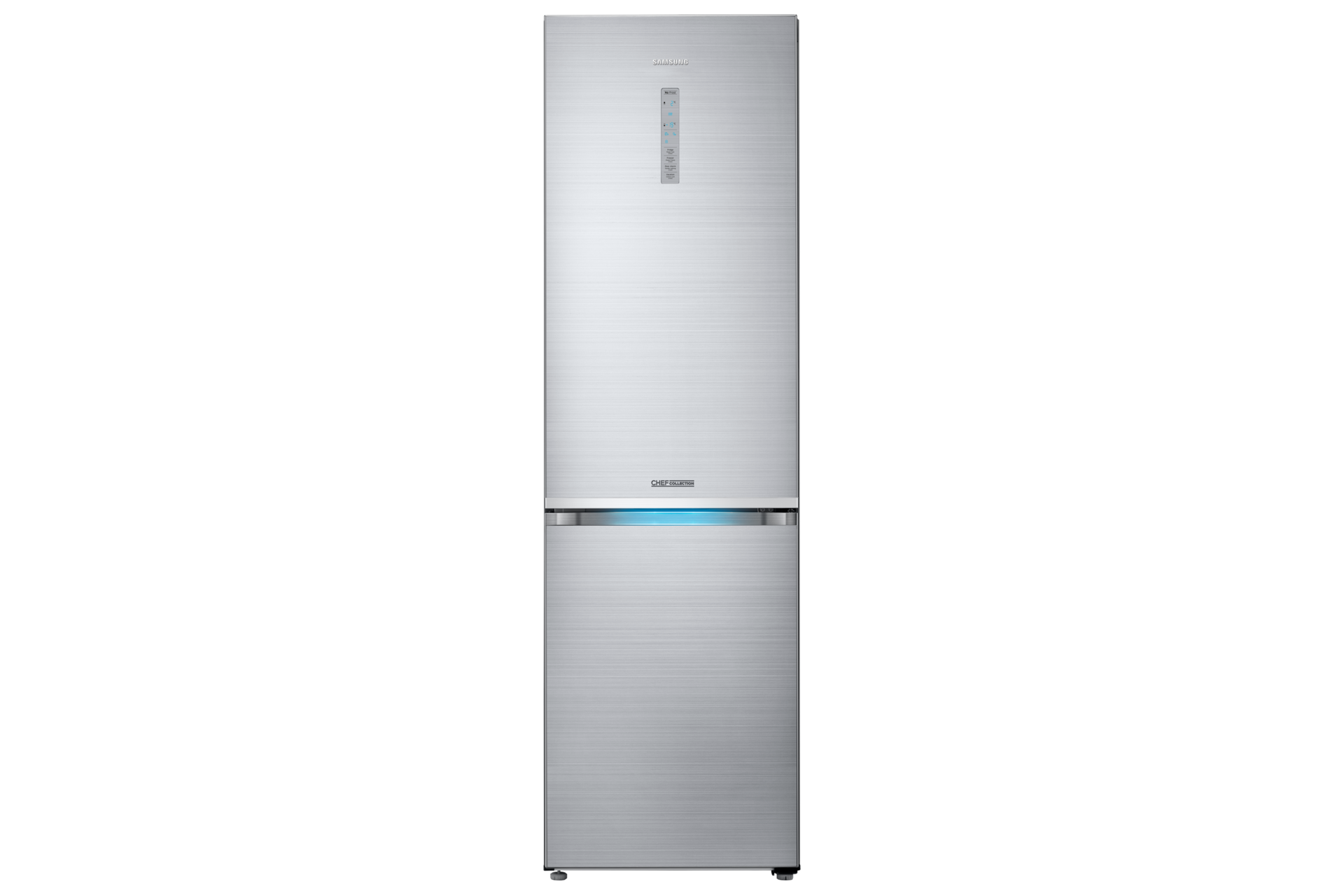 RB7000 Fridge Freezer with SpaceMax Technology, 406 L
RB41J7859S4/EU
RB7000 Fridge Freezer with SpaceMax Technology, 406 L
is rated out of
5
by
9
.
BUNDLE
Sorry! This product is no longer available
Twin Cooling Plus™
Chef Mode
Metal Cooling Panel
433 ℓ
Gross Total (Litre)
More inside, same outside
The Samsung Chef Collection Refrigerator offers up to 30% more storage space*, thanks to SpaceMax Technology™ that creates extra internal capacity without increasing the external dimensions.
*In comparison with Samsung RL55VTEBG1/RL50RGEMG1
Precision cool for ultimate freshness
Chefs say that precise and stable temperature control is the key to keeping food at its freshest. Precise Chef Cooling™ minimises temperature fluctuation, so all your ingredients retain their original textures and flavors.
Pro chef temperatures at home
If you're not a chef, it can be a challenge to know the right temperatures to store different foods. Chef Mode™ helps you out by preserving each type of food at exact chef-recommended temperatures for ultimate freshness.
Keep meat & fish market fresh
The Chef Zone™ is the perfect place to store meat & fish, as it preserves food at the optimal temperature which chefs consider ideal for maintaining the best flavour and texture. Your surf n' turf will stay fresh until it's ready to be grilled.
Perfectly harmonious and stylish design
The premium, built-in design has a seamless look that is perfectly harmonised with your existing kitchen furniture. Its stunning metal finish and Ice Blue handle lighting also add professional style and elegance.
Make the most of your space
The Slide & Fold Shelf can be easily removed, folded up or raised and lowered to accommodate any sized items–including tall bottles or bulky containers– for a smarter and more convenient way to organise your food.
Store it your way
4 Adjustable Door Bins help you easily organise and flexibly store differently sized items. You can adjust the bins to fit all sizes of bottles, cartons and other items for maximum use of your storage space.
Optimal humidity
Twin Cooling Plus™ technology cools the fridge and freezer compartments separately. Independent evaporators and cooling systems ensure optimal cooling and humidity, so food stays fresher for longer and odours don't mix.
No more ice buildup
No Frost Technology prevents the buildup of ice and maintains a constant temperature in every corner. It also cools nearly twice as fast*, placing less demand on the cooling system and increasing its durability.
* Based on a comparison of the Samsung frost fridge RL39THCTS and no frost fridge RB31FERNCWW. Individual results may vary depending on consumer usage.
Elegant glow
The Ice Blue Handle emits a stylish blue light that complements the exterior's stunning brushed metal finish. Not only does it add a touch of modern and elegant style, it also functions as a light when accessing the freezer.
Built for cool
The Metal Cooling Guard on the interior back panel adds both beauty and function. It keeps food and drinks extra cold while looking sleek and attractive at the same time.
433 ℓ

Gross Total (Litre)

595 mm

Net Width (mm)

2017 mm

Net Case Height with Hinge (mm)

650 mm

Net Depth with Door Handle (mm)

90 kg

Net Weight (kg)

Twin Cooling Plus

Cooling Type
Rated

5

out of

5
by
Philip13
from
Best fridge freezer we have ever had
We bought this model 6 months ago and love it. The chef zones are amazing and keeps meat, fish & salad & vegetables beautifully fresh in the two draws. We find we never now throw anything away. This particular model is simply huge due to the Spacemax technology, thin sides and over 2 metres high. It is also very quiet being located in an open plan kitchen / lounge apartment. The ambient lighting in the door both illuminates the freezer drawers very well when opened and provides low level lighting across the kitchen floor, looks great! We have been so impressed we have just bought another for a parent who would not be able to reach the top of this model, so we bought model RB33R8899SR which is not quite as tall but has exactly the same specification. This is a premium model and worth the extra price, however certainly worth shopping around as prices do vary.
Date published: 2019-11-01
Rated

5

out of

5
by
HarvB
from
Huge capacity and well thought out design
This is a huge fridge freezer. I previously had a Miele which was the same dimensions on the outside but was at least 40 litres smaller inside. The first thing you notice is the sheer premium quality feel of the stainless steel finish. Next is the beautifully bright interior lights which illuminate the whole interior of the fridge. The blue handle light does a good job of illuminating the freezer compartment. It's wonderfully quiet in operation and cooling is swift with no frost build up. The only bad point is the egg holder which has been badly designed. It cannot accommodate large eggs - the flap will not open and is too small in height to get your hand into to get eggs from the back row. I have had to place eggs elsewhere in the fridge and use the egg holder compartment for other items. Hopefully Samsung will rectify this with a usable aftermarket correction. Overall, egg compartment aside, this is a stylistically beautiful fridge which has been designed intelligently to get maximum internal capacity.
Date published: 2019-07-13
Rated

5

out of

5
by
DarrenCHENG
from
I am really happy with this fridge freezer.
It is huge and can fit many things in. There is a draw for meat, for fruit, it keeps food fresh and crisp.
Date published: 2017-10-04
Rated

5

out of

5
by
Kenbee
from
A Well Thoughtout Fridge Freezer
A well thought out fridge, however, the freezer could have been larger (what is so wrong with fifty-fifty split?) Having said that, it has a larger freezer than most. I would also question why the door alarm is so quiet? Even standing next to it, it is hardly noticeable with no discernible way of increasing the volume! A good feature but rendered almost useless. It is very quiet and despite it's height it is fairly easy to see everything in the fridge. It has replaced a freezer that was twenty two years old and never had a day off sick; so it will have a lot to live up to!
Date published: 2017-07-05
Rated

5

out of

5
by
Tom P
from
Spacious
Great fridge, very spacious, sleek design - I would recommend this fridge if you have tight space (width) to fit but want max. space inside possible
Date published: 2016-11-16
Rated

3

out of

5
by
Lacey51
from
Useless shelf!
This a lovely appliance with some great features but also with two extremely poor ones! First and worst is the so called 'folding shelf' which in theory, allows extra height items, eg bottles, to be stored on the shelf below. Good idea, but poor execution. This folding shelf folds when one doesn't want it to fold resulting in things falling off when it is supposed be in its 'unfolded' position. It is unbelievably flimsy and is not worthy of this expensive fridge freezer. Well, I hear you say, take it out and replace it with a 'normal' shelf. Easier said than done! Some spares websites don't recognise the model number and even Samsung haven't manage to locate one for me. Still trying, but incredibly frustrating and annoying. Thumbs down for this feature Samsung. Secondly, the top shelf in the fridge door can only be used for ver small items. It's apparently designed for dairy but is still not great. Also, opening the lid seems to lift the whole shelf often threatening to come off completely. Another thumbs down for that one. Just give me normal, fuss free shelves and I will be delighted with this appliance.
Date published: 2019-03-05
Rated

2

out of

5
by
Arek
from
Spacious, good looking but incredibly loud
This fridge has plenty of storage space and keeps temperature really well. However, the compressor is on virtually 24/7 and the fridge runs at 45dB (and higher) not 39dB stated by the manufacturer. Strange noise comes out of it whenever doors are closed. Finally, ours arrived with a blue ribbon sticking out from under the control panel at the front, which cannot be removed.
Date published: 2018-04-07
Rated

2

out of

5
by
pvh123
from
Very annoying gurgling / bubbling sound
I've just purchased this fridge & 3 days in I am being driven mad by the most annoying gurgling sounds. It's not the compressor or motor, I can only assume this is the refrigerant for cooling referred to in the manual? If so, I would never have bought this as the 13 year old AEG it replaced was perfectly silent! If I cannot resolve this I will be sending it back...
Date published: 2017-11-21
User manual & Downloads
Live Chat
How It Stacks Up
Twin Cooling Plus™

Chef Mode

Metal Cooling Panel

Gross Total(Litre)

433 ℓ

Awards & Reviews
Twin Cooling Plus™

SpaceMax™

Digital Inverter

Metal Cooling Panel

Awards & Reviews