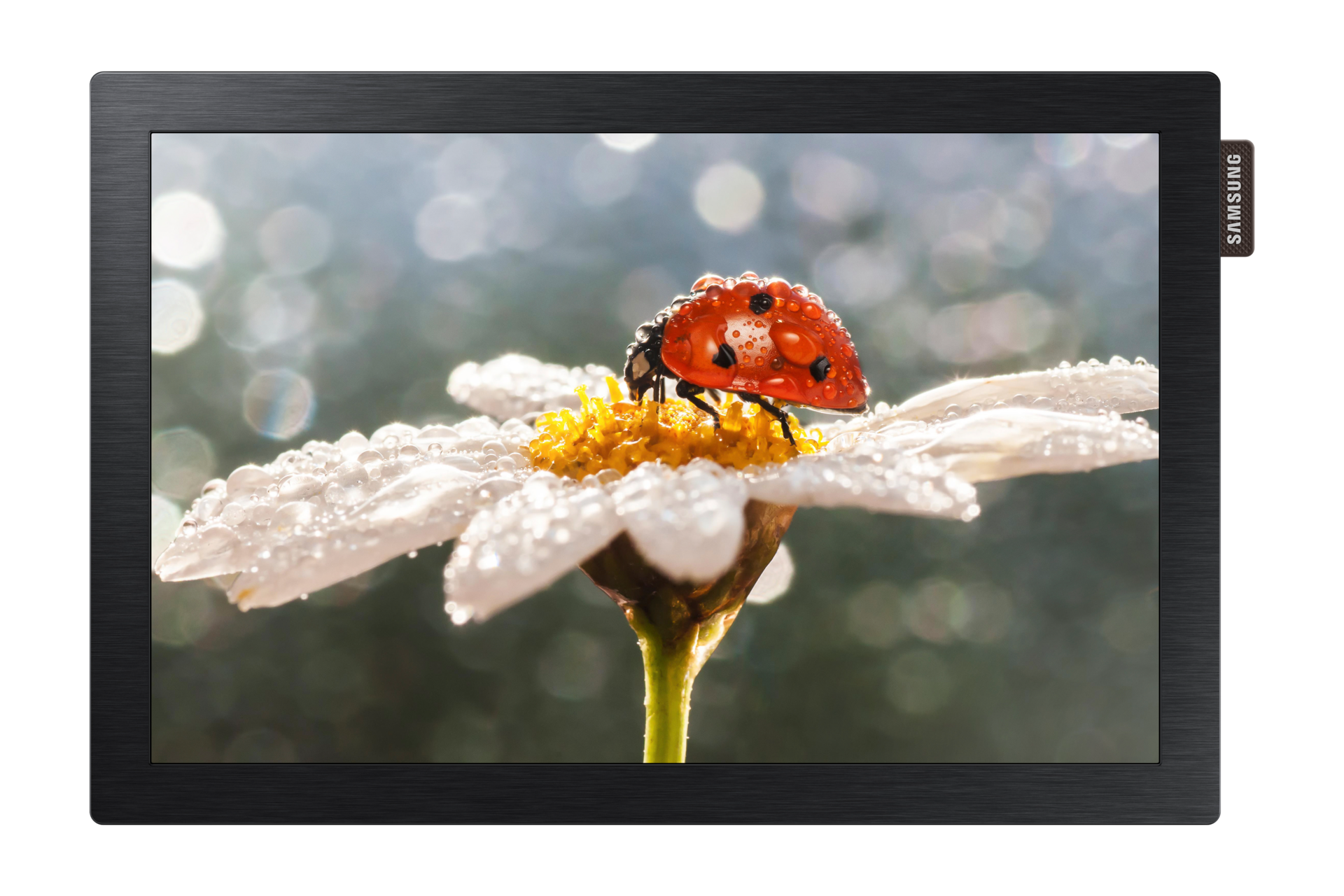 DB10E-TPOE
LH10DBEPPBB/EN
Revolutionise customer experience
The Samsung Small Signage DBE-TPOE display transforms customer engagement, driving new business opportunities. With a 5-point interactive touchscreen and 2-drawing touch capability, the user-experience is natural and smooth when customers are engaging with your products and services on screen. And the sleek and stylish DB10E-TPOE display packs some real power too; it doesn't require an additional PC or content management system – everything is already built in.
Sleek and seamless
The Samsung DB10E-TPOE Small Signage display requires fewer external devices to deliver informative and interactive content. To save space and create a smart and professional look, the DB10E-TPOE features a simple connection format that's ideal for multiple display setups. Only one cable is needed to supply power and a network connection – so customers can focus fully on the content on screen.
Content management made easy
The Samsung DB10E-TPOE features a built-in media player and simplified content management that lets you easily and conveniently create, broadcast and manage content. The embedded Smart Signage Platform and MagicInfo S3 content management system works with a range of third-party software and applications, so you can create, showcase and manage content that really stands out and engages with customers.
Create user-friendly customer content
A newly designed Home Menu on the Samsung DB10E-TPOE display gives you quick and easy access to your most used functions. A wide-range of content templates can be used to configure and customise your menus too, so you can create content that's perfect for your setting, including terminals and lobbies. Templates can be viewed in portrait or landscape modes and turned into touch-activated customer experiences by adding an optional touch overlay.
Built for your business
Data Module solution is specifically designed with small businesses and home offices in mind. Instead of requiring a MagicInfo server and DataLink license fee, the embedded Data Module connects with a business owner's existing local data storage*. Information is then shared automatically from the data storage and transmitted to the MagicInfo Author tool. You can then share timely and informative content more affordably and effectively.
*Data server must be MS-SQL.
*Data server must be MS-SQL.
Real-time content management
If your business uses lots of displays, the Samsung DB10E-TPOE can be used alongside Samsung Small Signage DataLink content management programme*. This allows businesses to manage lots of content across multiple screens from a central server and in real time, saving your business lots of time and effort. The MagicInfo Author tool shares information from a user-designated admin server, so quick changing data updates automatically – ideal for exchange rates, customer waiting lists and transport timetables.
*The MagicInfo DataLink requires a separate license fee, with pricing subject to change.
*The MagicInfo DataLink requires a separate license fee, with pricing subject to change.
User manual & Downloads
Live Chat
How It Stacks Up
*Terms and conditions apply.
Certain features with the Smart Hub may not be available without expressed consent regarding the collection and use of personal information. Content available through Smart Hub may vary among product categories, models and territories. Certain applications must be purchased and may not be available in all regions.
EMIs (Pay in Monthly installments)