How to help you live healthier
The Galaxy S10 makes it easier to understand the benefits of a healthy lifestyle and helps you achieve your goals.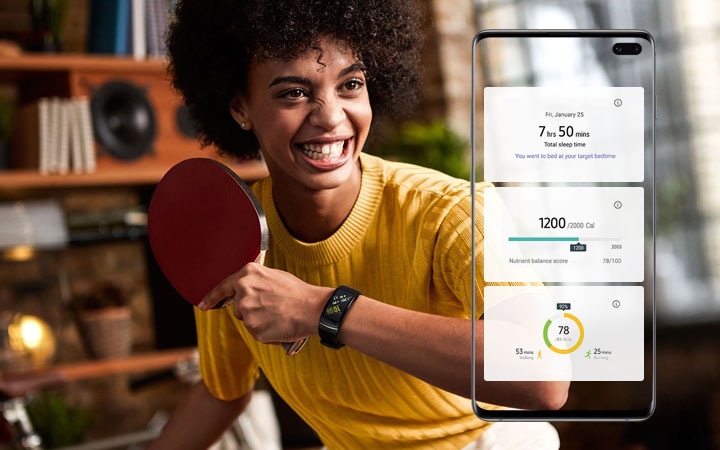 Accurately track your activity over time, getting meaningful insights into things like how often you exercise and the calories you have burned. Connect wearables to record your workouts with ease, and set targets to beat.
Simply scan your meals with Bixby Vision and instantly receive nutritional information about your food. Watching what you eat becomes much easier, with the ability to track your intake of calories and manage your nutrition.

Use meditation, a better sleep routine and breathing exercises to reduce your stress levels. Seamlessly sync your wearables to check you're getting enough time to recharge, by automatically recording your sleep patterns.
Everything you need to stay motivated
Galaxy Watch Active
Be healthier every day, track activities and
link to your Galaxy S10 with ease

From £229.00
Galaxy S10e | S10 | S10+
Pair with Galaxy Buds or Watch Active
to charge quickly with Wireless PowerShare

From £669.00

From £25.08 a month
on the Upgrade Programme
(Rep: 0% APR)*
Galaxy Buds
Connect a Galaxy S10 to play music and
make calls quickly, easily and hands-free

From £139.00
* The ability to upgrade your handset as part of the Upgrade Programme is offered by us on a discretionary basis. We do not guarantee that the Upgrade Programme will continue to be offered at the time of the release of our next flagship handset, or otherwise in the future. The condition of your returned phone will be reviewed upon receipt (you may be liable for a charge for excessive damage and if the handset is beyond economic repair you will not be eligible for the upgrade). There is no obligation to upgrade after 12 months, you can settle the credit agreement at any time. Your monthly payment for future Samsung Galaxy handsets may vary. Samsung Electronics (UK) Limited, registered at Samsung House, 1000 Hillswood Drive, Chertsey, Surrey KT16 0PS, United Kingdom, acts as a credit intermediary and not as a lender. Samsung is authorised and regulated by the Financial Conduct Authority. Credit is provided by Klarna Bank AB, which is authorised and regulated by the Swedish Financial Services Authority, with limited supervision by the Financial Conduct Authority and Prudential Regulation Authority in the UK. Klarna Bank AB provides credit products for the Upgrade Programme and not for any other Samsung product. For more information, please visit www.klarna.com . Finance is only available to permanent UK residents aged between 18-80,subject to status, T&Cs apply. Full Terms and Conditions.