How can I use my Samsung camera's flash on every photo I take?
The flash on a camera usually doesn't fire unless the environment you're in is dark. In some cases you may wish to use the flash for a photo even when the camera's sensors don't determine a need for it. Follow the steps below to do so:
1. Turn on your camera.
2. Press the Flash button repeatedly while in Shooting Mode until you see the Fill-In icon on your camera's screen (as pictured below). While the flash is on this setting it will activate whenever you take a photo, no matter the lighting conditions in your environment.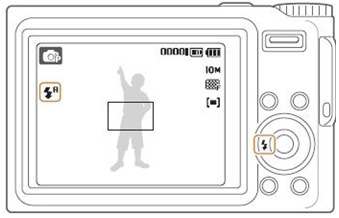 Not finding what you're looking for? We're here to help.
Online
There are a number of different ways of contacting us via Live Chat, Email, Twitter, Facebook Messenger and more.


LEARN MORE >
Contact Us