How do I set up an email account on my Galaxy A3?
1
From the standby screen tap Apps.
2
Tap Email.
3
Enter your Email address and password.
4
Tap Next.
Your providers settings are automatically loaded and your email is ready to use.
1
From the standby screen tap Apps, and then tap Email.
2
Enter your Email address and password.
3
If you select Manual setup, or your provider's settings are not automatically loaded, you will be taken through the following steps. Tap Manual setup.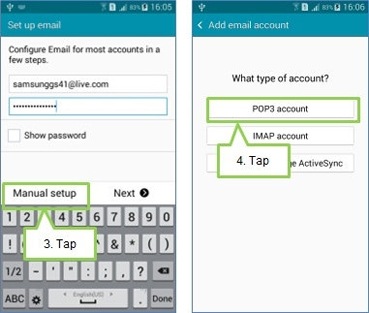 4
Select the type of email account you are setting up. You may choose from POP3 account, IMAP account, or Microsoft Exchange ActiveSync. We'll walk you through setting up a POP3 account. Tap POP3 account.
5
Enter your incoming server settings. This should include your User name, Password, POP3 server, Security type, Port number, and Delete email from server setting. And then tap Next.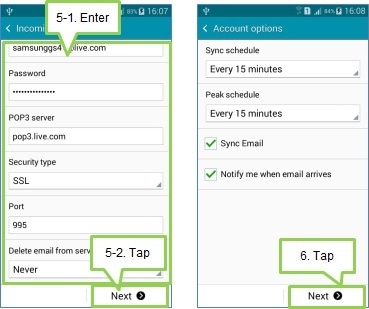 6
Your device will attempt to connect to the Outgoing server with the settings you have entered. If unsuccessful, you will be prompted to Edit details; confirm your settings and try again. If the connection is successful, you will be taken to the Account options screen. Touch Next when you have finished making your selections.
7
You will be asked to give this internet mail account a unique on-screen name. The unique account name is used to differentiate this account from other email accounts on your mobile device. Enter Your name as you would like it to be displayed on outgoing messages. Touch Done to complete the setup process.
Not finding what you're looking for? We're here to help.
Online
There are a number of different ways of contacting us via Live Chat, Email, Twitter, Facebook Messenger and more.


LEARN MORE >
Contact Us