What are the edge features of the Samsung Galaxy S7 Edge?
The Galaxy S7 edge comes with a new and improved edge panel providing enhanced usability.
New features include:
People edge
This is the same as the feature found on the S6 edge in which you can assign your favourite contacts to shortcuts on the curved edge.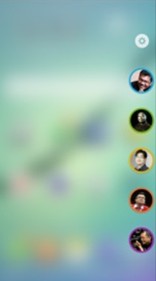 Apps edge
This new feature lets you choose five of your most used apps and add them into the edge panel. This lets you access them quickly and easily, instead of having to navigate through your applications folder to find them.

Task edge
Task edge lets you preset shortcuts to up to ten of your most frequently used apps (including folders)

Third Party Contents
You can download and develop your edge panel to include 3rd party content, including sports scores for example.

Other contents
You can also add things such as Quick tools, Internet access, S Planner and weather updates to your Edge screen.