Why can't I see my Gallery items after backing up to the Cloud on my Galaxy S9/S9+?
Please note: from June 30 2021, Gallery Sync and Drive storage will no longer be supported by Samsung Cloud and any stored data will be deleted. These features will now be supported by Microsoft OneDrive. You can find more information about thetermination of Samsung Cloud services here.
When you upload gallery items to the Samsung Cloud, you can access those items with future devices. However, this option of synchronising galleries between devices is turned off by default in the Galaxy S9.

There are three ways to turn on the Gallery sync option.
Please note: Make sure you are connected to a Wi-Fi network, as 'Gallery sync' requires Wi-Fi due to its big data size.
If a message allowing gallery synchronisation appears when you open the Gallery, press 'Turn on' for automatic sync. In case of this message not appearing, here are two methods to synchronizing it manually:
Enabling 'Gallery Sync' thorough 'Gallery'
2
Tap the more options icon
3
Select Settings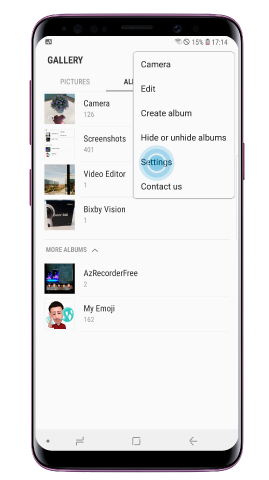 4
Swipe Samsung Cloud to activate auto sync
Activating 'Gallery Sync' through 'Settings'
1
Open Settings and tap Cloud and accounts
3
Tap Turn on on the Gallery tab