How do I connect my Samsung HT-BD1252 Home Cinema system to wireless speakers?
A TX card and the SWA-4000 (wireless transmitter and receiver kit) are needed for you to connect to wireless speakers. The TX card enables communication between the main unit and the wireless receiver. The HT-BD1252 should be connected with the SWA-4000 only.
To use the wireless feature follow the steps below.
Connect the front, centre and subwoofer speakers to the Blu-ray Home cinema.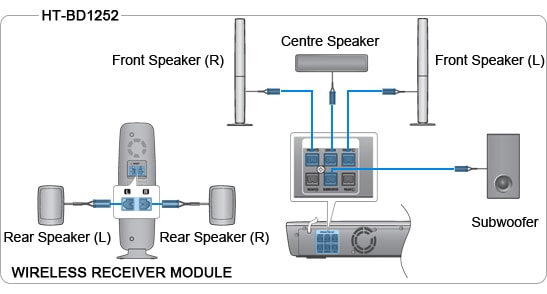 With the Blu-ray Home cinema system turned off, insert the TX card into the

TX Card Connection

(WIRELESS) on the back of the main unit. Hold the TX card so that the slanted side faces to the left and insert the card into the port.
Connect the left and right rear speakers to the wireless receiving module.

Plug the power cord of the SW4-4000 wireless receiving module into the mains power supply (electrical wall socket).

Turn on the Blu-ray Home Cinema system. The main unit and wireless module will now communicate with each other and you will hear sound from the rear speakers.
NOTE: Do not insert any other card except the TX card dedicated to the Home Cinema system. If a different TX card is used, the home theatre may be damaged or the card may not be removed easily. Do not insert the TX card upside down or in the reverse direction.