Galaxy Tab Lite (Wi-Fi)
SM-T110NYKABTU
Sorry! This product is no longer available
7.0" (178 mm)
Size (Main Display)
CMOS, 2.0 MP
Main Camera - Resolution
Super Light, Slim Design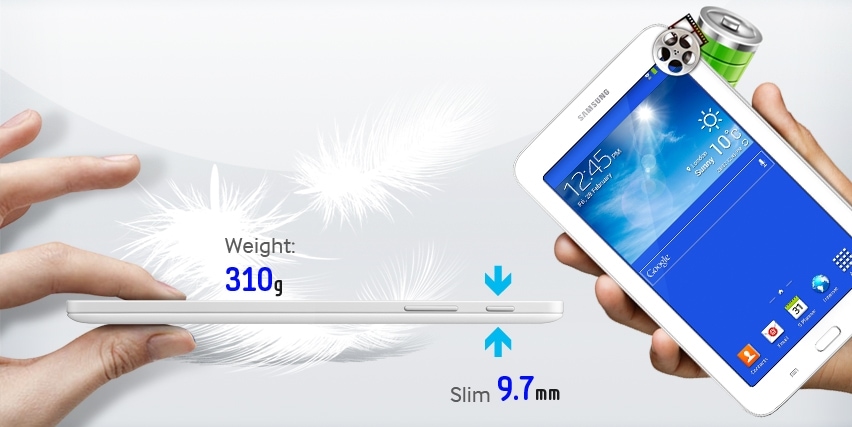 Tab Lite is designed for ultra portability to carry with ease everywhere. Slimmer than other models at only 9.7mm deep, its concise form factor is sure to please. Enjoy the most comfortable hand grip, complemented by its extreme light weight - feel the difference! Beautifully compact with long-lasting power -- what more could you ask?
Optimal Viewing Experience
Tab Lite's high resolution screen showcases your entertainment to the maximum. Brighter images and sharper text without the status bar blocking the view -- larger, roomier screen space enhances your viewing pleasure.
1.2GHz Dual Core Processor
Strong, fast processor powers your device to enjoy videos, games, apps and web surfing without limit for the most enjoyable multimedia tablet experience yet.
Smart Camera with Fun Features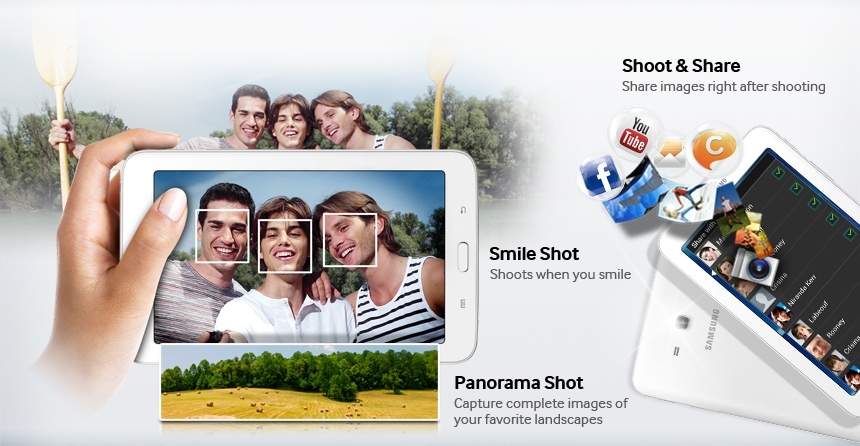 Rear camera is equipped with smart features that let you compose perfect shots every time. Whether picturesque landscapes or that perfect pic where everyone's smiling, shoot like a pro and share right away -- smart sharing features make it easy.
Fun & Sharable Services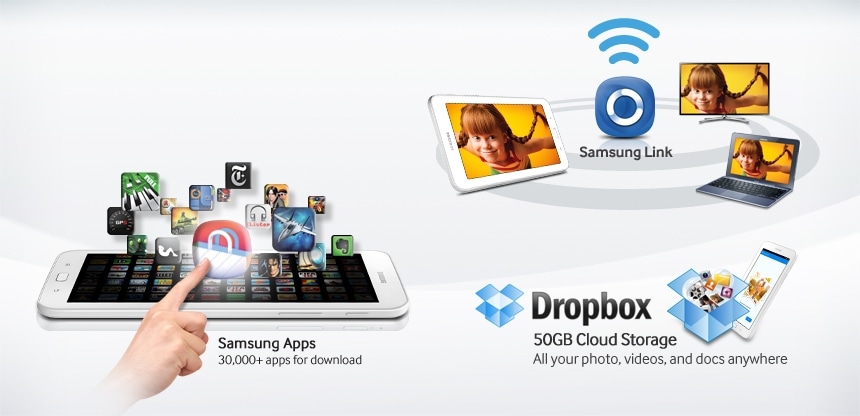 Tens of thousands of apps at your fingertips -- all especially geared for Tab Lite and easily downloadable for maximum enjoyment. And Samsung Link saves your pictures and files to cloud storage or any device to access, edit and share -- effortless to manage your contents or play your videos on TV monitors remotely. Dropbox stores your files for safekeeping on web-based cloud service to access anywhere and share anytime -- simple, safe and reliable.
7.0" (178 mm)

Size (Main Display)

CMOS, 2.0 MP

Main Camera - Resolution

310 g

Weight (g)

1.2 GHz

CPU Speed
User manual & Downloads
Live Chat
How It Stacks Up
Battery time is based on our own laboratory measurements, and may vary depending on factors such as device settings, usage patterns and operating conditions.
* User memory is less than the total memory due to storage of the operating system and software used to operate the phones features. Actual user memory will vary depending on the mobile phone operator and may change after software upgrades are performed.

** External Memory may be used to store media (photos, video, and music files) but not applications.

Notice to our customers - safe battery use

If your mobile phone battery is damaged, for example if it is dented, we recommend that you stop using it immediately and replace it with a Samsung genuine battery. If a damaged battery is used, this may affect performance of the battery and in some cases cause damage or injury through overheating, fire or explosion. Examples of situations in which a battery may become damaged are: use in an excessively hot environment, dropping the battery, external pressure on the battery, pet-biting, etc. We recommend that spare batteries are kept in a hard-shell case when not in use.

You should use only Samsung genuine or approved batteries that have been specifically designed for use in Samsung products. The use of incompatible batteries, cables and chargers may not be safe to use and could cause damage to the device or external damage. Please purchase Samsung-branded batteries from reputable and approved sellers to ensure the batteries are not counterfeit.

Battery time is based on our own laboratory measurements, and may vary depending on factors such as device settings, usage patterns and operating conditions.