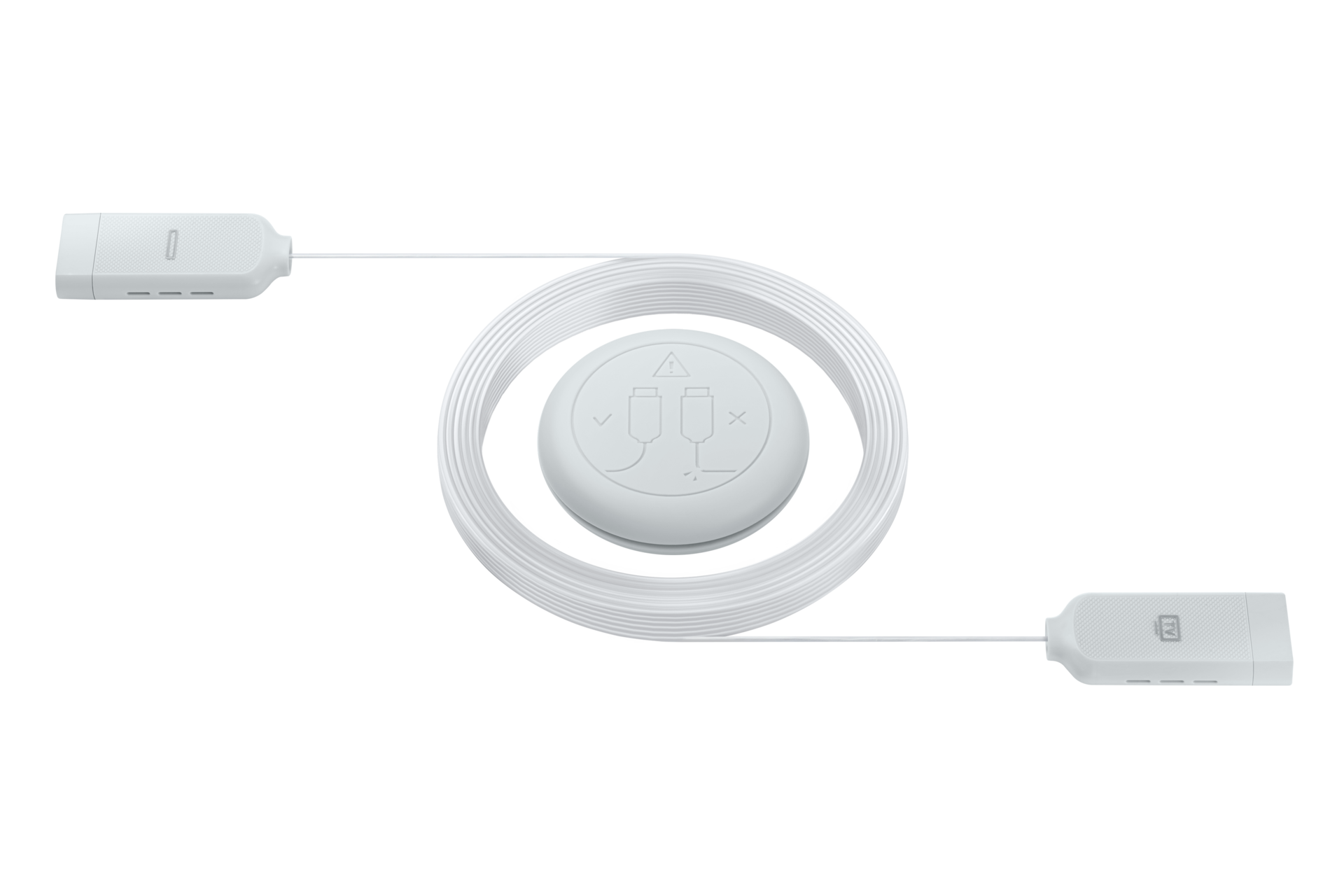 Near-Invisible Optical Cable
VG-SOCM15/XC
Near-Invisible Optical Cable
is rated out of
5
by
4
.
Nearly Invisible Material
The optical cable is almost invisible, meaning you can run it down the wall and along a skirting board without drawing attention. The super thin wire means you can save the time and hassle you might spend hiding all your connecting wires, so you can spend more time enjoying your TV.
* The 'Invisible Connection' refers to a single, transparent optical cable connected to the One Connect Box integrating external device cables, but it does not refer to the power cable of the TV or cables connected to other devices such as sound bar.
Place your TV anywhere
Don't be restricted by aerial points, TV cabinets or games consoles. Place your TV anywhere you want in the room. With the 15M Near-Invisible cable, you can place all of your devices out of sight and away from the TV.
High speed for high resolution
Discover the perfect partner for Certified Ultra HD Premium content. With up to 75Gps transfer potential, ultra high performance is guaranteed, providing speed that's over 9 times faster than a high speed HDMI.
Design your space
Design your space with a near-invisible optical cable for your connections. You can now place your TV anywhere in the room. Gone is the frustrating clutter of multimedia devices and unsightly leads, leaving a stylish, minimalistic living space.
Rated

1

out of

5
by
LastAngryMan
from
Insane design decision.
Like many, I have already sorted out my cabling problems by running them inside the wall. But this cable is so fragile that I would not dare run it through the existing channel in case of damage. A single physical HDMI port on the TV would have alleviated this issue! And 200 pounds for a simple toslink optical cable with propriety connector?!? Madness. I won't be buying a Samsung because of this "feature", which is a real shame. Plus, the need for a power cable pretty much makes the "invisible" claim redundant for those who are actually buying it for the stated purpose, I'd imagine. Silly.
Date published: 2018-09-03
Rated

1

out of

5
by
jbclamence
from
Terrible
I shared exactly the same experience as some users on this forum. It suddenly stopped working, one month and a half after having received the TV. The y claim it is damaged, but I don't see how it was working in the evening and not any more in the morning?
Date published: 2018-05-08
Rated

1

out of

5
by
johnggold
from
The Worst Possible Idea
Like many others, I wired a channel with all possible connections some years ago. I used a multifunction plate with a 1 to 1 match to the Samsung TV I installed. Everything including power is invisible. I have never needed to touch a single connection. I just ordered a QLED 49" to replace the old TV, and find to my horror that an ugly extra box has been added with a not invisible lead leading to a large box. My wall is mostly black. The cable will stand out. But that is not the point. Most of my friends have already sorted out the cables. With this arrangement, all the connections will have to become visible outside the TV, because their exit point is behind the TV. Clearly Samsung did not consult existing Samsung users, or provide an alternate solution for the majority who didnt have a connection issue in the first place!
Date published: 2017-12-27
Rated

1

out of

5
by
Sheridan
from
Far too easily damaged - too expensive to replace!
I purchased 2 months ago (with 'The Frame' TV) and having not moved anything it some how decided was going to stop working. The assumption is that I had damaged it but I had not touched anything between one evening and the following evening. The cables are horrendously expensive and the thought of having to buy an even longer cable (can only buy longer cables that that supplied) that will likely be damaged again fills me with dread! Good tv but a more robust cable needed - just make a robust white one - it isn't invisible so why bother pretending??
Date published: 2017-11-05