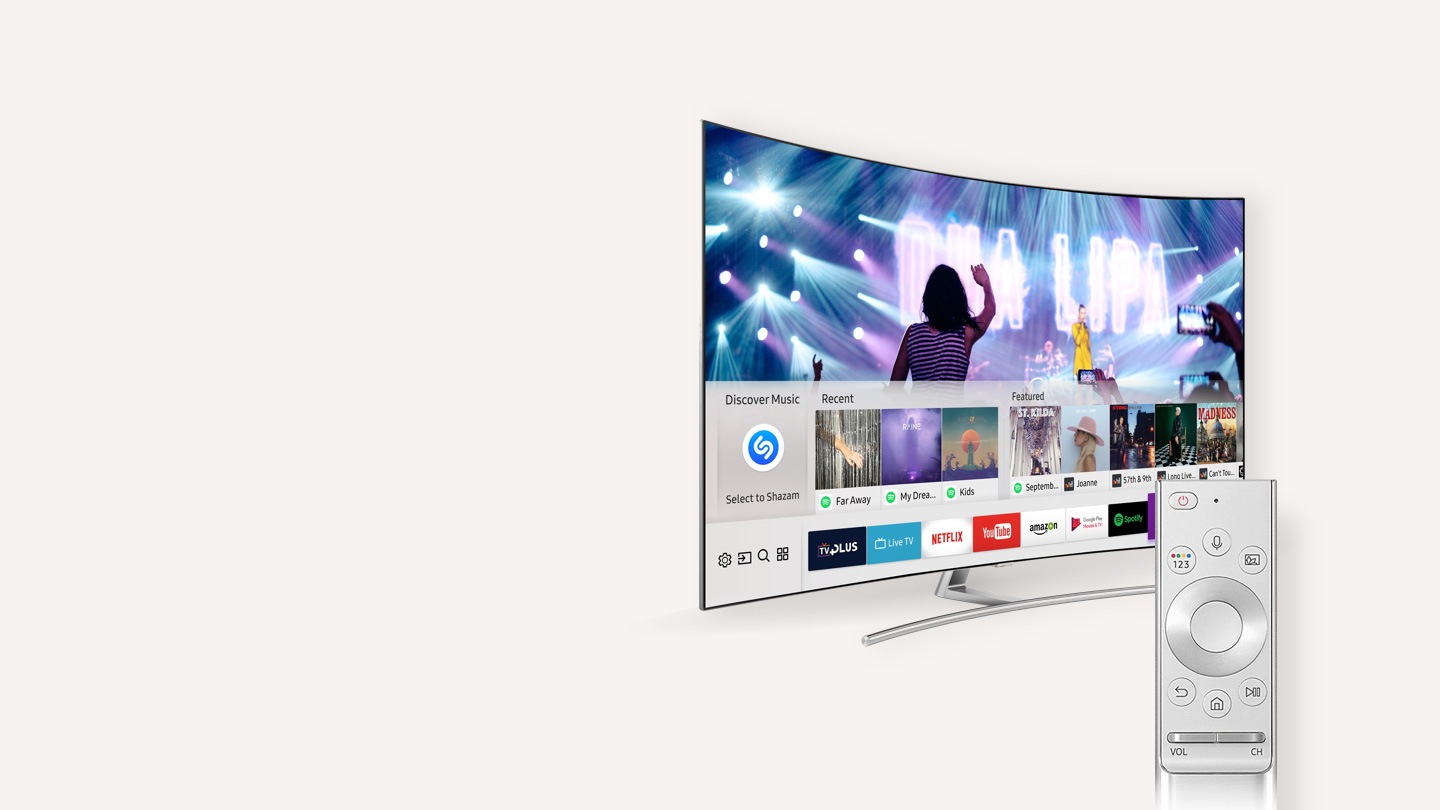 What's a smart TV?
TV, apps and online entertainment, all in one place.
A smart TV gives you access to a world of content beyond live TV channels. This means you can use apps, stream, browse,
and shop – all on a super immersive Samsung TV. A smart TV will quickly become the centre of your home entertainment system,
giving you access to a world of movies, series and online content.
Is every new TV smart?

Pretty much. You could go out of your way to find a TV that isn't smart, but why would you want to? The way we watch TV has changed, so you'll find smart is the new status quo, and with good reason. Not buying a smart TV is to miss out on an entire world of content. Whether you're on the market for 4K or curved screens, 32" TVs or 75" home cinemas, there's a wide range of smart options to choose from. Make the smart choice.
Spend more time watching and less time searching
Not only can you watch live TV as normal, you can enjoy all the online entertainment you love the most. It gives you more choice, convenience and control. Use the smart bar to navigate quickly to whatever you want and watch it on the best screen in the house.
Apps
Most smart TVs come with apps already installed, and you can add to these via an app store. Popular pre-installs include film and TV streaming services such as Netflix or Amazon Prime Video, catch-up TV services like BBC iPlayer and ITV Hub, and social networking sites like Facebook and Twitter. So you can flit between your favourite show and Twitter, to watch everyone's reactions in real-time.
Connect your phone
In fact, connect any of your devices. Often called casting or streaming, this feature allows you to view content from your laptop, mobile, or tablet on your TV screen. A Samsung smart TV uses the SmartThings app to mirror a screen, and it can also turn your mobile into a remote control. So, no more scrabbling around down the back of the sofa.
Web browsing
Enjoy everything a web browser has to offer on your TV. Whether you're shopping, watching videos, or reading the news – do it all from the comfort of your sofa.
Are all smart TVs equally smart?
There's a huge choice of smart TVs on the market, ranging from the very affordable to some rather hefty investments. We recommend you do a little research first, to make sure you're getting all the features you want. Some operating systems are faster and more user-friendly than others. Perhaps you prefer to use voice-search rather than using a TV remote? And, of course, you'll need to weigh up a TV's smart credentials against its picture and sound quality.
Things to look out for with your Samsung smart TV
There are numerous new features to enjoy on Samsung smart TVs, including Ambient Mode*, which lets your TV seamlessly blend into your home. Avoid clutter in your living room with One Remote Control that controls all devices connected to your Samsung smart TV. Enjoy easy access to apps in just three clicks, and receive content suggestions from your TV based on what you like to watch. You can also set up devices easily using your smartphone, and hide devices out of sight using a One Connect Box. Plus, Smart Things integration means you can take control of many other features of your home. These are just some of the ways Samsung can help you enjoy smart living.
*Requires a compatible Android or iOS device and sufficient space around the TV to operate. Results dependent on wall texture and colour.