Over a billion colours and unrivalled intricate details. Powered by our Quantum dot technology. Now you see colour and detail as you do in the real world. It all starts here.

See a whole new world

Q Colour
Only Samsung can bring you 100% colour volume*. We turn light into colour through our ground-breaking Quantum dot technology. By adding more light, now over a billion vibrant colours are possible so you can experience your favourite shows like never before.
What is colour volume?
It's an index of how well colours are reproduced in richness and accuracy. It's like raising the volume on your stereo and getting full surround sound. With higher colour volume, you get a wider, more diverse range of colour. Only Samsung QLED TVs give it all: 100% colour volume*.
Why does it matter?
People watch TV in all different environments, in bright rooms with the sunlight streaming through, or dark rooms with curtain drawn. But what if you could see colours as they are in real life, no matter what the conditions? That's where 100% colour volume comes in. Great details in any light. That's Samsung QLED TV.
It begins with
Quantum dots
Developed exclusively by Samsung, the world's first cadmium-free Quantum dots are nano-sized particles that turn light into over a billion colours on QLED TVs. Like diamonds, Quantum dots are inorganic. That means bright, vivid colours for many, many years to come.

At any time,
in any light
Q Contrast
Ever been unable to see what's happening on the screen? Sometimes there's too much sunlight shining through. Sometimes, not enough to see the details. QLED TVs put those irritations in the past, with deeper and darker blacks and brightness that highlights every single detail. Now it doesn't matter how much light there is in the room, you won't miss that crucial football moment.

See
beyond the
shadows
Q HDR
Sometimes you can't see the shadow detail in dark scenes. Q HDR was created by combining Samsung expertise and HDR10+ technology to give you a wider range of brightness and contrast, bringing all the picture nuances to life.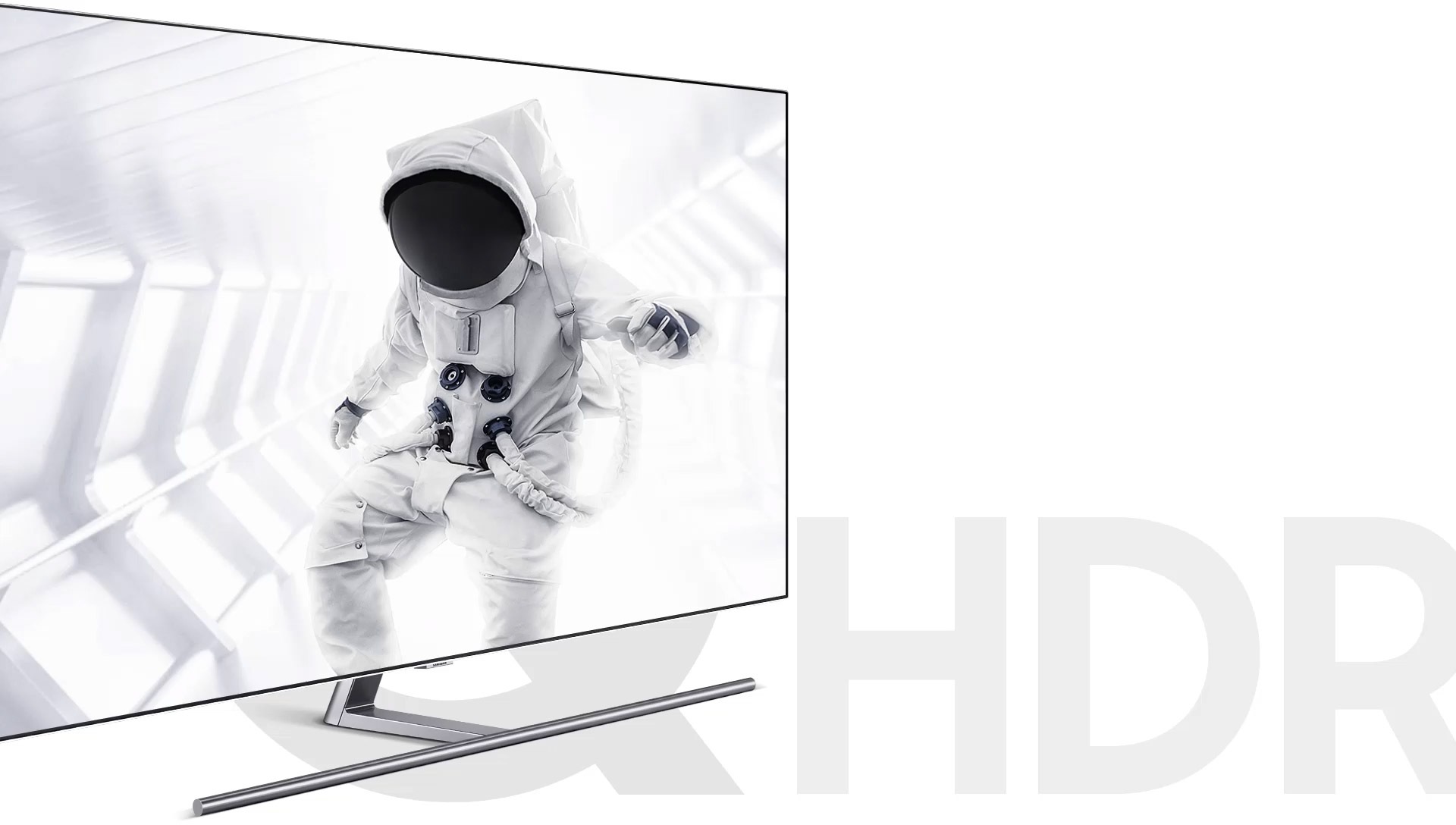 A closer look at HDR 10+
With HDR 10+, images are individually processed scene by scene for optimised visuals with dynamic tone mapping.
That means you get rich colours, deep contrasts, and simply spectacular picture quality for every scene you watch.
It allows you to see what the content producers intended you to see.

Long lifespan
Samsung QLED TVs are composed of inorganic materials that provides consistently bright and vivid image quality for years.

What is Screen Burn?
This is a permanent defect on the TV display that is caused by having static images on the screen over a period of time, sometimes even as little as one hour. Content that might cause this could be channel logos, news tickers, black bars from movies or head-up displays on games. QLED TVs don't have this issue and come with a 10 year screen burn warranty*.
Behind the spectacular picture is a powerful engine
Q Engine
It's one huge innovation, taking you on a breath-taking experience with over a billion of shades of colour. Q Engine brings you 100% colour volume and delivers it in the most accurate way possible for lifelike picture quality that you have to see to believe.
Immerse yourself in the game
Enter a new world of gaming with extremely low input lag that is optimised by game type. You can dive into fast and dynamic games for an elevated experience, no matter what game you enjoy playing.
Immerse yourself in the BIG screen
Big Screen QLED TVs take screen entertainment to a whole new level with breath-taking cinematic experiences. See every scene come to life right in front of your very eyes.
* QLED TVs have received verification from world-class testing and certification association, Verband Deutscher Elektrotechniker (VDE), for its ability to produce 100 percent colour volume.
* QLED TV : Samsung QLED is Quantum dot based TV.
* The peak brightness may vary depending on the model and size of the TV.
* The certification may vary by model.
* What is Burn-in? Burn-in is a permanent defect in areas of a TV display that can be caused by cumulative effects of displaying the same image or scene for long periods of time, sometimes even as little as one hour.
* Images are simulated and for illustration purposes only. The appearance and design specifications which do not affect product performance are subject to change without notice.
* Please refer to the product detail page for each model.
**The ability to upgrade your TV as part of the Upgrade Programme is offered by us on a discretionary basis. We do not guarantee that the Upgrade Programme will continue to be offered at the time of the release of our next TV innovation, or otherwise in the future. The condition of your existing TV will be reviewed on the day that your new TV is installed (if the TV is beyond economic repair you will not be eligible for the upgrade). There is no obligation to upgrade after 24 months, you can settle the credit agreement at any time. Your monthly payment for future Samsung TVs may vary. Samsung Electronics (UK) Limited, registered at Samsung House, 1000 Hillswood Drive, Chertsey, Surrey KT16 0PS, United Kingdom, acts as a credit intermediary and offers credit products provided by Close Brothers Retail Finance. Close Brothers Retail Finance is a trading name of Close Brothers Limited. Close Brothers Retail Finance provides credit products exclusively as part of the Upgrade Programme only. Close Brothers Limited is authorised by the Prudential Regulation Authority and regulated by the Financial Conduct Authority and Prudential Regulation Authority. For more information please visit www.closeretailfinance.co.uk. Finance is only available to permanent UK residents aged between 18-80, subject to status. Terms and conditions apply.