Unbox and set up your
Smart TV
Get up close and personal with your Smart TV. We're here to guide you through it.
How to set up
Use your mobile for the quickest and easiest way to set up your TV
Using your mobile to set up (Android & Ios)
There's no need to hunt for passwords or typing in Wi-Fi codes, SmartThings handles it.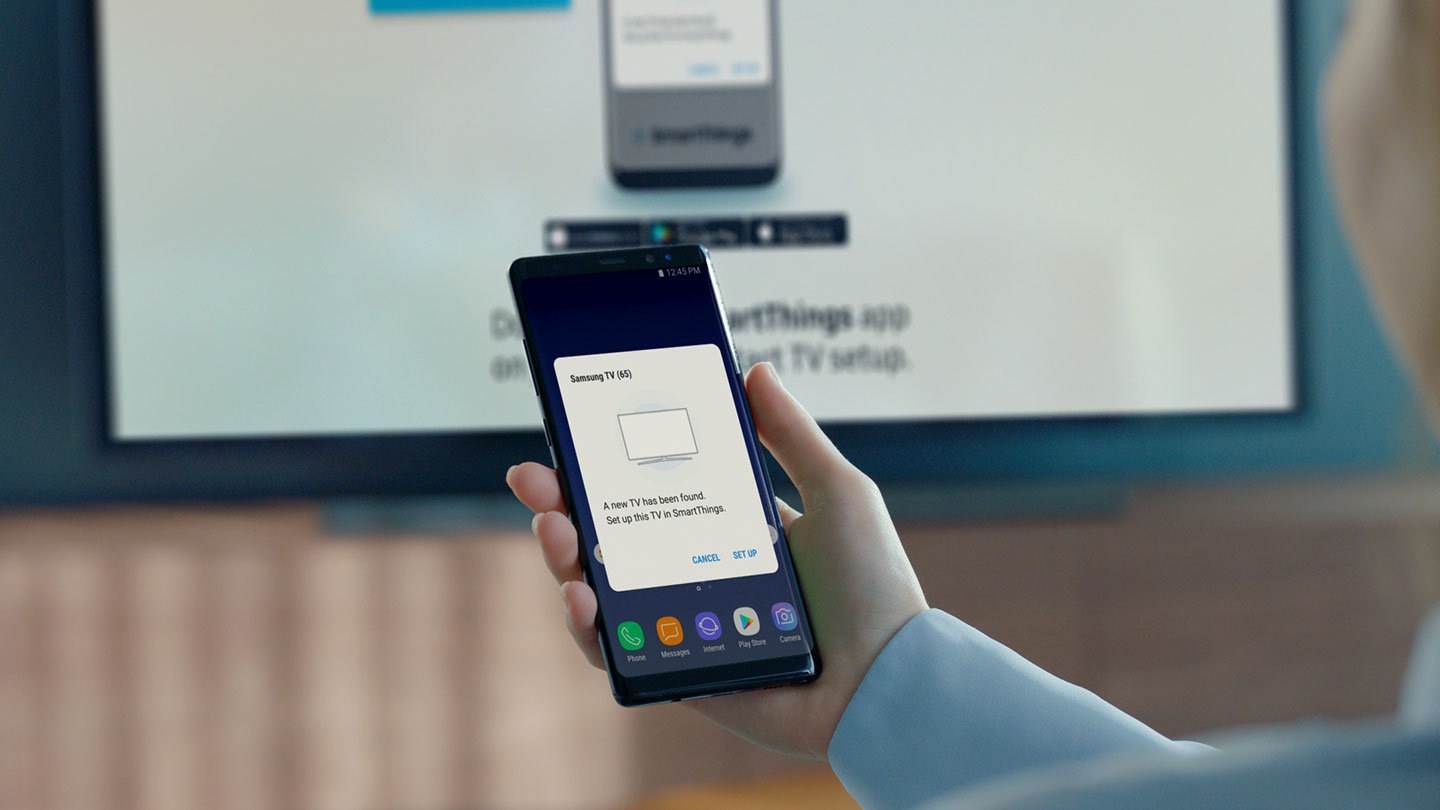 Using your mobile to set up
Step 1
Open the SmartThings app (Download on Android & iOS)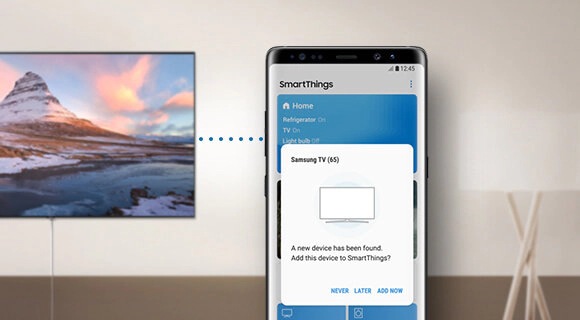 Step 2
Your TV will detect your mobile automatically but you can also search for it under 'Devices' in the SmartThings app.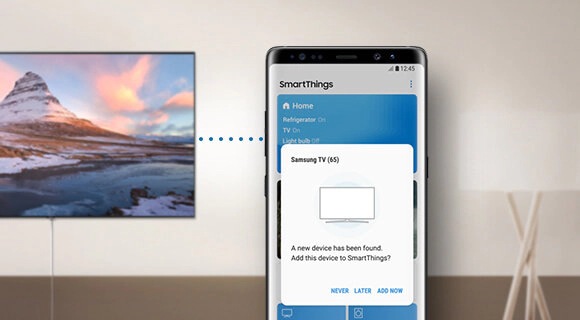 Step 3
Your Wi-Fi and Samsung Account information will be shared automatically, saving you time and effort.
Using your remote control to set up
Step 1
Connect your TV to the internet.
* When connecting after the setup process, go to Settings > General > Network > Open Network Settings to set up your internet connection.

Step 2
Log into your Samsung Account. You'll be able to use even more features.
* When logging in after the setup process, go to Settings > General > System Manager > Samsung Account.

Step 3
Select the apps to add to the Smart Hub. Drag your favourite apps to the front and customize the Smart Hub the way you want it.
* Smart service and GUI (Graphic User Interface) may vary by model and region.
* Agreement of the Smart Hub Terms and Conditions and Privacy Policy is required before use.
* Compatible OS (Operating System) or app required.
* Users with models previous to the Galaxy S6 or other mobile brands need to download the SmartThings app through application store.
* Shape of TV and remote may differ depending on model and region.
* The content within the screen are simulated images and are for demonstration purposes only.
* GUI (Graphic User Interface), design, features and specifications subject to change without notice.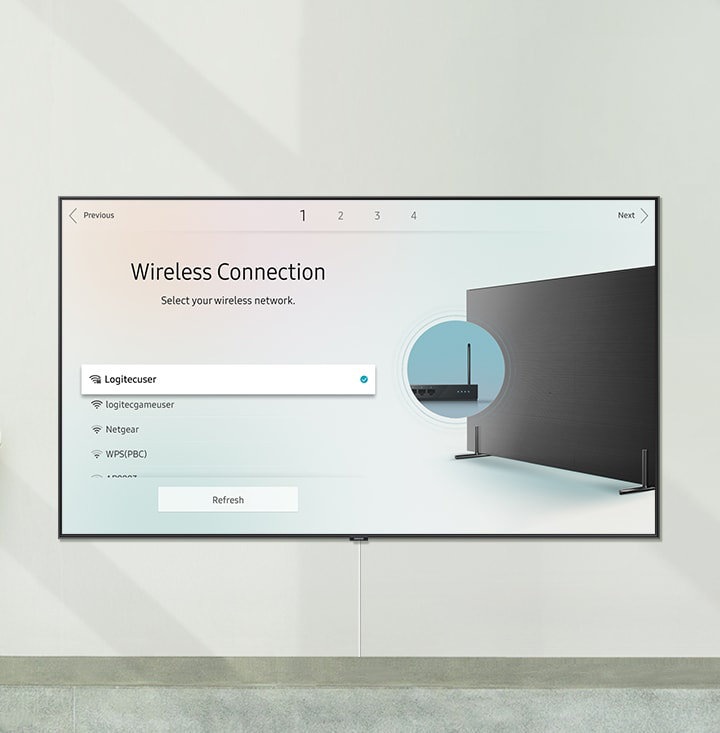 * Smart service and GUI (Graphic User Interface) may vary by model and region.
* Agreement of the Smart Hub Terms and Conditions and Privacy Policy is required before use.
* Compatible OS (Operating System) or app required.
* Users with models previous to the Galaxy S6 or other mobile brands need to download the SmartThings app through application store.
* Shape of TV and remote may differ depending on model and region.
* The content within the screen are simulated images and are for demonstration purposes only.
* GUI (Graphic User Interface), design, features and specifications subject to change without notice.
Mobile remote control
Lost your remote? Or just too far away? You can turn your mobile into a remote control using the SmartThings app.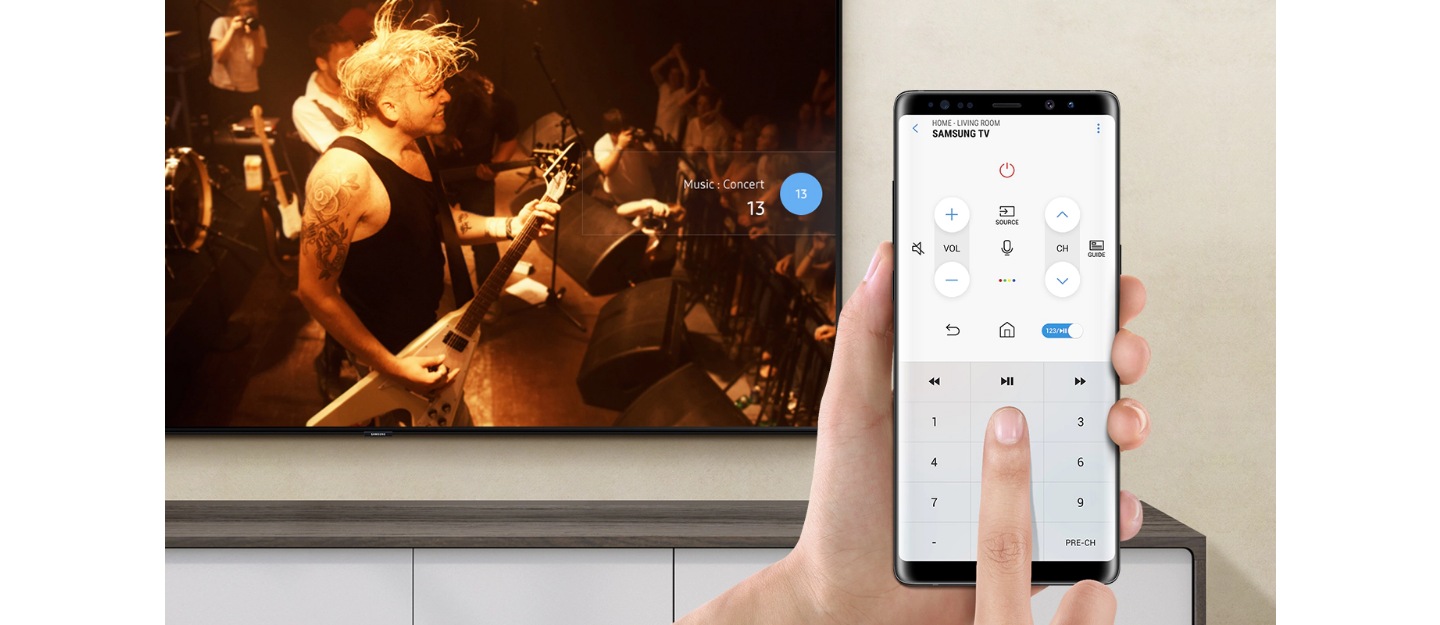 Straight to the big screen
Easily connect your smartphone and mirror the screen to your TV with the SmartThings app. And with Samsung Multi View** you can watch your favourite TV show whilst commenting on Social Media, all at once on the big screen.
*Internet connection and compatible Android or iOS phone required.
**Only supports Android OS based smartphone.
Never miss a moment
Keep watching on your mobile if you step away from the TV
*Devices must be connected to them same Wi-Fi network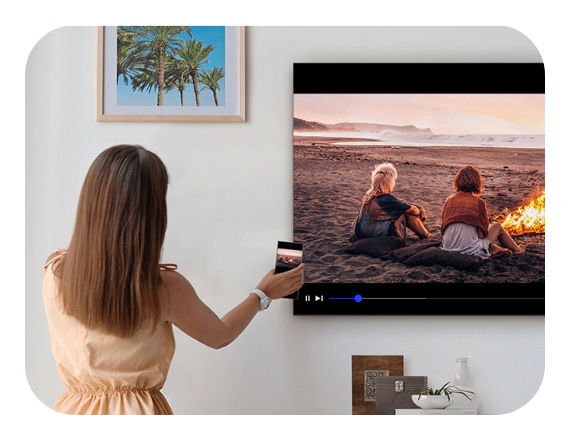 Tap View
Mirroring movies or music from your phone to your TV is as simple as a tap with a Samsung mobile and the SmartThings app. When you tap the TV with you Galaxy phone, the TV senses the tap and mirrors automatically. So it's quick and easy to switch to the TV and continue enjoying your favourite content.
*Requires the SmartThings app, account and a compatible Galaxy phone with Android 8 or later.
* This service only works when TV and mobile are on.

Multi View
Watch what's on TV and on your smartphone on the same screen at the same time. Simply connect your mobile and customise video size and audio settings to your liking. On a QLED TV big screen, multi-tasking becomes easy and effortless.
* Feature availability may vary by mobile device.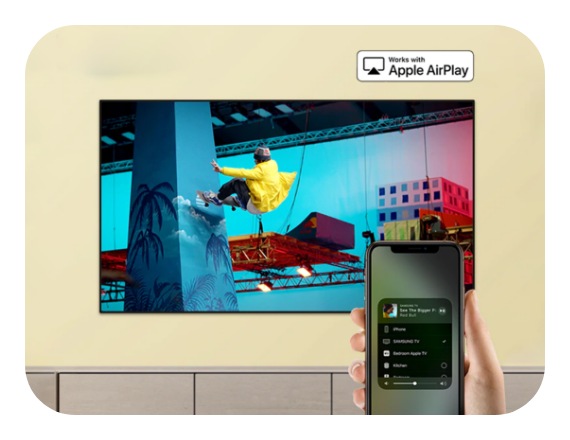 Apple Airplay
From playlists and podcasts on your iPad to pictures and videos on your iPhone, you can now enjoy it all on your Samsung TV. With AirPlay 2 available on select 2018, 2019, and 2020 Samsung TV models, you'll be able to stream shows, movies, and music, and cast images from all your Apple devices directly to your TV.
* Some features of Ambient Mode require a compatible Android or iOS phone and sufficient space around the TV to operate, it will have varying results on complex wall designs, patterns and/or unusual colours.