40" HU6900 Series 6 Smart UHD LED TV
UE40HU6900UXXU
40" HU6900 Series 6 Smart UHD LED TV
is rated out of
5
by
118
.
Samsung Ultra High Definition TV - 4 times more detail than Full HD
UHD Upscaling - enjoy all your favourite live TV shows and Blu-Ray discs crisper than ever before
UHD Dimming - amazing crystal clear images with superior contrast optimised for UHD images
Future Ready - unique to Samsung, renew your TV to the latest technology and UHD standards1
Sorry! This product is no longer available
UHD 4K
Series 6
Smart TV
UHD Dimming
4 times the Full HD resolution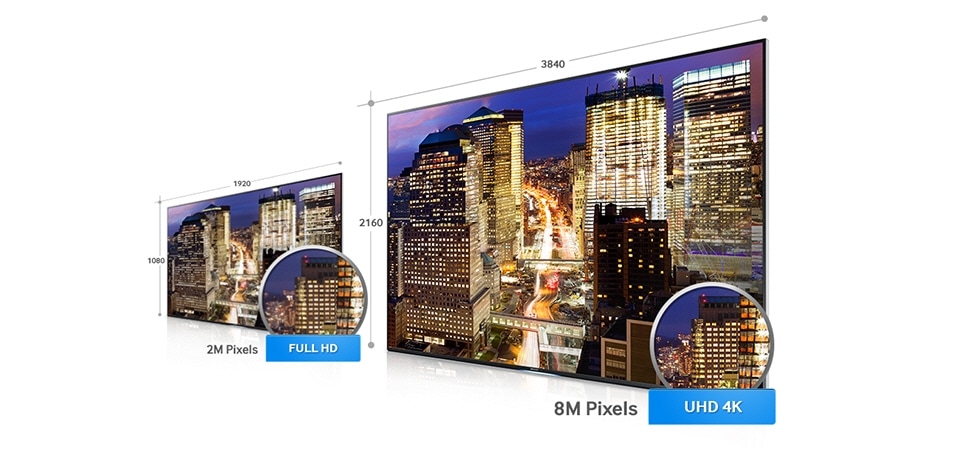 Ultra HD viewing means you can see every intricate detail on the screen clearer than ever. Your Samsung UHD TV offers a resolution four times higher than Full HD, with accurate true-to-life colour. Enjoy a picture that's optimised for even greater clarity and detail than you've ever seen before.
UHD upscaling enhances the quality of all of your viewing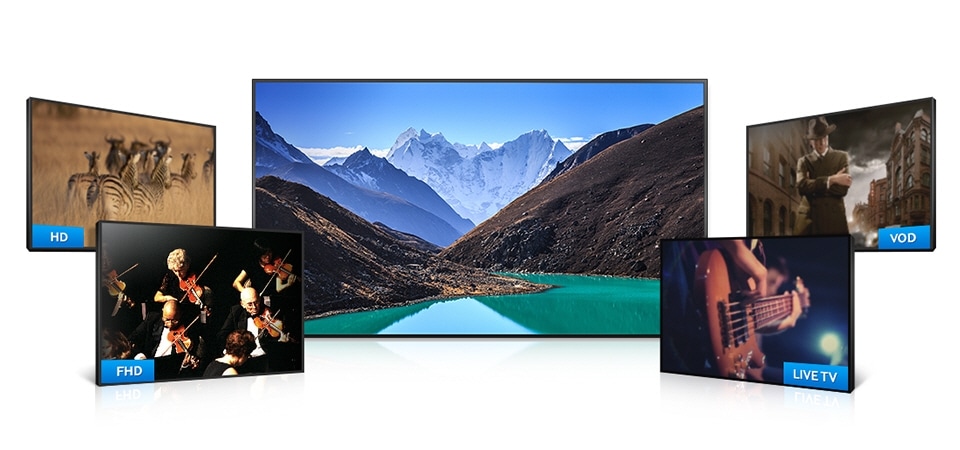 Thanks to the Samsung UHD Picture Engine, you can enjoy various kinds of content with near UHD-level picture quality, even if it's not from a UHD source. Samsung's innovative processing enhances broadcast TV shows and movies as well as video on demand and more. That means not only does it process UHD sources at crisp 4K resolution, it even converts lower-resolution content to a level of clarity that's almost like Ultra High Definition.
A more detailed picture made for UHD resolution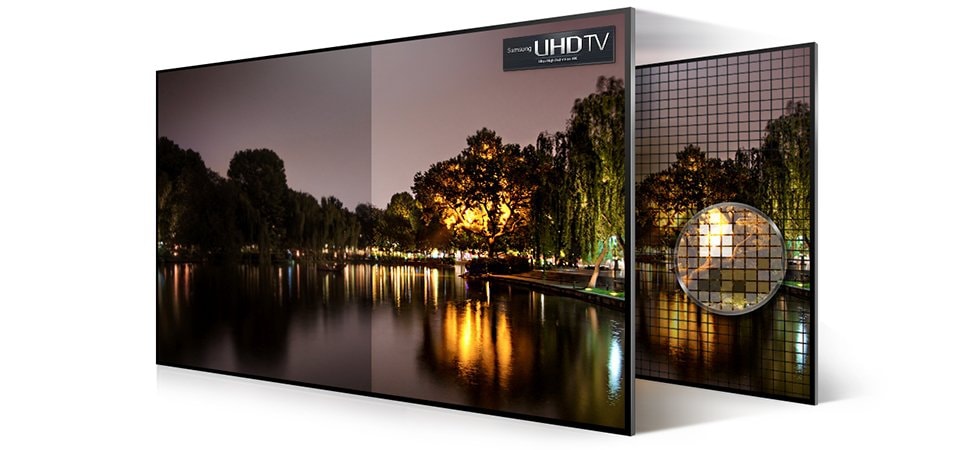 Samsung's advanced UHD dimming technology brings the ideal level of contrast and colour to your UHD viewing. The higher resolution of UHD also means that the picture requires more processing for a highly-detailed image. That's why Samsung UHD dimming technology has been developed to process black and white as optimally as possible and produce colours that are far more vivid.
Future Ready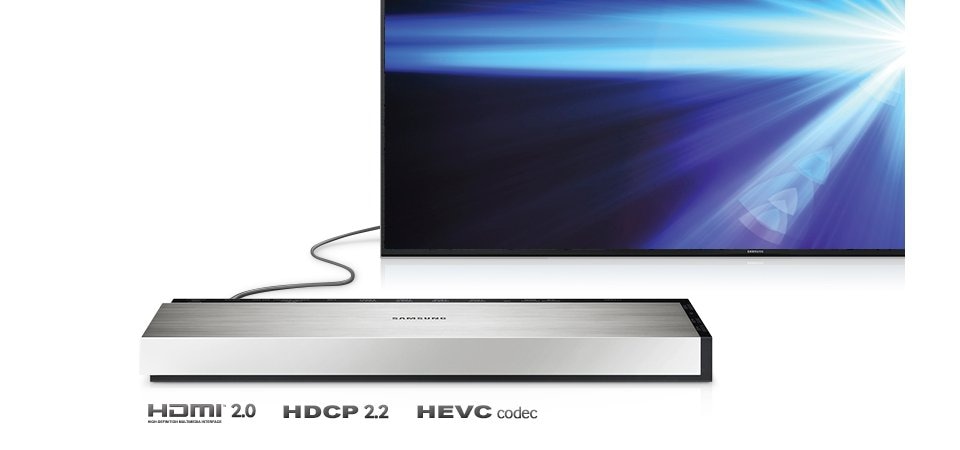 TV technology is always evolving and so does Samsung UHD TV. With UHD Evolution Kit, your Samsung UHD TV can be updated to be compatible with future UHD standards without buying a new TV. Get ready for future UHD standards with Future Ready. 1
Great multitasking with Multi-Link Screen (Tri)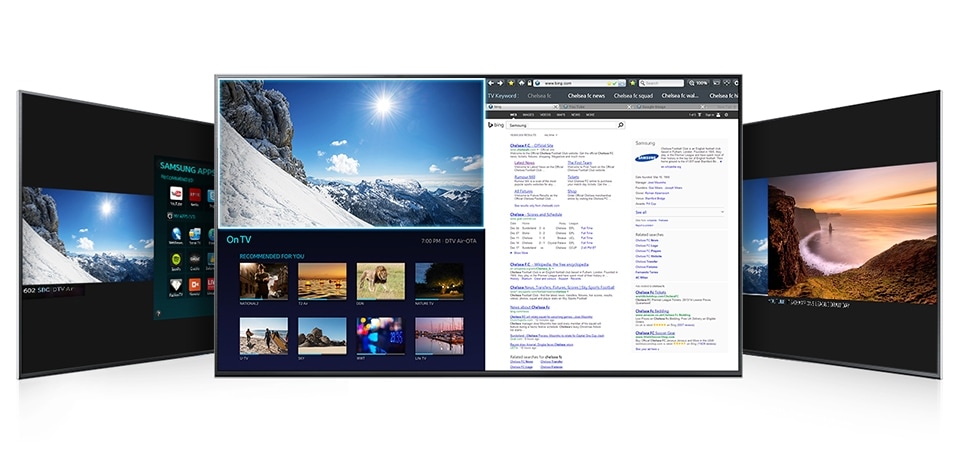 Samsung's Multi-Link Screen brings a broader level of multitasking to your viewing experience. Driven by a faster Quad Core Plus processor, it provides the ability to view multiple screens at once. It splits the screen into live TV and a pre-populated web browsing experience to let you find out more about the programme you're watching, while the On TV panel lets you plan your next show. Alternatively, you can even watch live TV while exploring your favourite apps.²
Powerful Quad Core processor for faster performance
Thanks to a powerful Quad Core processor, your Samsung Smart TV offers enhanced performance. You'll notice the difference straight away, with faster multitasking and switching between content and web browsing, as well as smoother interaction. With this extra power, your entertainment experience will be so much more enjoyable, with less waiting and more viewing.
Enjoying Smart TV is now easier and faster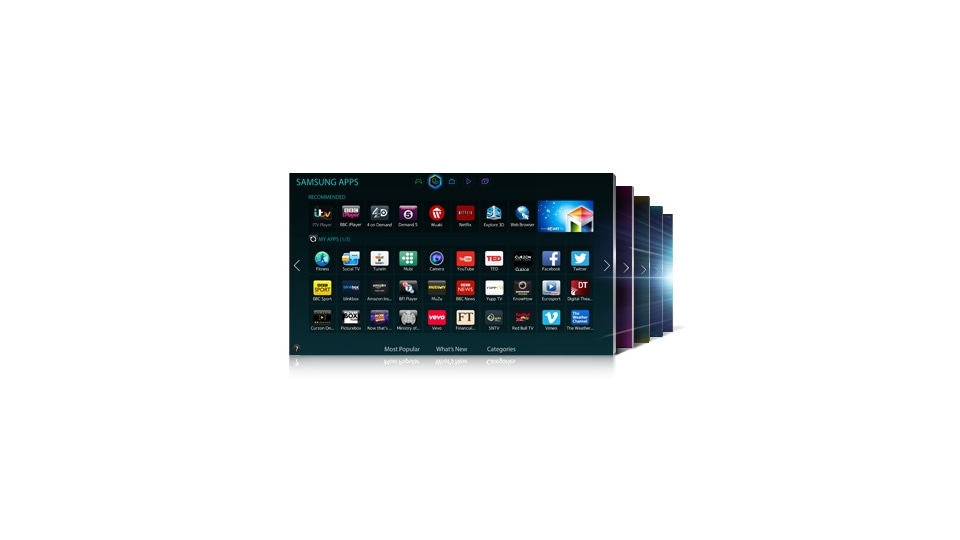 The industry's reference Smart platform just got better. The leading Smart TV experience is now even more powerful, with faster access to Smart features, true multitasking and an intuitive interface. As soon as you turn your TV on the Smart Hub provides instant access to your most frequently used and favourite content, channels and sources from the new customisable bar at the bottom of the screen. To enable you to access even more great entertainment the Smart Hub intelligently organises and manages all your content into five easy to navigate panels: On TV; Movies & TV Shows; Multimedia; Apps; and Games panel. 3
Enjoy great gaming on your TV without a console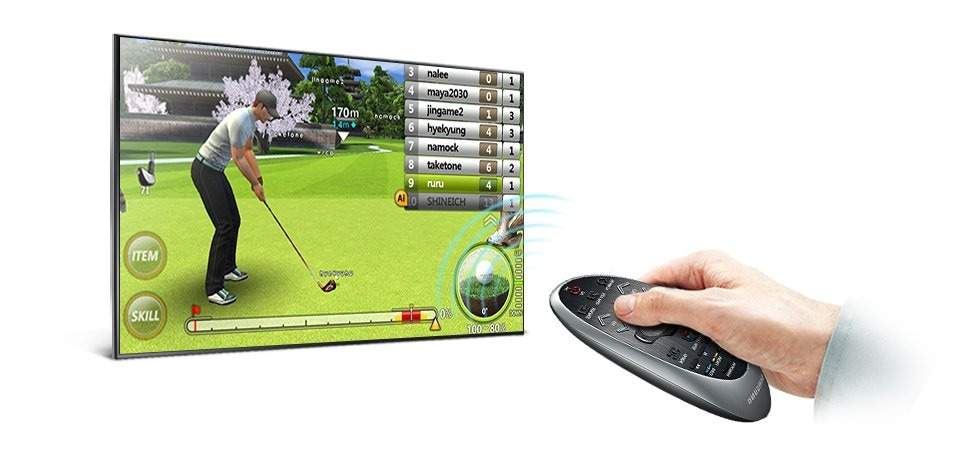 Now you don't need a game console to enjoy exciting gaming at home. You can play the latest exciting games right on your Samsung Smart TV. Explore games using the new Smart Hub Games Panel, with categories including racing, sports, action and family games. You can even use your Samsung Smart Control or a compatible mobile device as the game controller. Enjoy some more family time with the Games Panel.
Easy touchpad and motion control for your TV
Using your TV is more intuitive with the Samsung Smart Control. Using the touchpad you can flip between Smart Hub panels and scroll down webpages, and by pointing the remote, you can utilise Motion Control to move the on-screen cursor to navigate and enter text easily. Useful video control keys also help you watch movies, TV and other content you've downloaded or streamed on demand.
All the excitement of the big match with Football Mode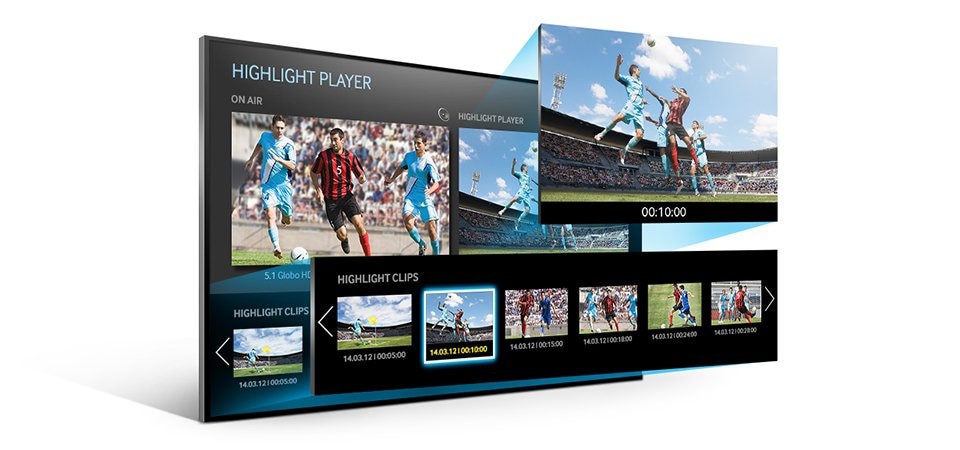 Football Mode sharply and vividly brings out the green grass of the pitch and all the other colours of the stadium. A powerful multi-surround sound effect also lets you hear all the excitement. Once you turn on Football Mode, it will automatically start recording all action on the TV. And when there's a change in sound, like the roar of the crowd's cheer, or a change in the score, it will know to automatically save the highlights for you to watch later. Play live and recorded matches simultaneously for the ultimate football experience at home. 4
Be entertained quicker with faster startup
Now you can get straight to your entertainment quicker than ever. Instant On means your Samsung Smart TV boots up in less than 2 seconds. That's much faster than the 2013 Samsung Smart TV, so you can spend less time waiting and more time viewing than ever before. Think about it: all those saved seconds add up. You no longer have to waste time while your TV turns on. 5
Updated Smart View connects your TV, devices and content
Samsung's latest Smart View 2.0 app makes it easier to enjoy all your content however you like. Using your home network, you can stream live broadcast TV content to your smartphone or tablet and use your mobile device as a TV remote control. Or you can access and enjoy content on your Smart TV from your smartphone or PC through Smart Hub's Multimedia Panel. It's easy to use, so all you have to do is enjoy.
See your mobile content on a large TV screen quickly and easily
With your new Samsung Smart TV, you can enjoy content from mobile devices on a bigger screen quickly and easily. Samsung's enhanced screen mirroring technology makes the process simple, with no need to change the TV source. Just open the notification panel on your mobile device, select the Screen Mirroring icon and select the TV. That's all you need to do to enjoy apps, games and more on a full-size TV. 6
The best Ultra HD movies and TV shows on demand
Explore a wide range of stunning UHD content from Amazon Prime Instant Video. The easy-to-use app lets you access the latest Ultra HD movies and TV shows, including Golden Globe award winner Transparent, Mozart In The Jungle, Alpha House, Bosch and Hand of God. Just sign up for a free 30-day trial of Amazon Prime Instant Video using your Samsung Smart TV and enjoy your favourite entertainment as you've never seen it before.
To find out more about other Ultra HD movies and shows from Amazon Instant Video and Netflix, click
here
to visit the Samsung TV Apps page.
3840 x 2160

Resolution

6

Series

Wide Colour Enhancer (Plus)

Wide Colour Enhancer (Plus)

4

HDMI

3

USB
Rated

5

out of

5
by
MinnowMcBride
from
Samsung HU6900 4K Ultra HD Smart LED TV
After undertaking six months or so of research and even looking at the 4K picture quality on display in department stores I decided that any replacement TV I was to buy should have this feature - luckily for me I found this TV for a great price which is absolutely superb. The picture quality is outstanding, with the added bonus that the TV has an upscaling feature making the picture quality on everything you watch absolutely perfect. Now when watching some shows I can see flaws in set design which ordinarily could not be picked out - the picture is that good. The sound quality is again excellent andI am now able to pick up sounds from music that I have not heard before, it really is crystal clear. I would highly recommend this product to anyone who would like to upgrade their TV - we upgraded from a 7 year old Sony Bravia and the difference in the technology during that time is immense.
Date published: 2014-09-13
Rated

5

out of

5
by
FiBee1
from
Excellent Value for Money
I bought this a couple of weeks ago and was really impressed with the screen resolution. The Smart Hub is a great feature and 'Football Mode' went down well. Great price
Date published: 2015-05-03
Rated

3

out of

5
by
Bhavesh D
from
Not So Appealing
I bought this Samsung 40" UHD TV on 20-Jan-2015. Since then I have had sound problems; I lost sound on TV (Freesat & Freeview) & Virgin Media TiVo for about 10-12 instances in 4 weeks. It's difficult to get it back changing channels, volume control & sources, re-booting TiVo etc. takes too long! On one occasion I couldn't get the sound for one full day so I rang Virgin Media Customer Services & they sent their Technician the next day & on one more occasion but found no fault with their services but they replaced a HDMI Cable! On 5th of Feb I found problems' with my Panasonic Sound Base as was not getting sound through the receiver but could get from TV Speakers' & I called Tesco Direct & their service was excellent they replaced the faulty the next day; but I did not unbox it purposely to test the TV using it's in-built speakers but there were sound problem's on a few occasions' in the 2 week period. Also, I connected the Panasonic Sound Base on 20th Feb the problem occurred twice in 2 days & on 21st Feb there was a sole Lip Sync. Issue watching BBC1 HD on Freesat it is disgusting. Finally, it does not upscale either standard or high definition picture & have experienced Motion-Blur a several times' on fast moving images struggling with smart remote pointer as well! So, I can conclude that either there is a problem with my TV only or all TV's of this model UE40HU6900 Range?
Date published: 2015-02-24
Rated

5

out of

5
by
Will99
from
Excellent design and simple to use
This product has exceeded expectations. Not only was it cheaper than its competitors' but it has a brilliant design, was easy to set up and is simple to use.
Date published: 2015-11-05
Rated

5

out of

5
by
rock61
from
Brilliant TV
Was amazed with the quality and screen clarity, great sleek design moved up from a 37" screen and was a little worried that it may be a little too big for our tiny sitting room but because of the design with much less frame it fits in beautifully. Sound quality good...would definitely recommend to anyone.
Date published: 2015-04-07
Rated

5

out of

5
by
Anil2015
from
Great features
I bought my samsung tv 2 weeks ago and I am so happy with it, the colour and sound is great. All the family can't stop watching film in there. The 4k experience is the best I have experience in watching television.
Date published: 2015-01-05
Rated

5

out of

5
by
chieko
from
picture is so clear
excellent all round tv I cannot fault it, easy to use and just about sets itself up highly recommend and buying from trusted Tesco is a added bonus.
Date published: 2014-12-11
Rated

4

out of

5
by
janbabe
from
great depth to picture
Enjoy watching this 4k smart tv good clarity and love the football mode
Date published: 2014-11-23
User manual & Downloads
Live Chat