VU7000 Up-right VC with Fully Detachable Handheld, 1000 Watt
VU10F70SHAF/EU
VU7000 Up-right VC with Fully Detachable Handheld, 1000 Watt
is rated out of
5
by
11
.
Sorry! This product is no longer available
CycloneForce™
Motion Sync Design
HEPA Filter
Smooth and easy movement
The Samsung Motion Sync upright vacuum cleaner features Motion Sync Design™ with a swivel brush and reversed cambered wheels. The combination of the two features ensures exceptionally easy movement and makes swift and sudden turns much easier. Also, the wheels are big and hollow to enable a smooth motion, so they roll steadily and easily with minimum effort.
No hose, fully detachable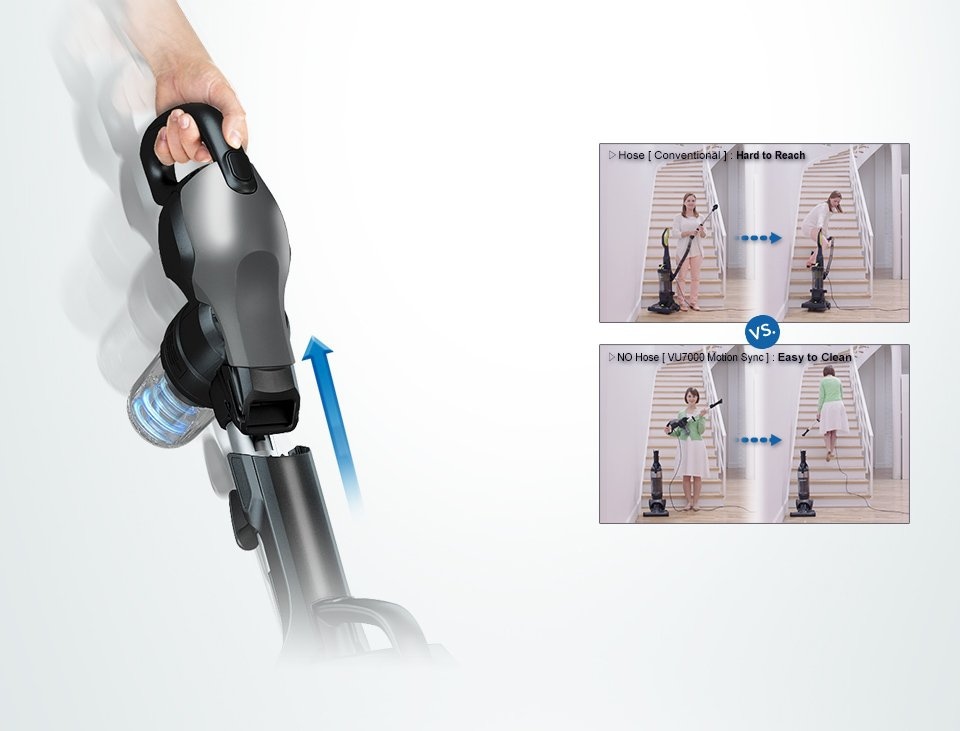 The Samsung VU7000 Motion Sync includes the Fully Detachable Handheld that completely detaches from the main body. So it's suitable for cleaning even awkward and hard to reach areas like corners, ceilings and stairs, without being hampered by having to stretch a hose, pull around the whole vacuum cleaner or worry about it toppling over.
Powerful suction that lasts*
The Samsung VU7000 Motion Sync's innovative CycloneForce multi features a unique interior structure with nine inner chambers that create a multi cyclonic airflow. Its strong centrifugal force separates dust particles and debris from the air and keeps them from leaving the chamber. So it prevents the filter from clogging to maintain powerful suction for a long time. * Tested on VU7000 Motion Sync. Based on internal test conducted in accordance with IEC60312-1-1.
Extra Motor for Fully Detachable Handheld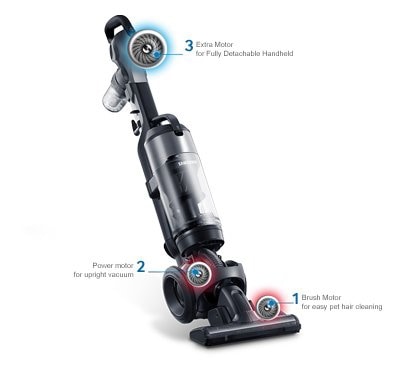 In addition to a 1000 W main motor and a powerhead motor in the brush, the Samsung VU7000 Motion Sync's Tri-Motor System has an additional 470 W motor in the Fully Detachable Handheld for extra power. The 3 independent motors work for optimum cleaning. So you can enjoy a truly efficient and effective overall performance on various kinds of occasions and surfaces.
HEPA filtration
The Samsung vacuum cleaner features an advanced anti-allergy and hygienic filtration system approved by the British Allergy Foundation (BAF). The Hepa filtration not only removes dust and dirt, but also captures of air-borne allergens.
Easy to find accessories
Why spend another minute looking for the right accessory? The Samsung vacuum cleaner's handle includes built-in dusting and crevice accessories. Whatever or wherever you need to clean you can quickly switch to the best tool without having to detach it. So you won't waste time finding them – and you can enjoy fast, non-stop cleaning.
Easy clean filter
The Samsung vacuum cleaner has a simple, sponge type foam filter that captures dust and can be easily washed and cleaned with water. A quick rinse is all it takes to prevent the filter from clogging which ensures powerful suction that lasts – and great results'. ' Based on internal data. Regular filter washing is required for optimal performance. Refer to the user guide for details.
Easy to empty
The Samsung vacuum cleaner's bagless dust bin is simple to empty without spilling dust back on the floor. You can quickly open it with the push button, tip the contents into the rubbish bin and then effortlessly slide it back. Plus it's easy to take out the filter and wash it with water.
2.2 ℓ

Dust Capacity

1000 W

Max Consumption Power
Rated

5

out of

5
by
Ardentower
from
Powerful vaccum
Powerful vaccum and the handheld part is great for skirting. Curtains and high up
Date published: 2015-10-06
Rated

5

out of

5
by
Susana
from
Excellent
Love it. For me is the best. It works in perfection .
Date published: 2015-09-10
Rated

5

out of

5
by
Suedetree
from
Well worth the money
Amazing suction, really easy to detach, use and empty.
Date published: 2015-09-09
Rated

4

out of

5
by
Prig
from
Great Iem
happy with the product, does exactly what you need it to do.
Date published: 2015-05-25
Rated

4

out of

5
by
AnnieB
from
Good bye to pet hair!
I've been testing this for a good few months now and to be honest was rather unsure at the beginning with whether this was any better from the rest. I'm happy to say I've actually found it to be amazing. It picks up fluff and other bits that my other vacuum cleaner wouldn't, or I'd have to go over the same spot repeatedly. It reaches akward corners better as the head rotates and is much more flexible than other brands/models. The biggest selling point is the detachable nozzle. I can finally tackle the stairs without juggling the entire vacuum cleaner on a step! I did wondered if a cordless would be better, but I like the fact it's wired up still. The cable is really long so it will go really far with you. Over all I can say it's been amazing and really opened my eyes to how bad my previous vacuum cleaner was! Good buy pet hair!
Date published: 2015-05-10
Rated

4

out of

5
by
Cliftongirl
from
Excellent functionality and design
I really love this vacuum cleaner after years of hoovering with below average cleaner with disappointing results. This vacuum cleaner looks great and has brilliant features such as the detachable handle which can be used on its own and the allergen filtration which is great as I have a child so I know its great against dust. Its can be seen a little on the heavier side but I see that as an added bonus of an arm workout while cleaning :)
Date published: 2015-01-18
Rated

4

out of

5
by
Rachel
from
Fabulous 2-in-1 design
The Samsung Motion Sync 2-in-1 vacuum cleaner is a clever design – the detachable handheld vacuum, with its own motor, is an incredibly useful extra element to have. It fits neatly and securely on the top of the vacuum and is useful for cleaning hard to reach areas, such as skirting boards, corners and areas behind furniture. The main vacuum works very well on hard floors and tiles and move easily, especially around corners. The hard floor cleaning setting, with a lowered brush wheel, seems effective on carpets too. It's scary to see how much dust is being picked up, but also motivating to get you to clean more! I like the fact that it's got a long cable, so you don't have to keep changing and moving the plug from socket to socket, and that a nice tall upright cleaner – ideal if you suffer from backache. The only downside is that it is quite heavy compared to other models.
Date published: 2015-01-08
Rated

4

out of

5
by
louise 123
from
Samsung Hybrid
The vacuum cleaner is a fantastic ingenious idea it is light weight and ideal for cleaning the stairs. Very Disappointed in the delivery service. I payed for next day delivery and I had to pick it up from the preston depot.
Date published: 2014-12-09