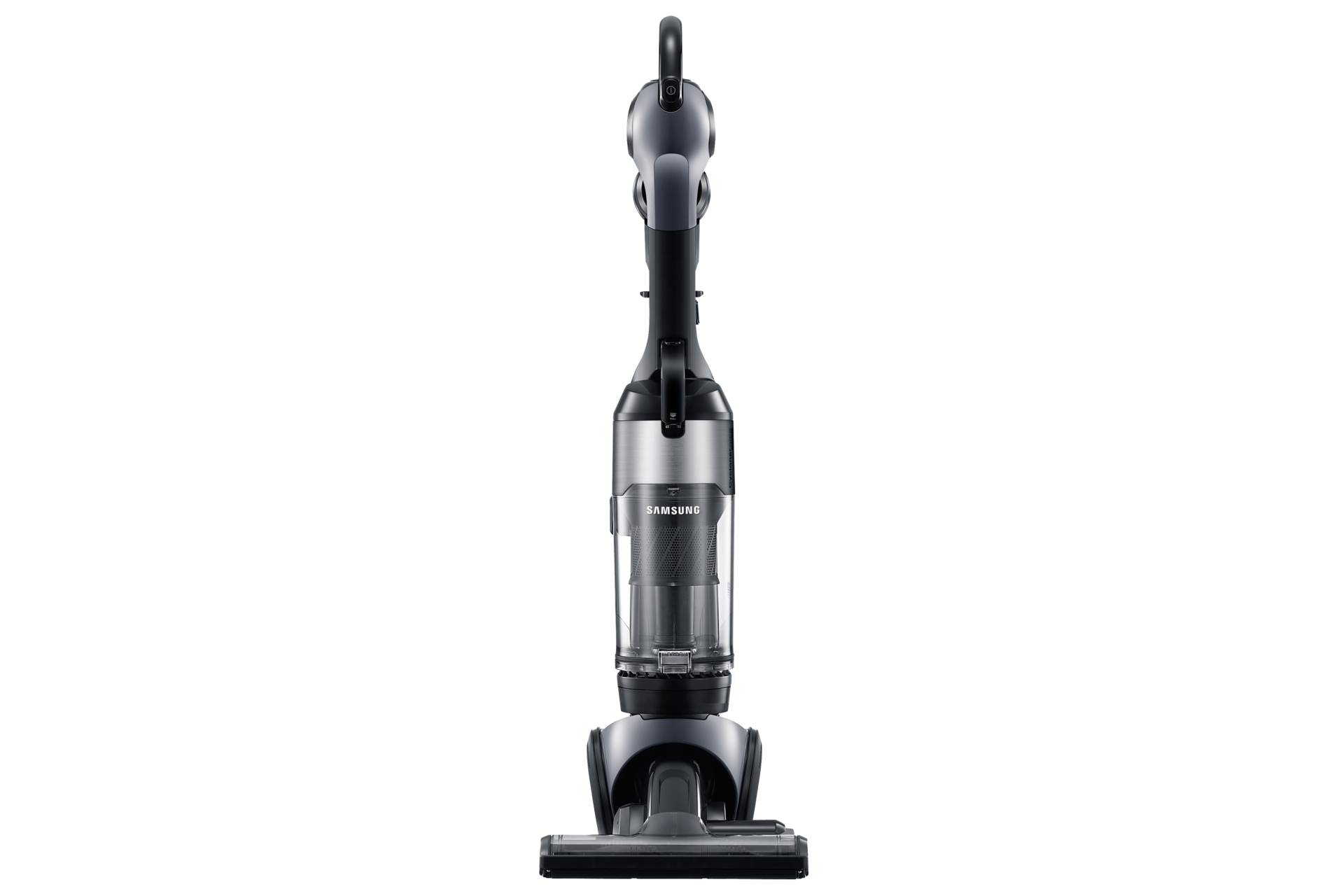 VU7000 Up-right VC with Fully Detachable Handheld, 1000 W
VU10F70SHDC/EU
VU7000 Up-right VC with Fully Detachable Handheld, 1000 W
is rated out of
5
by
57
.
Sorry! This product is no longer available
Motion Sync Design
CycloneForce™
HEPA Filter
Smooth and easy movement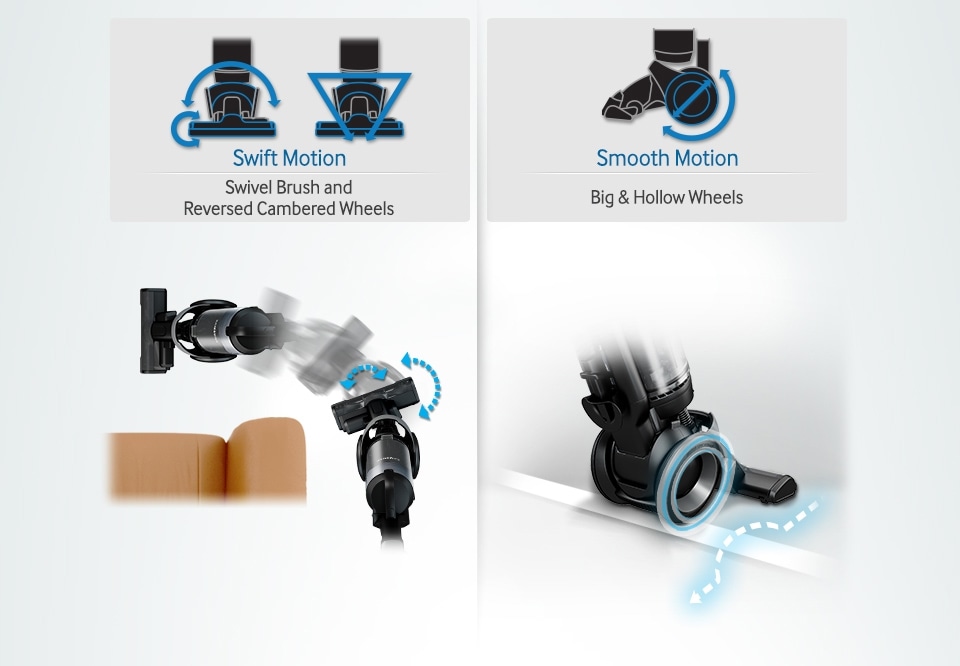 The Samsung Motion Sync upright vacuum cleaner features Motion Sync Design™ with a swivel brush and reversed cambered wheels. The combination of the two features ensures exceptionally easy movement and makes swift and sudden turns much easier. Also, the wheels are big and hollow to enable a smooth motion, so they roll steadily and easily with minimum effort.
No hose, fully detachable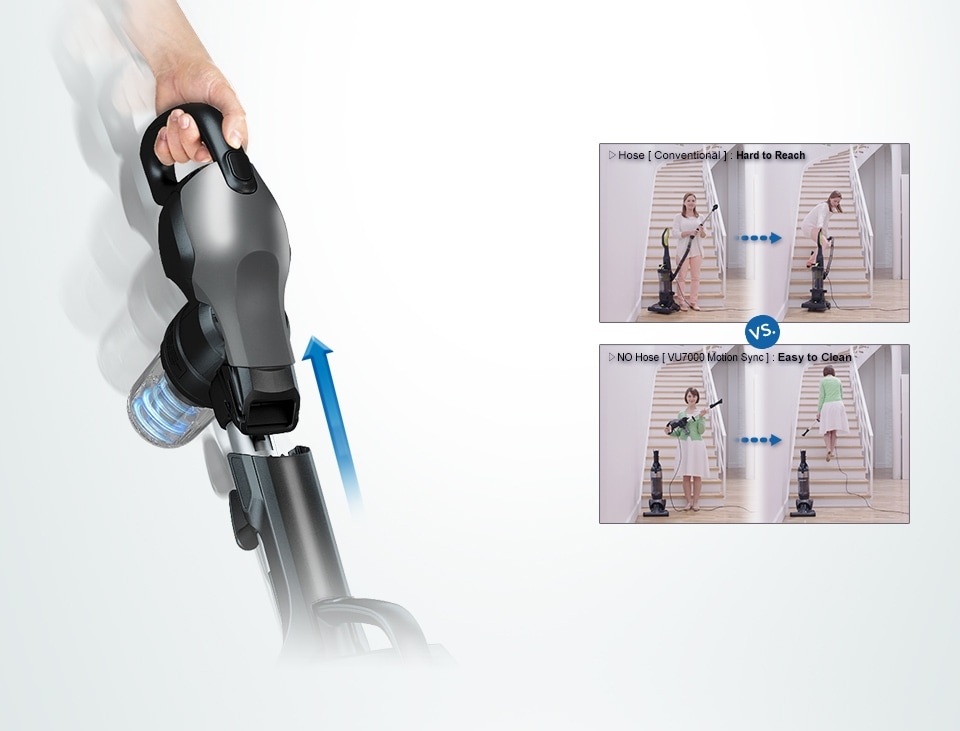 The Samsung VU7000 Motion Sync includes the Fully Detachable Handheld that completely detaches from the main body. So it's suitable for cleaning even awkward and hard to reach areas like corners, ceilings and stairs, without being hampered by having to stretch a hose, pull around the whole vacuum cleaner or worry about it toppling over.
Powerful suction that lasts*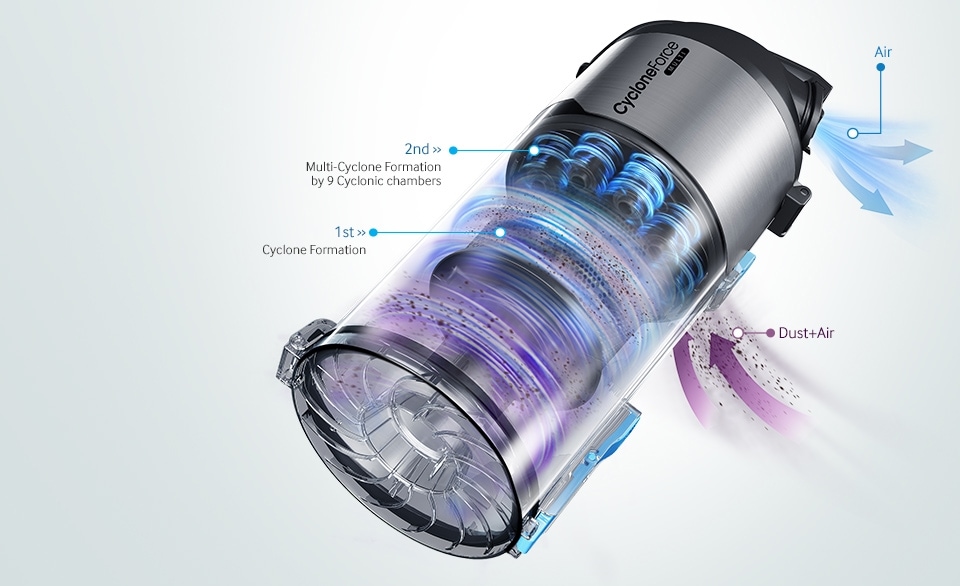 The Samsung VU7000 Motion Sync's innovative CycloneForce multi features a unique interior structure with nine inner chambers that creates a multi cyclonic airflow. Its strong centrifugal force separates dust particles and debris from the air and keeps them from leaving the chamber. So it prevents the filter from clogging to maintain powerful suction for a long time. * Tested on VU7000 Motion Sync. Based on internal test conducted in accordance with IEC60312-1-1.
Extra Motor for Fully Detachable Handheld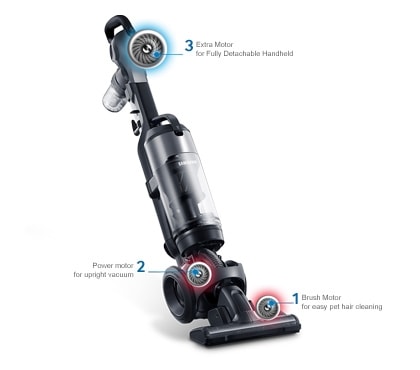 In addition to a 1000 W main motor and a powerhead motor in the brush, the Samsung VU7000 Motion Sync's Tri-Motor System has an additional 470 W motor in the Fully Detachable Handheld for extra power. The 3 independent motors work for optimum cleaning. So you can enjoy a truly efficient and effective overall performance on various kinds of occasions and surfaces.
HEPA filtration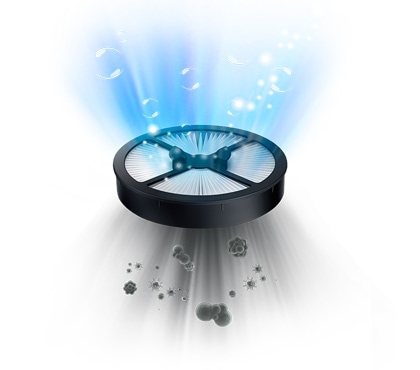 The Samsung vacuum cleaner features an advanced anti-allergy and hygienic filtration system approved by the British Allergy Foundation (BAF). The Hepa filtration not only removes dust and dirt, but also captures of air-borne allergens.
Convenient cleaning
The Samsung VU7000 Motion Sync has different kinds of accessories in Home Cleaning Kit to suit a variety of cleaning needs. These specialist fittings feature different shaped heads that are specifically designed for those areas that are normally difficult to clean, like furniture, stairs and windows. So you will get great results, with much less time and effort.
Easy to find accessories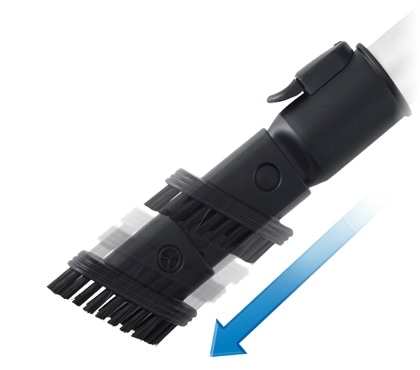 Why spend another minute looking for the right accessory? The Samsung vacuum cleaner's handle includes built-in dusting and crevice accessories. Whatever or wherever you need to clean you can quickly switch to the best tool without having to detach it. So you won't waste time finding them – and you can enjoy fast, non-stop cleaning.
Easy clean filter
The Samsung vacuum cleaner has a simple, sponge type foam filter that captures dust and can be easily washed and cleaned with water. A quick rinse is all it takes to prevent the filter from clogging which ensures powerful suction that lasts – and great results'. ' Based on internal data. Regular filter washing is required for optimal performance. Refer to the user guide for details.
Easy to empty
The Samsung vacuum cleaner's bagless dust bin is simple to empty without spilling dust back on the floor. You can quickly open it with the push button, tip the contents into the trash can and then effortlessly slide it back. Plus it's easy to take out the filter and wash it with water.
2.2 ℓ

Dust Capacity

1000 W

Max Consumption Power
Rated

5

out of

5
by
Poggle2010
from
brilliant!
This is a fantastic buy, got it for work and has pleased everyone - even the kids use it! The hoover is effortless, light and picks up everything - we use it daily and with the detachable handheld it just makes the whole house easier to clean - a really excellent product and would recommend!
Date published: 2016-02-22
Rated

5

out of

5
by
tilson1993
from
2 in 1!!!
A fantastic all round cleaner, great suction which you can feel when you move around cleaning, the handheld is a great addition allowing you to take it easily to do the car, stairs and any small area that just needs a quick clean, only downside is that it is quite a heavy machine and the powerful suction maybe difficult for old people to cope with, but for me its perfect.
Date published: 2016-02-20
Rated

5

out of

5
by
kelv33
from
excellent vacuum
having had a dyson,that died, I bought this Samsung,and what a buy. I found it very powerful,and with the detachable top for stairs ,an ideal machine,far better than the dyson, better power,better build, better price.....Samsungs the best
Date published: 2016-02-15
Rated

5

out of

5
by
ABMReading
from
Sturdy, clever design and powerful
I had a dyson which abruptly decided to end its own life. I searched for a new vacuum and came across the Samsung VU7000. It had all the features I needed and at a fraction of the price of a replacement dyson. When it arrived it appeared very sturdy - the handle is firm where the dyson seemed to flex slightly. It is a bit heavier feeling but the suction is great and the clever mini vacuum rather than a long hose is a great idea. So pleased I bought a second for upstairs!
Date published: 2016-01-07
Rated

5

out of

5
by
ChristyLam
from
Gift that has kept on Giving
Bought this for my son who has a new puppy - It is brilliant does a great job on all surfaces and the detachable arm is super - just as good as my Dyson but so much cheaper.
Date published: 2016-01-05
Rated

5

out of

5
by
superodin
from
Brilliant quality
Right where to start for a hundred quid this is one of the best hovers iv ever had. I have a huge white German shepherd and iv had other makes not even pick his hair up properly. Only downside is when on deep pile carpet it's hard to push with the brush on but on this u can turn it off and on my kitchen floor as ul just chase the hair around. So that's a ace feature and it detaches for the stairs ... do your self a favour n try it I'm please I did n im a fussy git
Date published: 2015-12-31
Rated

5

out of

5
by
ODP Becki
from
Great features
Great Hoover and manoeuvrability. Great mini separate Hoover for stairs, cables goes beyond a flight of stairs!
Date published: 2015-12-28
Rated

5

out of

5
by
Catdiz
from
Brilliant features
Bought this 4weeks ago,love the detachable mini vacuum it's great for stairs and cobwebs!!
Date published: 2015-12-25