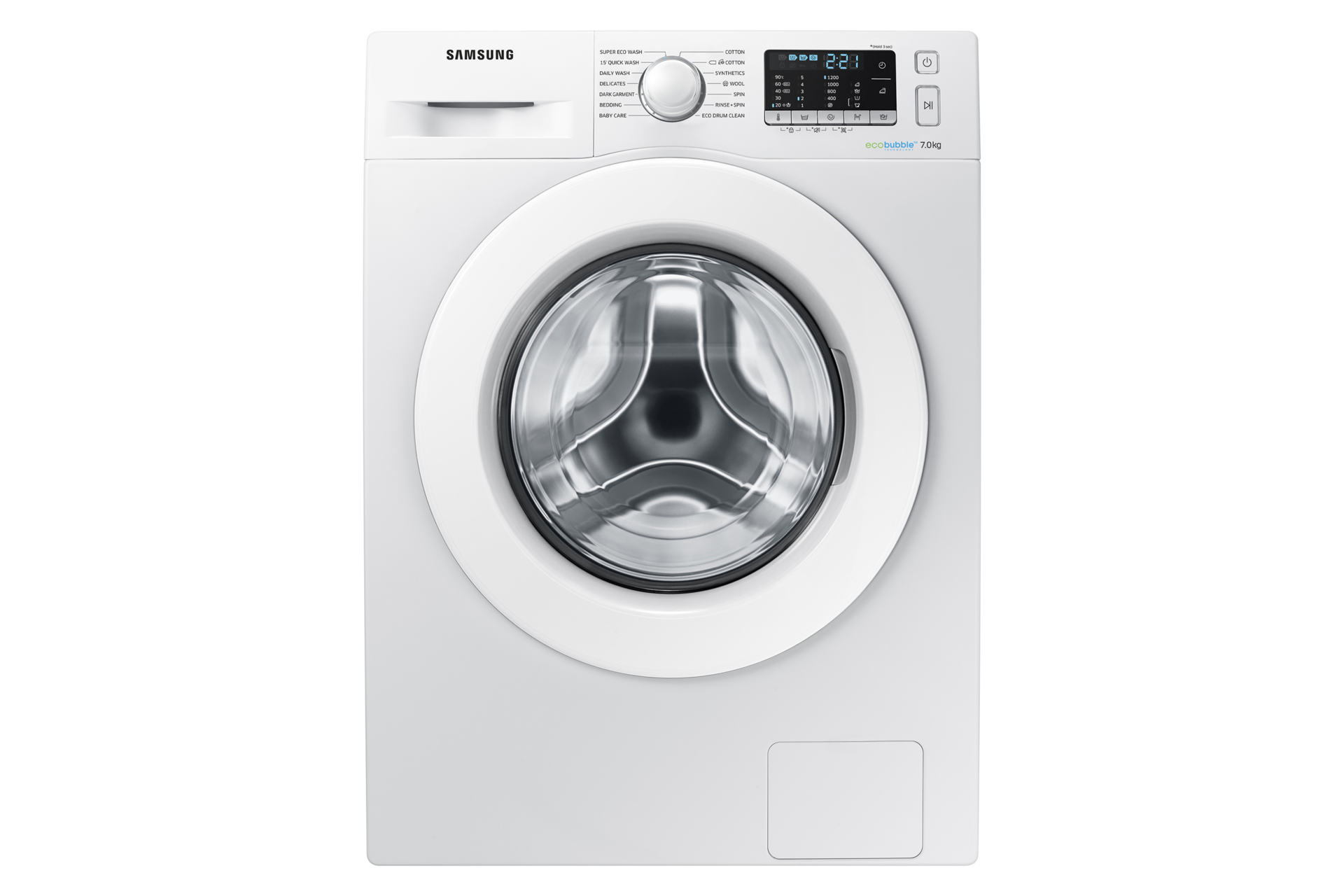 WW5000 Washing Machine with ecobubble™, 7kg
WW70J5355MW/EU
WW5000 Washing Machine with ecobubble™, 7kg
is rated out of
5
by
15
.
BUNDLE
Eco Bubble™ technology
7.0 kg
Washing Capacity (kg)
A+++(-10%)
Efficiency Class
600x850x550 mm
Net Dimension (WxHxD)
Wash Cool, Save Energy
Unique cool wash technology for even greater energy savings
Our efficient ecobubble™ technology mixes air, water and detergent to create bubbles that penetrate your clothes faster, helping you wash at cooler temperatures. Better for the environment and your bills.
Intensive Stain Removal
Whether it's cotton, synthetics or baby clothes, add a 30 minute bubble soak to any of your preferred programs at the touch of a button. Then let our unique ecobubbles penetrate deep into the fabrics to loosen tough stains, giving you a thorough and efficient clean after every soak.
StayClean Drawer
Gone are the days of wasted detergent and the tedious task of having to clean out your drawer. More efficient transfer of detergent to the drum ensures your clothes experience a much more thorough wash. Detergent residues are washed away into the drum thanks to powerful jets of water.
Easy Trouble Shooting
Smart Check is an automatic error-monitoring system. It detects and diagnoses problems at an early stage and provides quick and easy troubleshooting solutions using a smartphone App*. So it saves you time having to find the manual and avoids the cost and inconvenience of unnecessary engineer callouts – and potentially expensive repair bills.
*Available on Android and IOS.
*Available on Android and IOS.
7.0 kg

Washing Capacity (kg)

A+++(-10%)

Efficiency Class

600x850x550 mm

Net Dimension (WxHxD)

62 kg

Net Weight
Rated

5

out of

5
by
Martylp
from
All in one ultimate machine
Bought it to replace old machine thinking nothing of it but the difference is unreal the clothes smell so much fresher than my old machine and it is so easy to use
Date published: 2018-10-01
Rated

5

out of

5
by
Danielle
from
I am very happy with my new samsung washing
Lovely washing machine.I do really recomande it .For me is exctly like a star. She is the one.
Date published: 2018-05-30
Rated

5

out of

5
by
Graham B
from
Excellent washing machine
We bought this washing machine after borrowing my daughters, for 5 months. Very good performance, efficiency rating and extended warranty helped seal the deal. My only criticism is registering the warranty online what a pa-lava, I spent ages going around in circles, eventually I discovered the pointer on my computer screen didn't indicate, change shape, when passing over clickable text.
Date published: 2017-10-06
Rated

5

out of

5
by
Runnerdj
from
Brilliant washing machine with great technology
I received this washing machine from Samsung for product testing purposes. I really love this new washing machine that has replaced an aging washer. I love the electronic control panel which is a massive advancement on what I have experienced before. You can select a large number of washes and then adapt the settings by adjusting temperature , rinses and spin. The ecobubble technology on this machine sounds amazing and will guarantee that my clothes are always cleaned well. Another thing that I like about this machine is the drum, which is larger than on my last machine and will allow the clothing more room to tumble around and will aid cleaning. In fact on this machine some clothes are inside out when removed because they have tumbled about so much. The Stay Clean Drawer is another great feature as the drawer on our old washing machine used to get badly contaminated and we had to remove and clean it. The Samsung Smart Washer app also sounds like a great idea to help diagnose any issues that you may have with the machine and I have installed it and set it up on my Samsung phone. The first wash that I did I used the Super Eco wash and the clothes washed excellently. The only downside of this wash is that it runs for 2 hours 19 minutes which is a bit inconvenient. I tend to use my washing machine at around 9 a.m when my solar panels are producing energy which reduces the running cost further. I always try and hang my washing in the garden to dry it and I could not hang it out until nearly 11.30 a.m and the weather was not good that day so getting it dried was difficult. The second wash I used the daily wash setting which only runs for 1 hour 2 minutes so I could hang my washing out over an hour earlier and even though the weather was poor again it was easier to get it dried. Again I was very pleased with how clean the clothes were and with my solar power this would have been an efficient wash. The wash timing was more in line with what I am used to as my old machine would wash cottons at 30 deg in around 55 minutes. There are a few other programs on this machine that I am looking forward to trying. If I have stained clothing Bubble Soak sounds like it may do a great job and occasionally we have to remove stains. In the past we have used spray on stain remover, which never seems to work. The other cycle is Eco Drum Clean which I will use a number of times a year. There was no easy way to clean my old washing machine so this is a great bonus and I can run it on a Sunny day so my solar will clean the machine for free. There are only two of us in the house so I only need to wash twice a week, but this machine is going to make washing so much more pleasurable.
Date published: 2017-08-08
Rated

5

out of

5
by
Shepo73
from
Great washing machine full of features.
I received this washing machine from Samsung for product testing purposes. I have been really impressed with the look of the washing machine and although I had high expectations with it being made by Samsung it has certainly surpassed them. The clothes come out brilliantly clean, which is always a good sign with a washing machine.
Date published: 2017-08-08
Rated

5

out of

5
by
MartinHD5
from
Exceptional Washing Machine
I received this washing machine from Samsung for product testing purposes. This is my unbiased review. This has to be the easiest washing machine to use that we have ever owned. After self calibration of the drum, performed immediately after installation, the machine automatically weighs each load and tells you how long the wash is going to take. There are 14 different programmes to choose from including the more usual Whites, Delicates, Wools etc, and some more innovative programmes like, the 15 minute wash and eco drum cleaning. There are 7 temperature settings from 20 degrees to 90 degrees and four spin speeds from 400 to 1200. Running costs are claimed to be approximately 25 pounds per year depending on how often it is used. I can say that my Smart Meter shows the machine using approximately 5 pence per hour. The machine uses about half the powder and softener that our previous machine used making it very economical. All thing considered this is an exceptional machine and we would definitely recommend it.
Date published: 2017-08-08
Rated

5

out of

5
by
Sandra
from
Excellent washing machine.
Very good washing, clothes come out with very little residual water but not creased. I particularly like the to be able to vary how many times it performs a rinse cycle, very useful for allergy suffers ensures absolutely no detergent left in clothes. Would prefer if the default wash temperature was 30 degrees not 40 degrees but easy to change manually.
Date published: 2017-08-08
Rated

5

out of

5
by
Del369
from
A triumph of simple design.
I received this washing machine from Samsung for product testing purposes. It is very easy on the eye and has a very simple design. Set up was simple and machine worked from the off. Great range of washes available, all of which have given excellent results. Especially impressed with the 15 minute cycle as I regularly work out and need my kit the next day. Large door for easy access. Very quite when working and even spin cycle almost unnoticeable. Spin cycle also been getting clothes very dry therefore only need minimal drying time. Love the little tune played when a cycle finishes.
Date published: 2017-08-08
User manual & Downloads
Live Chat