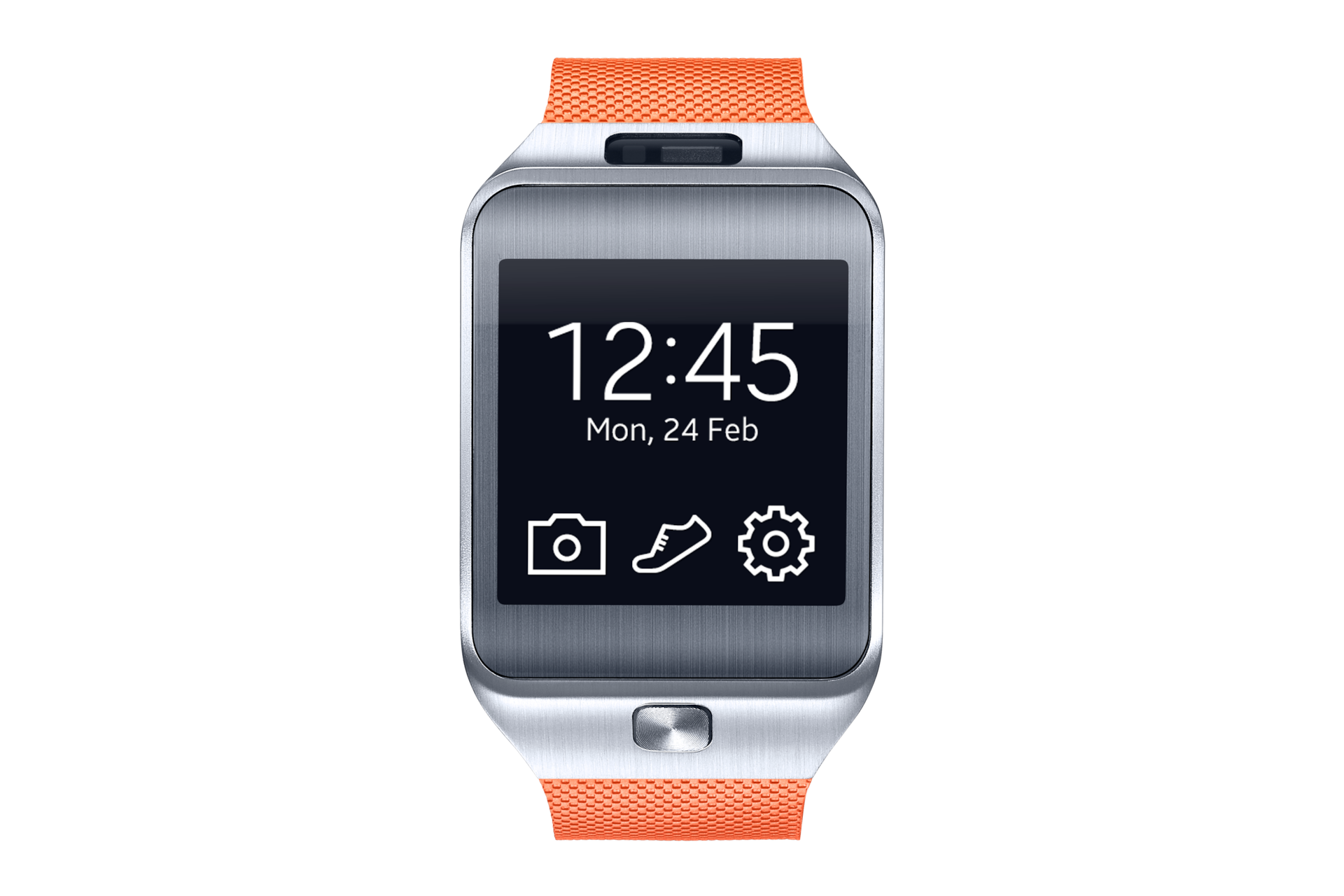 Gear 2
is rated out of
5
by
9
.
Sorry! This product is no longer available
1.63" (41.4mm)
Size (Main Display)
300mAh
Standard Battery Capacity
Bluetooth v4.0
Bluetooth Version
Express your own style
With the Samsung Gear 2, show off your style. Available in various, vibrant colours that add elegance to your look. Change its strap and express your personality freely depending on your mood and outfits. * Additional straps sold separately.
Stay connected with convenience
When you can't use your phone, the Samsung Gear 2 is right there for you. It makes communication smooth and effortless by allowing you to make and receive calls, check messages, and view notifications directly on the large Super AMOLED screen.
Personalised Fitness Motivator on your wrist
Stay fit with the Samsung Gear 2, your personalised fitness motivator. The Gear 2 tracks your fitness status in real time with its built-in heart rate sensor and pedometer. By offering the detailed stats of your workout activity, it helps you achieve your fitness goals. * Some Samsung Lifestyle / Fitness applications and related services available for Samsung wearable devices may not be compatible with Samsung tablet devices.
Enjoy music on the go
Enjoy your tunes without your smartphone. Thanks to a new standalone music player, you can store and listen to music on your Samsung Gear 2. Pair it to your Bluetooth headset for your listening pleasure on the go.
Greater App & Device Compatibility
Samsung Gear 2 is compatible with various Galaxy Smartphones and tablets. Plus more than 200 3rd party apps are available on the Gear 2, allowing you to enjoy a wide range of popular apps. * Samsung Gear 2 is compatible with 17 types of device, and compatible device models will be further expanded. * Applications and related services available for Samsung wearable devices may not be compatible with devices that do not support the Samsung Gear Manager application.
Water & Dust Protection
Enjoy outdoor activities without hesitation. The IP67 certified Samsung Gear 2 is water and dust resistant. Feel free to wear it in the rain, sand, or in other rough conditions without worrying about damaging it. * IP67 : A device with an IP67 rating means that it is totally protected against the effect of dust and the effect of water immersion less than 1m.
Control your devices with your Gear 2
Don't search for a remote control anymore to operate your TV. Use your Samsung Gear 2 as a TV remote control and control your TV or set-top box from your Gear 2 with its IrLED and WatchON Remote. * Controllable devices are limited to certain products
Capture your favourite moments easily
With the Samsung Gear 2's camera, capture the moment right from your wrist. You can get quality, crisp pictures with its FHD stillshot and record memorable moments with its 720p video recording.
1.63" (41.4mm)

Size (Main Display)

68 g

Weight

300mAh

Standard Battery Capacity

Bluetooth v4.0

Bluetooth Version

S-Voice

S-Voice

HR Sensor, Accelerometer, Gyro Sensor

Sensors
Rated

5

out of

5
by
bexter
from
the ultimate watch forvan IT person
i have been using this watch for over 3 years. i could do almost everything with it. the camera and ir blaster proven to be really useful. till this day, my friends are impress when i could take videos and photos and also remotely control aircond and tv with it. I am really hoping you guys could released a newer version of this model. could you guys tell me what is the greenish thing on my watch face?
Date published: 2018-08-24
Rated

5

out of

5
by
Mansikka
from
My functional and beautiful accessory
I had been dreaming to get a smart watch for several months until I got it today as a New Year present from my husband. It is incredibly functional and just beautiful accessory. I do train a lot, I practice yoga, bodyflex, pilates and go to the gym. I follow my trainers recommendation about daily activity and relax. I hope Samsung Gear will become my best friend and helper.
Date published: 2014-12-31
Rated

5

out of

5
by
Lawyer
from
Unbelievably great watch
This watch is absolutely amazing, the speed of software, didnt expect it will be so fast, the camera only 2MP but the pictures and video look great on my Samsung 65 inch Smart TV, while I run I answer messages and at meetings its very helpful also and not disturbing anyone such as phone in the hands, I believe that this is the future and all people around are amazed with this excellent piece of kit, I would definitely recommend it to anyone considering it. Only one thing not too many apps yet released by developers and Samsung, but I see that this changes slightly as last couple days there been added some more apps, hope it will grow quickly and we can wear everyday different watch...
Date published: 2014-04-27
Rated

5

out of

5
by
tony e
from
a work of art
the gear 2 is astonishing. its beautiful to look at easy to wear. and the software is both fluid and user friendly. note3 users will really benefit from it. nothing comes near it.
Date published: 2014-04-17
Rated

4

out of

5
by
Tim Cecil
from
Good smart watch
Design and Performance are great. As for the features, hopefully samsung gear apps will have more apps/games. Watch is pricey but overall it is a good smart watch :)
Date published: 2015-07-09
Rated

4

out of

5
by
Sooty evenwood
from
Excellent value for money
Had it a month its excellent value for money the performance and quality of screen and manufacture is superb however the quality of apps available is poor they need to catch up , disappointed samsung have now gone android where does that leave the gear 2 will they provide support going forward
Date published: 2014-07-01
Rated

4

out of

5
by
Helyfoxer
from
Very nice accessory
Great communication helper! But I want to have more adjustments for font settings (need to set it smaller than minimum preset). This great display can show more info than it do it now. Please, add this option in future updates. Perhaps this is the only complaint, and it relates to the software part.
Date published: 2014-06-06
Rated

4

out of

5
by
mb17
from
This is awesome
I known this for 2 weeks and the camera is stunning and magnificent but the lack of this is the design is not to elegant and sophisticated but simple and its too cheap.
Date published: 2014-03-29
User manual & Downloads
Live Chat
How It Stacks Up
* Available capacity varies and storage is less due to phone software.

Notice to our customers - safe battery use

If your mobile phone battery is damaged, for example if it is dented, we recommend that you stop using it immediately and replace it with a Samsung genuine battery. If a damaged battery is used, this may affect performance of the battery and in some cases cause damage or injury through overheating, fire or explosion. Examples of situations in which a battery may become damaged are: use in an excessively hot environment, dropping the battery, external pressure on the battery, pet-biting, etc. We recommend that spare batteries are kept in a hard-shell case when not in use.

You should use only Samsung genuine or approved batteries that have been specifically designed for use in Samsung products. The use of incompatible batteries, cables and chargers may not be safe to use and could cause damage to the device or external damage. Please purchase Samsung-branded batteries from reputable and approved sellers to ensure the batteries are not counterfeit.
Network band : The bandwidth supported by the device may vary depending on the region or service provider.