Take the plunge
Go from swimming laps to jumping in the shower. Gear Fit2 Pro is water resistant up to 5 ATM*. And if you choose the pool, the Speedo** app developed for Gear Fit2 Pro tracks your stats and presents them in easy-to-read summaries.
*Gear Fit2 Pro has a water resistance rating of 50 meters under the ISO standard 22810:2010. If the device or your hands are wet, they must be dried thoroughly prior to handling. ** Availability of the Speedo On app for Gear Fit2 Pro varies by country and region. The Speedo app for Gear Fit2 Pro is not available on iOS smartphone.
Water Resistant
Bluetooth v4.2
Bluetooth Version
1.5" (38.6mm)
Size (Main Display)
Motivation in 4 ways with in built apps
UA RECORD
See your activity, sleep, and workout stats in one dashboard and get insight into your health and fitness levels.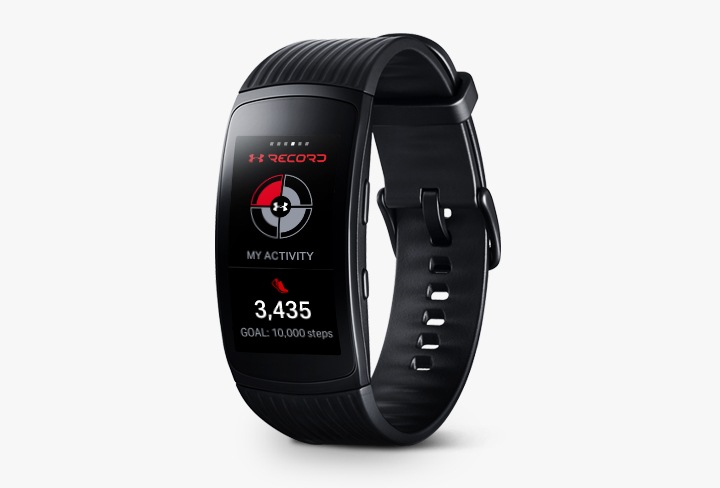 MapMyRun
Plan and track your routes with real-time maps and capture every run, ride, and walk.
MyFitnessPal
Eat smarter and achieve your health goals by keeping track of the calories you consume and burn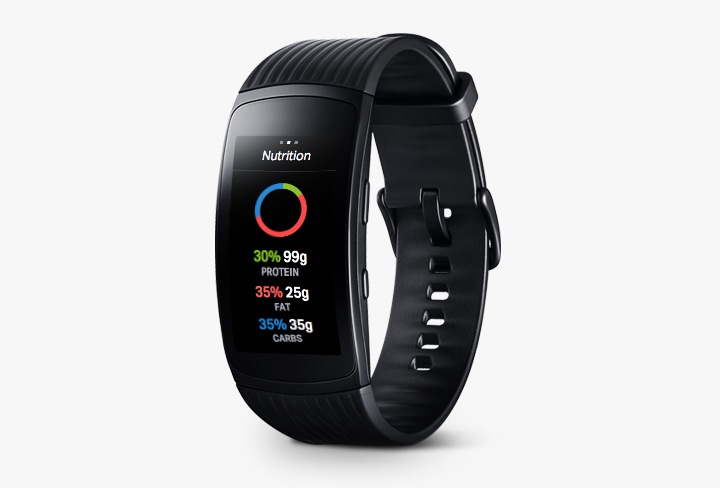 Endomondo
Join a global community of fitness enthusiasts as you reach your running goals with personal training plans.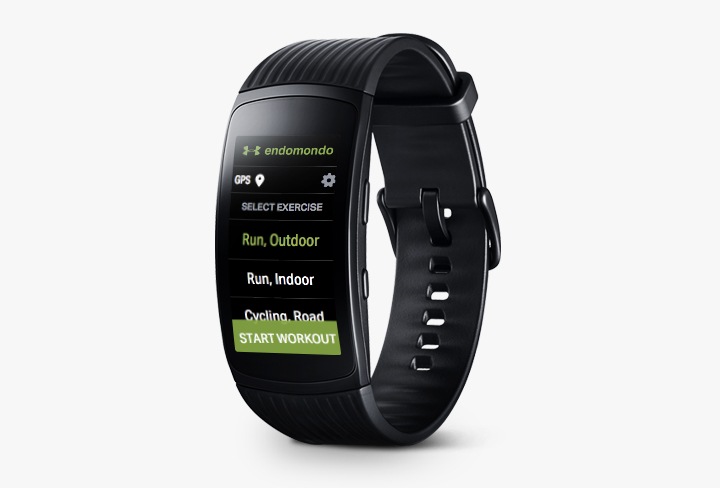 *Availability of UA Record, MapMyRun, MyFitnessPal, and Endomondo for Gear Fit2 Pro may vary by country, region, and OS.
*Availability of UA Record, MapMyRun, MyFitnessPal, and Endomondo for Gear Fit2 Pro may vary by country, region, and OS.
*Availability of UA Record, MapMyRun, MyFitnessPal, and Endomondo for Gear Fit2 Pro may vary by country, region, and OS.
*Availability of UA Record, MapMyRun, MyFitnessPal, and Endomondo for Gear Fit2 Pro may vary by country, region, and OS.
Make your moves count
Whether they're tennis, basketball, or even dance moves, Gear Fit2 Pro automatically detects and logs the activity. It also measures your heart rate continuously throughout the day, indicating heart rate zones, to help you make better fitness decisions.
Lighten your load
Track your location and listen to music - even without your phone. Gear Fit2 Pro has built-in GPS to keep a record of where you work out. And the Spotify app lets you listen to music via Wi-Fi or play playlists on the go in Offline mode.
* Availability of apps for Gear Fit2 Pro may vary by country, region, and OS. * Gear IconX sold separately.
Choose your style
Go all black for a sleek, understated look at the gym or at work. Or kick things up a notch with a splash of red. Whichever colour you choose, both styles are made to fit comfortably with a clasp that ensures the Gear Fit2 Pro stays securely on, whether it's swim or gym.
Get apps and watch faces
With more than 3,000 apps and watch faces to choose from, including Spotify, you can customise your Gear Fit2 Pro to make it work for you. Go to the Galaxy App store to find the one you need and more.
* Availability of apps for Gear Fit2 Pro may vary by country, region, and OS.
Bluetooth v4.2

Bluetooth Version

1.5" (38.6mm)

Size (Main Display)

4.0 GB

ROM Size (GB)

200mAh

Standard Battery Capacity
Gear Fit2 Pro
is rated out of
5
by
208
.
Rated

1

out of

5
by
MrsD
from
Beautiful but not fit for purpose.
I've kept this product beyond the 28 day return period because I felt it deserved a decent evaluation and it takes a while to get used to a new product. It's feature rich, good looking and comfortable (I'm totally in love with it from that point of view) - pretty much perfect, and that makes all the flaws really frustrating. In the early days the battery drained fast, so I switched off the screen auto-on functionality, reduced the brightness of the screen and the number of notifications (which were pretty overwhelming in number). This improved the battery-life no-end. It also didn't register my activity to begin with, and when it did log my elevated heart rate, it didn't reduce, even when at rest. I followed online guidance and reset things and things got better for a while. The step count and floors count are far under what I expect to be recorded, but I thought it was at least in the right ball-park, which is good enough for my purposes. Recently however, only about half my steps are being registered. A walk that would normally be in excess of 3000 steps only registered 1700. 23 minutes of activity was only recognised as 11, over a mile of walking recognised as less than half a mile. The next day was fine, the following day back to 50% reduction. I log my sleep, and target 10000 steps a day. I receive a daily sleep log notification that I don't want, but can live with, but don't get notified when I reach my step target, and can't see how to set this up. When my phone is critically low, I have to turn it off to stop the endless buzzing of the Fit Gear notifications as there seems to be no way to disable them. The GPS fixes really quickly and starting and stopping an activity manually is pretty easy. Trying to end and automatic activity isn't so easy... I'm not even sure it's possible at this stage. The Samsung Health software is pretty lame too. You can't rotate the oriantation, or zoom into the charts and it's even harder to see detailed trends over longer than a 24 hour period. You can't click into the chart and see the actual number of steps for a given period. Some of the charts show the elevation going down, my cycling speed going up (because I'm going down-hill) and my heart rate going up. How is that possible? You also can't see the heart rate stats during sleep as the chart goes from midnight to midnight, and scales according to the data presented for that day. As an activity tracker, is simply isn't good enough. It's demoralising when you know you've done enough to meet your target but the tracker hasn't registered it. It makes a mockery of the 'average statistics' because a) it doesn't represent what you've achieved and b) it can't possibly represent the average without accurate measuring.
Date published: 2019-01-12
Rated

2

out of

5
by
6194
from
Great device, shame only available in large
Bought for a gift for my partner. Only able to buy a large from UK Samsung stores, this was too big on her wrist and couldn't get a smaller strap from Samsung.
Date published: 2017-11-29
Rated

2

out of

5
by
Mammal marcher
from
Disappointing
I bought my Gear 2 pro just over a year ago for running. Most of the time it works fine but the battery has never been able to hold charge. So when running my first half marathon with the watch the battery failed at 10 miles (an no I'm not that slow) after a full charge. And yesterday it failed after 1 hour 19 minutes (8.2 miles). So now I'm looking for a new watch.
Date published: 2018-02-12
Rated

1

out of

5
by
Anni1990
from
Utter rubbish
Got the watch last Christmas primarily for running. Lasted about 8 weeks until software starter playing up. Now it's just faulty - MapMyRun nor any other 'compatible' UA apps do not boot. - GPS is not working - maps are not produced for any runs - downloaded Spotify playlists can't play Poorly thought through watch, no compatibility with apps, poor hardware, no support. Took it to Samsung experience stoe and they shrugged their sholders. Piece of junk now, unfortunately.
Date published: 2018-08-19
Rated

1

out of

5
by
hamphlet
from
Not recommended
Would you recommend this to a friend? I've just been asked. The answer is that I did once and regretted it ever since.. We both got our watches in December, primarily for running. My friend only had hers for a couple of months before it stopped producing maps for her runs. It seems that the GPS function of the watch had given up the ghost. I thought she'd been unlucky, but then 2 months ago mine did the same thing. I've done resets etc but to no avail. Now, to make matters worse the heart rate monitor and the step tracker have both failed. So has the watch's ability to light up when you lift your wrist to look at the time. I'm guessing that the accelerometer has failed. Again, resets have failed to cure this. I only use it now for Spotify when I'm running and to get alerts from my phone. Even when it was fully functional I could only have best described it as a flawed gem. As a running watch it was quite difficult to see anything on the screen in strong sunshine. And whose great idea was it to have the watch default to the GPS from the phone when going on a run, only for the watch to then begin trying to lock it's own GPS only when it had lost contact with the phone. This meant that parts of the start of nearly every run were missed. Hopeless. This meant that people had to use the workaround of switching off the bluetooth on the phone and the wifi on the watch a few minutes before setting off, to ensure the watch used it's own GPS. A further failure, only recently resolved, was that the built in running app gave no confirmation of GPS lock before setting off. Sometimes it never did. On the plus side, I like the physical design of the watch and the OLED screen is gorgeous indoors or on dull days.
Date published: 2018-08-01
Rated

1

out of

5
by
superhik
from
I'm sad
I loved the watch and all of it's tracking abilities. However, our romance didn't last, the watch just died on me inexplicably after 3 months. No errors, glitches, dead pixels... Just like that it went black and never turned on again. I suspect it's bad waterproofing because it happened the day I took a swim with it.
Date published: 2018-07-21
Rated

5

out of

5
by
Thorne24
from
Great watch
I had an apple watch before and then I changed phone needed a new watch , it picks up every message, phone call, e-mail, the only thing is that you can not use your watch to talk to someone when they call. It shows you who is ringing and you can answer it but you have to talk on your phone.
Date published: 2018-12-01
Rated

1

out of

5
by
Sb1974
from
Good looking, poor battery
Came free with mobile phone contract but even with everything switched off and brightness down I'm having to charge every 8 hours. I have no apps running, no notifications set wifi, bluetooth and location turned off. Why is this happening? I've only been wearing it just over 1 month.
Date published: 2018-07-24
User manual & Downloads
Live Chat
Free delivery

Get free delivery on all orders with no minimum spend

Free returns

Free, easy and convenient returns.

28 days to return

Change your mind? Just let us know and return your order within 28 days.

24/7 parcel tracking

Once you've place your order with us, you can track when it's coming.
Memory size : User memory is less than the total memory due to storage of the operating system and software used to operate the phones features.
Actual user memory will vary depending on the mobile phone operator and may change after software upgrades are performed.
Battery Usage Time : GPS Battery time is based on our own laboratory measurements, and may vary depending on factors such as device settings, usage patterns and operating conditions.
Request stock alerts
Opt into email alerts to find out when this item is back in stock and available to buy. Simply provide your email address and agree to the terms below.
We will email you when inventory is added.
Thank you.
Create your wishlist
Don't miss out on the products you love.
Sign in/Sign up now to access your wishlist on all your devices and get updates on great promotions.
Add to wishlist
Do you want to add this product to your wishlist?
Wishlist
This product has been added to your wishlist.
Sorry, the product you added to wishlist is not available anymore.
Installment Calculate
Installments are provided by Santander Consumer Bank S.A.
Estimate your installment plan