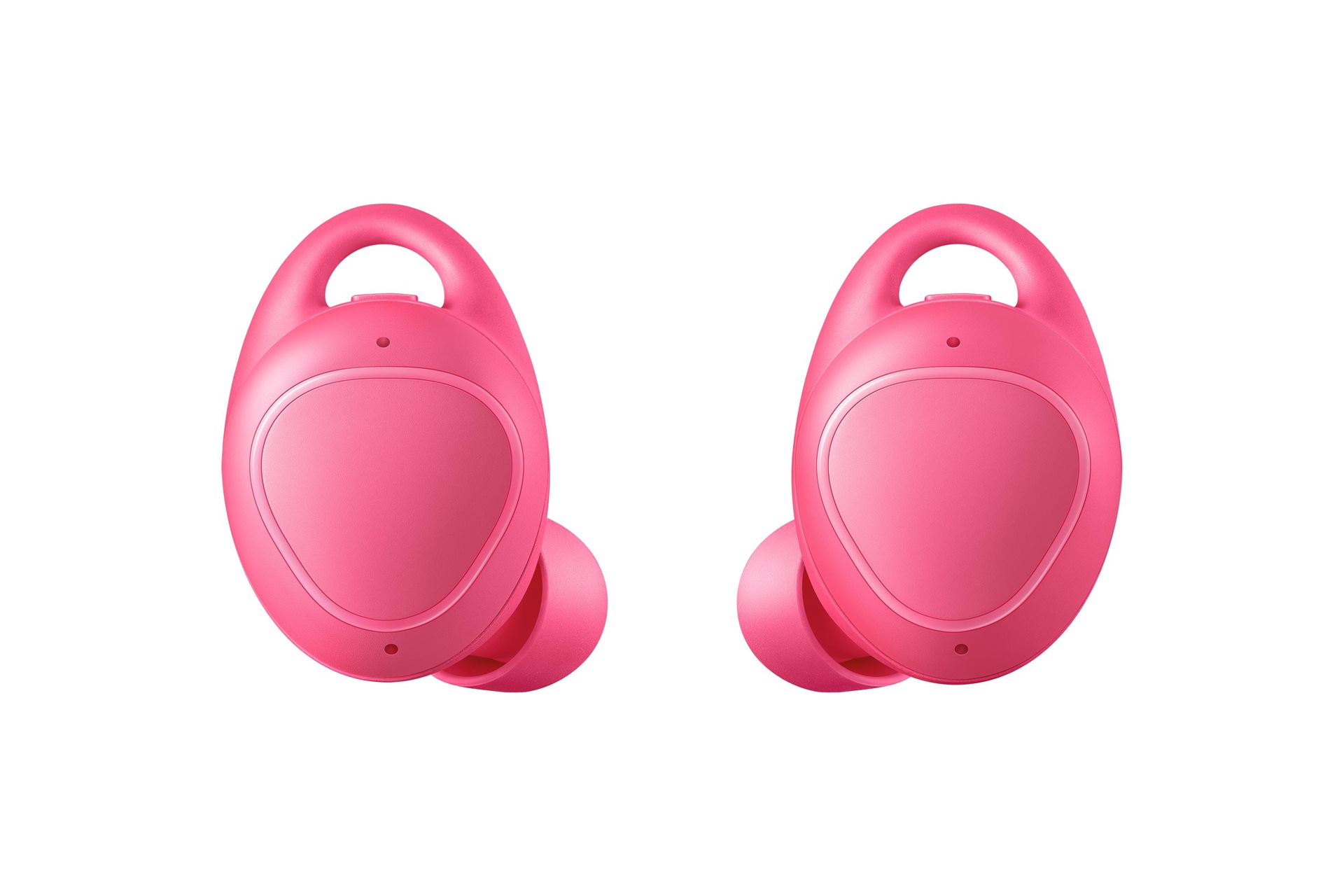 Gear IconX (2018)
SM-R140NZIABTU
Gear IconX (2018)
is rated out of
5
by
86
.
Auto Tracking
Bluetooth v4.2
Bluetooth Version
A2DP,AVRCP,HFP
Bluetooth Profiles
Android 4.4 ↑ , 1.5GB ↑
Compatible Specification of Smartphone
On track with the built-in coach
When Gear IconX's Auto Tracking mode detects walking or jogging, it logs your time, distance, and calories burned.* To stay focused while running, long press to start the built-in Running Coaching feature. Afterwards, sync your Gear IconX with the S Health app on your phone to log your progress.
*Auto Tracking (Running/Walking) mode will work if you have been walking or running for more than 10 minutes.
Go phone-free
Leave your phone at home. The Gear IconX earbuds work as standalone media players when you upload music from your phone.* You can also create two more playlists: one for favourite tracks and one for the gym. Now you're good to go. And if you do need your phone nearby, Gear IconX connects via Bluetooth.**
Go phone-free
Leave your phone at home. The Gear IconX earbuds work as standalone media players when you upload music from your phone.* You can also create two more playlists: one favorite and one for the gym. Now you're good to go. And if you do need your phone nearby, Gear IconX connects via Bluetooth.**
*Up to 1,000 tracks can be uploaded within the usable memory of 3.4GB. **Compatible with devices that run Android 4.4 KitKat and above, and have a minimum of 1.5GB RAM. Galaxy phones users can transfer music files to Gear IconX either from the Galaxy phone or a PC via USB connectors or USB cables (not applicable to some Galaxy phones). Non-Galaxy Android phone users can transfer music files to Gear IconX from a PC via USB cable.
For when there's no turning back
Gear IconX long battery life makes sure the music keeps going with up to 7 hours of playback. When you†re done, just pop the earbuds back into their case to get a full charge. And with its Quick Charging capabilities, you can enjoy up to an hour of use with just a 10-minute charge.*
*Actual battery life and charging time may vary and depend on usage conditions.
Hear your tunes clearly
Turn up the music and go with clear and stable audio quality. A new fitness-optimised driver offers substantial bass, while a volume driver gives you a wider range of volume. The scalable Samsung codec makes sure you get a steady flow of music even during challenging situations.
Simply tap to control
Play playlists, navigate tracks, and turn up the volume. It†s all easily done with taps and swipes—without having to take out your phone.
Designed to be seamless
Fit to run
Tune out and focus on your fitness with Gear IconX. The cord-free earbuds are designed to stay securely in place, even in the midst of a workout. And their ergonomic design means you feel comfortable wearing them.
Just your style
With the sleek shape and your choice of colours, the Gear IconX earbuds are a seamless addition to any outfit, whether you†re running errands or just running.
Bluetooth v4.2

Bluetooth Version

A2DP,AVRCP,HFP

Bluetooth Profiles

Android 4.4 ↑ , 1.5GB ↑

Compatible Specification of Smartphone

Accelerometer,Proximity Sensor

Sensors

82mAh

Battery Capacity

3.4GB

Available Memory
Rated

5

out of

5
by
TechnoSteve
from
Love them
Excellent sound quality, light weight, and know matter what you are doing they won't fall out. Reasonably priced and definitely worth the money
Date published: 2019-05-29
Rated

5

out of

5
by
Ims81
from
Best quality, design and value earbuds available!
When I bought my last pair of Gear Icon X earbuds last year after thoroughly researching wireless the wireless earbuds available; I instantly fell in love with the quality design, great sound and battery life. The durability was like no other headphones I've owned before, I would literally use them all day every day and they lasted me over a year of solid use before I decided to buy the 2018 version. Some of the minor niggling issues from the previous version have been fixed such as sound on the app reverting back to low volume when the earbuds disconnect, the charger/carry case is smaller which is great and the fit and sound is even better. They've retained the features that worked perfectly such as the touch controls, general shape, they feel the most ergonomic of all the earbuds and thank god they don't have the ugly design of some other big brands! My only criticism would be the build quality of the carry case/charger I wonder if the closing mechanism could be made of a more hard wearing material, the plastic does start to wear down over time and the mechanism starts to cause problems, seems like the new ones may also have a similar issue down the line. All round great product and Samsung truly have become the leaders of outstanding tech design and build, creating an eco-system of technology that enhances our environment.
Date published: 2018-12-23
Rated

5

out of

5
by
Blueoxo
from
Stunning addition to the Gear range!
I've been living with the IconX's for a few weeks and they still continue to impress with their level of simplicity, Galaxy integrated functionality, and overall product quality. Sure you could potentially argue that there are a few earphones out providing slightly better audio quality - but absolutely nothing compares to the features that these little buds give you. First the design - you have a sleek little pillbox shaped box to hold the buds which doubles up as a charger (about 3 charges and charges itself via USB. You also have LED status for each bud plus the dock so you know where you stand. The buds themselves fit perfectly (for me), no falling out or discomfort at all. Pairing and setup. Initial pairing is a doddle - like any Gear device. Once initially paired they will automatically power on and connect once taken out of the case, and switch off when returned. Simple as that - put them in your ears and go. Sound quality - The quality and clarity is really very good across all music types. I'll argue that I'd like the option for more bass/EQ adjustment, but it's really a minor point. There are EQ settings within the Gear app, but I personally only liked the Dynamic mode. You can also transfer music to your buds too, which is neat if you want to leave your phone at home Features and functionality - This is the area where the IconX blows away the competition and stands out. The product pages show what the IconX's are capable of but a few standout points for me... Ambient Sound - Taking your buds out each time someone speaks to you is frustrating! A simple tab/hold allows you to have a clear conversation without removing the buds by allowing ambient sound in (also makes you safer when on roads etc. as you can hear traffic). Bixby - you can activate Bixby via a long tap which is really handy to ask for information or add a reminder, without reaching for your phone. However, 'Hey Bixby' only works if your phone mic is in pickup range (cannot be activated via the IconX mic). Workout - Great feature and definitely not a gimmick. No matter what level of fitness you're at the workout feature will work for you and provide motivation feedback and excercise updates on a regular basis (time based, or each 0.5 miles), and when integrated with the Health App it works really well for fitness tracking, even if you leave your phone at home as it will sync on return. All of the above is fully controllable from the really well designed IconX Gear App!! So if your considering buying I hope this review helps, and I'm sure you won't regret it.
Date published: 2018-08-14
Rated

5

out of

5
by
wildant777
from
Excellent addition to the Samsung line-up
I received these from Samsung for product testing purposes. I had an idea of what to expect when I received the IconX's. I had seen product reviews and the official webpage. In my opinion they don't quite do justice to the actual product. It is smaller than it looks and is built from premium quality. It paired easily with my Note 8 and connects immediately when taking them out of the box. I initially found it iI kept adjusting the track or pausing the music when fitting them but I locked touchpad, this went away and wasn't an issue. They were comfortable for the most part and often I wouldn't know that I was wearing them. My ears seemed to be a bit sensitive after a few days but this could be because I am used to wearing over the ear earphones. I like the fact they have built in memory for storing songs on the device which means I can use them without my phone. The case is great and easily fits into a pocket. I was worried about the battery life but have experienced no issues at all. They charge once used from the cases built in battery and charging with the usb c is quick and easy. I found myself using them more often than I use my over ear as they are much less conspicuous so I was therefore listening to more music. They were great in the office when I needed to tune out co-workers and focus at the task at hand. They have a useful voice prompt when exercising which updates you on the progress you have made in your activity. All in all I am very impressed as this is a great product.
Date published: 2018-08-08
Rated

5

out of

5
by
Del666
from
Next gen headphones!
I received these earphones from Samsung for product testing purposes. Straight out of the box they were impressive. Surprisingly small considering the features promised. Initial set up was simple and paring completed with both Android and Apple products with no issues. They continued to automatically pair with whichever phone / tablet I was using. Extremely comfortable and very stable despite using for a range of activities both in the gym and even on a squash court. Very light so no issues with them once in the ears and almost became unnoticeable after only a few minutes. Controls intuitive but did take a little getting used to as very sensitive. Mastered quite quickly though. Sound quality excellent with clear vocals as well as good range of bass and treble across a range of musical genres. Excellent use of carry case to provide extra charge when away form home. Nice touch that even when using in extreme conditions ( I took them into a dry heat sauna) they worked perfectly and gave me a warning message when they were getting too hot.
Date published: 2018-08-08
Rated

5

out of

5
by
bcorgan
from
Comfortable, convenient, and magic!
I received these earphones from Samsung for product testing purposes, but these are by far and away the best wireless earphones I have ever used. The iconx are a lot lighter than I would have imagined and super comfortable. They fit very snuggly in the ear (I used the largest of the plugs) and have never threatened to fall out, despite using them while working out and sweating a lot. There are 3 sizes of plugs, and 3 sizes of "wingtips" so a lot of variations to make sure that they fit perfectly. The audio quality is very good for such a small device. The range is good, although I must admit that I have been using them mainly for videos and podcasts, not so much music. But I have never thought that the sound was too tinny. The masterpiece of this set is definitely the case that comes with them. Apart from the obvious function of keeping the earphones protected and safe when not in use, it charges them too. And the case doesn't even have to be plugged in to charge as it has its own battery. I have been using these on and off for about 3 days now on multiple devices, and suddenly realised that I haven't charged the case for a while - but that hasn't been a problem at all. I have never run into problems with a low battery either. The LEDs on the front and back of the case provide a very convenient way of seeing the charging process for the case itself, and also each individual earpiece. I have set these up for use on an android phone (Galaxy S8) and an iphone 6S, an android tablet (Galaxy Tab S2), and 2 PCs (surface pro 4 and a Dell XPS 13). I can quite easily change between devices too now that I know what I am doing :) The touch controls on the side are great and easy to use, even when moving about a lot on a rowing machine with sweaty hands. I especially like being able to use google assistant with just the press of a button and leaving my phone in my pocket. Using these when making phone calls is a treat - getting the great audio in both ears, with a bit of passive noise cancellation with the snug fit, and also still having free hands to do other things at the same time! For me the biggest benefits have been using them in the kitchen while cooking, while in the gym, and while out and about. They don't protrude out of your ears too much, so it's not like having 2 old (circa 2000's) blue tooth headphones in each ear :D In summary, these are comfortable (I've had them in my ears while writing this, without actually listening to anything), convenient and definitely worth the investment.
Date published: 2018-08-08
Rated

5

out of

5
by
gilber88
from
Sleek, Stylish, Sharp Sound and Smart
I received these earphones from Samsung for product testing purposes. They look smart, sleek and futuristic. They charge quickly and easily, connect to my devices via Bluetooth effortlessly. The sound is loud and clear. The touch commands are a bit difficult to get right but with practice you can get the hang of them. The app can be useful to find lost earbuds, lock touchpad and change volume. I enjoy music and audio books out and about. One bud fell out my ear on two occasions but luckily I was home and not outside, I changed the size of buds and now they stay in and haven't fallen out since :-) At first I said 9 out of 10 now I say a strong 10 out of 10. Not sure if these are waterproof but they cope fine in Scottish weather so far! Love them
Date published: 2018-08-08
Rated

5

out of

5
by
enigma
from
A truly Iconic product!
I received these earphones from Samsung for product testing purposes. From day one the IconX have been amazing. I was, almost daily, finding new functions and new ways of tweaking them to get the best sound possible. They are so comfortable it's easy to forget you're even wearing them at times and with the 'Ambient Audio' function on it's even easier to forget. The battery life is also incredible. I charged the case the same day I unboxed it and I'm still working off that charge well over a week later! The case itself is a light, sleek device. When inserted, the buds fit snugly and charge quickly. You also have the option to store audio files locally on the buds themselves so you can listen to music with out streaming from your phone which also increases the battery life too! If you are on the fence I say go for it, you won't be disappointed.
Date published: 2018-08-08
User manual & Downloads
Live Chat
Memory size : User memory is less than the total memory due to storage of the operating system and software used to operate the phones features.
Actual user memory will vary depending on the mobile phone operator and may change after software upgrades are performed.
Battery time is based on our own laboratory measurements, and may vary depending on factors such as device settings, usage patterns and operating conditions.
Bluetooth - Depending on the OS version, smartphone model and application, you may experience audio delay compared to the video scenes when you are watching videos or playing games with Gear IconX, due to the time for audio synchronization between the smartphone and earbuds.
All specifications and descriptions provided herein may be different from the actual specifications and descriptions for the product. Samsung reserves the right to make changes to this document and the product described herein, at anytime, without obligation on Samsung to provide notification of such change. All functionality, features, specifications, GUI and other product information provided in this document including, but not limited to, the benefits, design, pricing, components, performance, availability, and capabilities of the product are subject to change without notice or obligation. The contents within the screen are simulated images and are for demonstration purposes only.