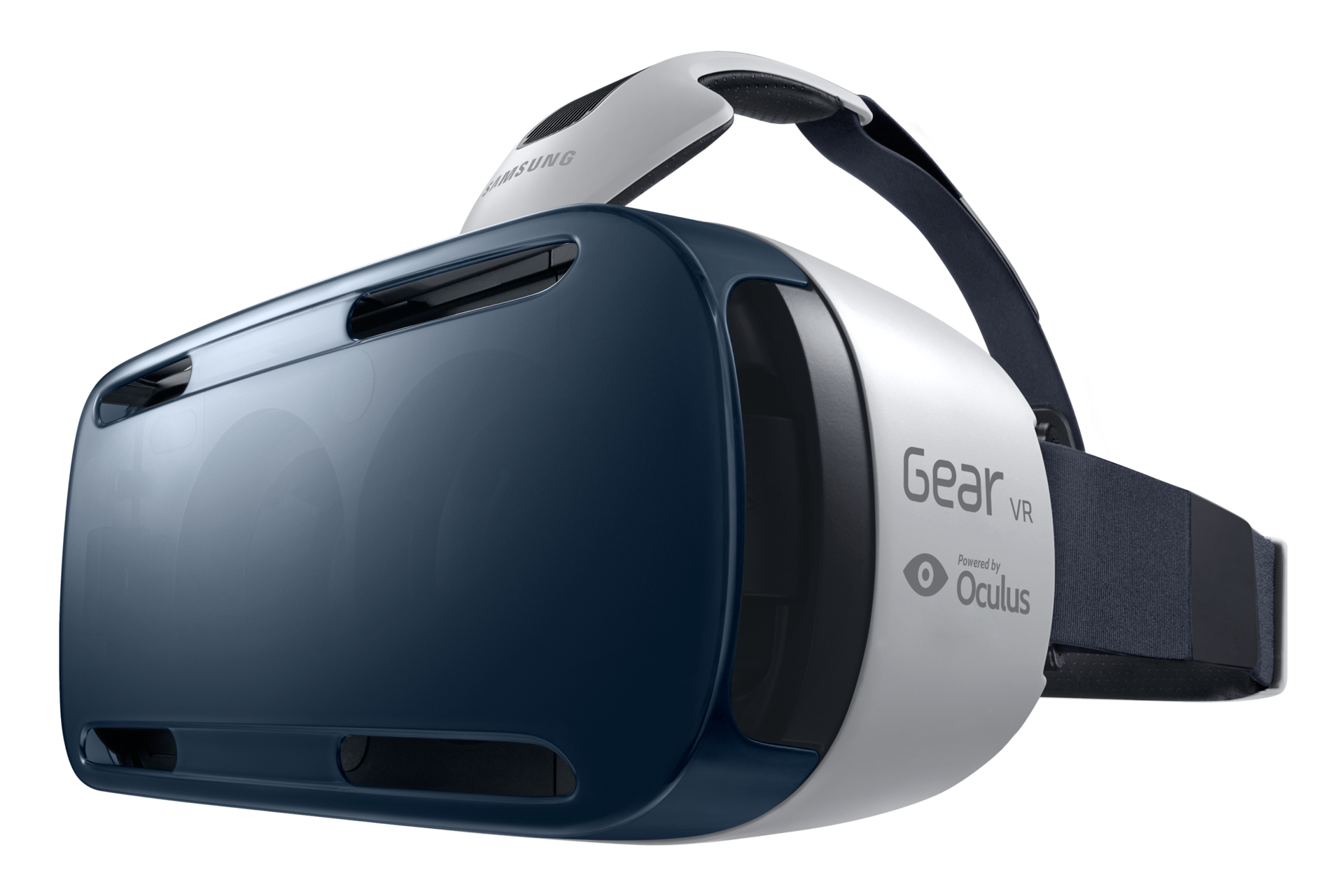 Gear VR Innovator Edition
SM-R320NPWABTU
Gear VR Innovator Edition
is rated out of
5
by
13
.
Sorry! This product is no longer available
Accelerometer, Gyro Sensor, Geomagnetic Sensor, Proximity Sensor
Sensors
90 x 198 x 116 mm
Dimension (HxWxD)
Comfortable and Stylish
Experience virtual reality in perfect comfort thanks to the Gear VR's ergonomic design, featuring soft and flexible cushioning.
Ultimate Viewing Experience
Now everyone can enjoy stunning virtual reality viewing with the Samsung Gear VR. It feels like you're looking at a huge screen with an expansive view that goes beyond your peripheral vision, immersing you in virtual worlds.
Step into Virtual Reality
Thanks to the Gear VR, you can discover a range of exclusive games and movies and explore incredible virtual worlds. Just put on the VR headset and you can be there instantly.
Made for Galaxy Note 4
The Gear VR was developed to work exclusively with Samsung's Galaxy Note 4*. Combined with the Gear VR, it becomes a huge and immersive screen right in front of your eyes. For the first time, your smartphone is your gateway to cutting-edge virtual reality.
*Gear VR works only with Galaxy Note 4 (sold separately).
96°

FOV

379

Weight (g)

Accelerometer, Gyro Sensor, Geomagnetic Sensor, Proximity Sensor

Sensors

90 x 198 x 116 mm

Dimension (HxWxD)
Rated

5

out of

5
by
jakichan
from
even better than ps4
ps4 vs gear vr gear vr will win but if if it was playstation vr then id go for that.
Date published: 2016-10-13
Rated

5

out of

5
by
Simon
from
Amazing
VR is here and it is amazing. Of course it is not perfect. It is just a beginning of new era. Also do not forget that we are using our phones and that is why you can see pixels. But overall experience for me and my wife was mind blowing. You did a good job Samsung!
Date published: 2015-12-13
Rated

5

out of

5
by
Trocloc
from
Good product but need more contents
I bought my GearVR since this Feb, but after experience it for 'bout 1 month, there nothing to explore more. But I have to say the value it bring to me is best! Hope to have more contents soon.
Date published: 2015-07-14
Rated

5

out of

5
by
dreamer
from
What A Jump Into the future
If you like gadgets this is a must great fun and really good viewing quality for all eye sights,the best thing for me was my father being able to use it he has Macular Degeneration and wears the strongest lenses on the market,on the see through mode also can see better for the first time in 20 years so all round i love this product, Just sort the over heating and its a million star product.
Date published: 2015-06-03
Rated

5

out of

5
by
Sunny
from
Brilliant
Best virtual experience i ever had, i would recommend samsung to release experiences like, rollercaster rides, theme parks, vehicle experiences etc...
Date published: 2015-04-23
Rated

5

out of

5
by
Badboysoft
from
Amazing Reality!
If this is a taste of the future, it will be amazing! Thank you samsung, i bought a galaxy Note 4 without knowing about the GEAR VR and i'm so glad i did. So many possibilities to do things, my friends and family are very impressed!
Date published: 2015-04-16
Rated

5

out of

5
by
madninja
from
welcome to the future
Wow, didnt think it would be as good as it was. Great performance and solid design make this a perfect companion to the note 4.
Date published: 2015-03-16
Rated

5

out of

5
by
Niko B
from
I was both impressed and amazed...What a GREAT concept.
So my VR Headset and Game Pad arrived over the weekend and took all of 20 minutes to set up and start entering the VR World. At the moment there are just mainly technology demos and some really nice 360 environment videos to play with, however all are very well executed and you are soon scrolling through menus and finding more to play with. With regards to visual quality do not expect HD, however the experience of having 360 degrees of VR games and environments to immerse yourself in soon makes up for the slightly grainy image. Now I could go into great detail about the games and applications, however most, as I said are demos and therefore are just a showcase for what is possible and if you do your research you will see there is a lot to look forward to in the not too distant future. Now build quality is excellent for both the VR headset and the Game Pad. Everything just seems to be so well thought out and expertly crafted and very robust and extremely comfortable. The headset has so many adjustments it takes only a few minutes before you actually have it so comfortably fitted you actually forget you are wearing it. This does not feel like is is going to fall apart or wear out, it is solid and made from good materials and everything is just so easy to use like focusing is simple using a wheel on the top, navigating through the menus using the track pad on the side and the back/home button are just exactly were they should be. The Game pad fits nicely in your hands, not too big and not too small and all the buttons are easily located just by touch, bearing in mind you will not be able too see them with the VR headset on. Well I am going to leave it there and just end by saying that although this is still early days, I am having a great time and I highly recommend both products and the sales team at Samsung as it has most certainly been worth the wait.
Date published: 2015-03-08
User manual & Downloads
Live Chat
How It Stacks Up
Before purchasing the Gear VR please note that if your Samsung Galaxy Note 4 has been upgraded to Android Lollipop, until 30 January 2015 certain of the available virtual reality applications, which you may purchase to use on your Gear VR, may not run when using the device.
Network band : The bandwidth supported by the device may vary depending on the region or service provider.