Delete your Samsung account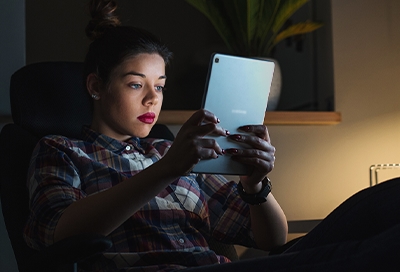 Maybe you just got a new email address and want to start fresh. If you want to delete your Samsung account, you can do so at any time without any hassle. 
Delete your account from Samsung.com
Whether you plan to create a new account or just want to remove your information, it's simple to delete your account. 
First, open Samsung account page. Then, enter your ID and password, and then select Profile. Select Delete account, and then verify your password and select NEXT. Review the precautions, agree to the conditions, and then select DELETE ACCOUNT. 
Your account has been deleted. Select DONE again to complete.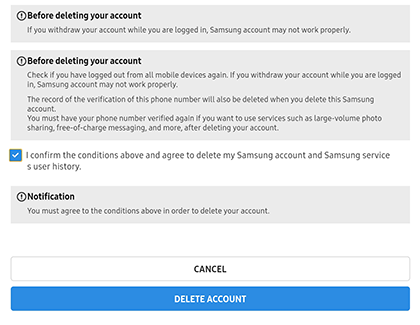 Will my Samsung video content be deleted?
Unfortunately, yes. Your purchases are tied to the Samsung account you used when you made those purchases. Deleting (cancelling) your existing Samsung account will discontinue access to all Samsung services, and delete information related to your account, including content purchase history, service profiles, content subscriptions, content uploads, and personal profile information.
This information cannot be recovered after you cancel your account, and it cannot be transferred to a new account. So make sure you review the information below before you delete your account.
If you are unable to delete your account
This may happen when payment issues are not completely resolved on your account. If you are also subscribed to one of the Samsung services seller sites, please visit the seller site and explain your billing issues.
Call support
(855) 581-6892
Give us a call for help with your business products.

Email sales
Our sales team will get back to you as soon as possible.