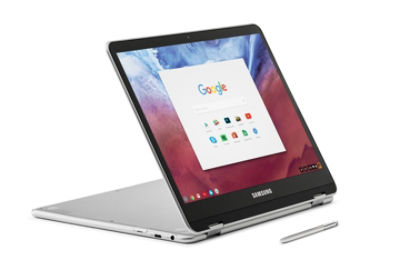 Samsung Chromebook Plus
XE513C24-K01US
Samsung Chromebook Plus
is rated out of
5
by
38
.
Rated

5

out of

5
by
BCross
from
great device for 21st century users
Disclaimer - if possible I would have given this a 4.5 overall. Not quite "5".! The physical design is great. I love the screen. Love the flexible 'convertible' design (with some caveats below). The keyboard is not a full-size, mechanical switch keyboard (duh!), but it's certainly sufficient for me. I've been using a Chromebook for a couple of years as a personal device to tote along with my corporate anchor (laptop). That, and the fact that I'm a "Google" user, means that I'm pretty comfortable with the Chromebook as a device. The test was to see if I could use the features of this Chromebook Plus as a primary device. The Android apps are great. I see occasional issues with some of the apps scaling to fit the larger screen, but for the most part they work as advertised. A few of the Chromebook apps don't work perfectly with the touch screen. I haven't really used the pen/stylus much. Overall - I use this Chromebook everyday. I set it up tent-style to read the news while I'm eating breakfast. I use it periodically throughout the day to read email and/or news setup as a laptop while I'm working on my corporate Windows laptop or my personal Linux desktop. In the evening i'm reading with the device in 'tablet' mode. Definitely happy with it. Will probably move my wife from a Windows laptop to a Chromebook Plus sometime in the next few months
Date published: 2017-06-17
Rated

5

out of

5
by
Arsene
from
Almost there...
In short, the device is really amazing for the price you pay. Metal body, great resolution with the perfect productivity aspect ratio, lightweight and durable. The stylus is an amazing addition too, adding some time-passing doodling and note taking to add more productivity and entertainment to the overall package. A bit more in depth. Screen: Compared to other laptops and Chromebooks, this device is NOT of the 16:9 aspect ratio variety. So instead of a rectangular screen, it will be more Square. When watching media, there will be large black bars on the top and bottom, but since the screen is really good, I can look past it. Just needs some getting used to. (The size is close to 1 inch on top and 1 inch on the bottom.) It is perfect for productivity since you have more screen real-estate, it also has a more tablet feel to it because of this. So tablet form and tent form are really good. It is also a touch screen, ChromeOS isn't doesn't really support it yet, but it works fine. Build/Design: Thanks to it's metal body, this device is durable. Not sure what metal it is, might be Magnesium since it is so light as well. So you can be a bit rough with it. The design is very clean and screams quality, so you don't have to be a shamed to pull this out in front of other people. The hinge is also really well build; nice and tight, so it will be a while before it gives out. Not a lot of screen shaking when speed typing. Because of the way the weight is distributed, when you angle the screen after a certain point, screen wobble be more present. Sound: The speakers are really lacking in this device. The placement of is questionable, since it is covered in tablet form, in presentation form the screen prevents the acoustics from hitting your ears properly and in laptop form it is bottom facing. In Tent form, it good because it faces you; but it is still really weak. Speed: The processor is of the ARM variety, so installing Linux will be a bit of a problem due to compatibility issues. It being an ARM processor, it is not as fast the Intel powered Chrombook Pro; that being the case, this processor was able to keep up with undergraduate computer science work. I've experienced no slow downs whatsoever, and that is with a 4 chrome tab, google docs, google play/spotify load, and Chrome Remote Desktop for remote coding. The processor also handles android apps better than the Intel variant. This is because of how android apps are coded, this difference is being patched up by Google and app makers. But there should still be a difference despite that. Keyboard/Pen: I'll say is straight out. the keyboard completely sucks on this device. It is very shallow and the backspace key is small. It is not back-light as well. The shallowness is understandable because of how thin it is, and the back space because of it's small foot print. But I've seen other thin and light laptops that can make a good keyboard, so I can't look past this. The back-lit feature, might be a turn off for some, but for me it is A-OK. So if you really need this feature, be aware this device DOES NOT have it. But all in all, despite the fact that the keyboard sucks; I look past it because of the price of the thing. The pen also has a place to be stored in, so it wont get lost easily. It also has pressure sensitivity, so drawing is bit more fun. But still, since it is a small pen, if you have big hands, it will cramp up quickly when you use it. WIFI: It can detect dual band routers, so speed is there. But the device was known to have some wifi issues before. Google/Samsung said that it will be patched, so the issues might be gone now. Battery Life: As most people already know, the manufacturer's claim for batter life is never accurate. It last me at most 7 1/2 hours with the way I use it. ( Low - Medium brightness, 4 chrome tabs, google docs, and either YouTube/spotify/google play) Ports: There are only 2 ports, both USB Type-C. So charging using either sides are good. But since there are no Type-A ports, using other peripherals will require a dongle. THERE IS a headphone jack and also expandable storage. Webcam: The webcam is decent. The mic is also decent. But it is usable for conference calls and skype interviews. Just don't keep your expectations to high. All in all, this device is so close to being the perfect Chromebook. If Samsung could fix the keyboard drawbacks and weak speakers, then it will be perfect IMO. Well, also if Google fixed the problems that ChromeOS has.
Date published: 2017-05-28
Rated

5

out of

5
by
nookane2
from
Big upgrade
I upgraded to this from a Samsung Chromebook 2. You can really see the difference in the screen. It is much brighter and sharper. The performance has gotten quite a boost also, after three years the Chromebook 2 was starting to slow down. I power washed it and saw some improvement but going to the Chromebook Plus was a big Improvement. The only con that I could see is I would like to see a lighted keyboard.
Date published: 2017-05-27
Rated

5

out of

5
by
Zxsc1
from
Amazing Product.
I love this chrome book, I used one my friend owned but I cannot afford one, but I still want to let everyone know how amazing this device is.
Date published: 2017-03-31