Frequently asked questions about Galaxy Store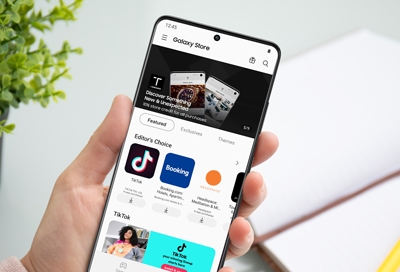 Galaxy Store is Samsung's exclusive app store for Galaxy customers. You can browse through tons of apps for your Galaxy phone, tablet, or watch. Galaxy Store features apps and discounts you won't find anywhere else.
Galaxy Store for phone or tablet
Why can't I find Galaxy Store on my device?
Galaxy Store is only available on Samsung devices. If you're using a Samsung phone or tablet, it is usually located in the Samsung folder in the Apps screen. On a Galaxy Watch, Galaxy Store is preinstalled and will be with your other apps. 

What apps are compatible with my device?
Galaxy Store will only display apps that are compatible with your device.
What is a push notification?
A push notification is used to give your device updates to Samsung services, useful tips, and promotional events.

Can I disable push notifications?
If you do not want to receive push notifications from Galaxy Store, open the app and then tap Menu (the three horizontal lines). Tap the Settings icon, and then tap Notifications. Tap the switch at the top to turn notifications on or off.

Can I share app information with my friends on social media?
You can share app information using various services, including Facebook and Twitter.

How do I ask a seller a question about an app?
To ask a seller a question, open Galaxy Store and navigate to your desired app's details page. Swipe to and tap Overview, and then refer to the Seller info section to see the seller's contact details.

Galaxy Store for watches
Are the Gear or Watch apps in Galaxy Store available in the Galaxy Wearable app?
Yes. If you tap Store in the Galaxy Wearable app, you will be able to access the same Watch apps that are in Galaxy Store.

I don't have a Galaxy Watch, but their apps are shown in Galaxy Store. Why is this?
Many Watch apps need to be downloaded through a phone, which is why there is a Watch tab in Galaxy Store. It's there so all users can easily access apps for their wearable devices.
If I connect a Galaxy Watch, will new apps be shown?
If you connect your phone to a Galaxy Watch, you will be able to see the apps that support the specific Watch model.
Why don't I see any Watch apps in the Featured tab?
The Featured tab in Galaxy Store only shows the top rankings of general phone or tablet apps. To see top rated Watch apps, navigate to the Watch tab.

Galaxy Store payments and purchases
Can I get a refund for a purchased app?

Purchased apps are usually not subject to refunds or cancellation once the download begins. If an app has a material defect, the app will be replaced, downloaded again, or a coupon will be provided for the equivalent purchase value. If you have a question about a refund, navigate to the app in question and then tap More options (the three vertical dots). Then, tap Help and then tap Contact us to submit your inquiry.


How do I purchase an app?

Apps can be purchased with a credit or debit card, Samsung Pay, or phone billing.
Note: Phone billing is only available in certain territories and at the seller's discretion.

How do I edit my credit card information in Galaxy Store?

To register or change your credit card information, open Galaxy Store. Tap Menu (the three horizontal lines), and then tap Payment methods. Follow the on-screen instructions to register or change your credit card information.
How do I register a coupon?
Coupons are usually given to customers by app developers. To redeem your Samsung Galaxy Store coupon, open Galaxy Store on your phone. Tap Menu (the three horizontal lines) and then tap Coupons and promotional credits. Next, tap Add (the plus sign), enter your coupon information, and then tap OK. Then, follow any on-screen instructions.

How do I use a coupon to purchase an app?
After you have applied your coupon in Payment methods, go to the Galaxy Store Home page and search for an eligible app. Tap Purchase or tap the dollar amount displayed. When the "payment details" popup appears, tap Use discounts and then tap APPLY. The discount will be applied to the total. Then, tap BUY.
Please note the following when using your coupon:
You can use one coupon per app.

You cannot use a coupon for a discounted item.

If a coupon expires, it automatically disappears from your list.

If you cancel the payment before downloading the app, the unused coupon will be restored.

If you wish to purchase an app of a greater value than the coupon, you can pay the balance with your credit card.

The unused balance of a coupon cannot be refunded or put on hold.
How do I manage my subscriptions?
To see your subscriptions, find more information, or cancel a subscription, tap Menu (the three horizontal lines), and then tap Subscriptions.
How do I get help for other billing and purchase concerns?
If you have any other questions about billing and purchases from the Galaxy store, tap Menu (the three horizontal lines), and then tap the Settings icon. Next, tap Contact us to submit your inquiry.

Common solutions
How can I find apps that were previously installed on my device?
You can find previously downloaded apps, as well as purchased apps at any time from the My Apps section of Galaxy Store. However, you may be unable to re-download an app if there have been contractual changes with the seller, fatal errors in the app, or any other reason that caused the app's services to be disabled.
What do I do when an app freezes during download?
If a download was interrupted or failed, please check your network or internet connection and try it again.
Why am I unable to download apps or themes?
Please check the network connection status and try again. When using a mobile network, a maximum download speed may apply if the connection is poor. In that case, try downloading the app or theme using Wi-Fi.

How do I update apps?
Available updates can be applied to your apps using the My apps section in Galaxy Store.

Contact us
We're here for you.
1-800-SAMSUNG

8 AM - 12 AM EST 7 days a week

IT/ Computing - 8 AM to 9 PM EST Mon to Fri
Want help right away?
Email as a contact option was discontinued as of April 3rd, 2019. Please contact us via Live Chat for a faster response.
Call or Text Us
Give us a call
How can we help you?
Mobile

8 AM - 12 AM EST

7 days a week

Home Electronics & Appliance

8 AM - 12 AM EST

7 days a week

IT/Computing

8 AM - 9 PM EST

7 days a week

Text Support

24 hours a day

7 Days a Week
We're here for you
Contact Samsung Support
Contact us online through chat and get support from an expert on your computer, mobile device or tablet. Support is also available on your mobile device through the Samsung Members App.