Galaxy Fold



A device unlike any other. Galaxy Fold doesn't just define a new category, it defies all categories.
Introducing the biggest breakthrough since the mobile phone. Today, the future unfolds with Galaxy Fold.
Design
We changed the shape of the phone, and the shape of tomorrow
A new dawn in display technology: the foldable Infinity Flex Display.
A stunning 7.3-inch Dynamic AMOLED display that defies expectations. Made of a revolutionary polymer material layered for slim flexibility, it's the largest Galaxy smartphone screen yet.1
*You may notice a crease at the center of the main screen; this is a natural characteristic of the screen.

The articulated spine makes folds smooth and graceful.
An engineering marvel inspired by the precision of watch mechanics, the hinge delivers symmetrical movement that gently locks in place. So Galaxy Fold intuitively folds like a book.
*Image simulated for illustration purposes.
Tested up to 200,000 folds.2

Sleek colors to match your style.
A one-of-a-kind phone deserves unique, premium colors to match, like monochromatic Space Silver and Cosmos Black.
*Model and color availability may vary depending on country or carrier.

Experience
A phone and tablet in one cutting-edge device
Hold the future in one hand.
When folded, Galaxy Fold's slim silhouette slips easily into your bag or pocket. It also fits comfortably in your hand, putting all your apps within easy reach.
*Your device contains magnets. Keep a safe distance between your device and objects that may be affected by magnets such as implantable medical devices and credit cards. If you have an implantable medical device, consult your physician before use.3

A seamless experience from the outside in.
As you unfold, Galaxy Fold's displays work together seamlessly with impressive app continuity.4




A breakthrough in multitasking.
The Galaxy Fold is pioneering the seamless integration of hardware and software for a foldable device. Use up to three apps simultaneously — you can stream, game, and even text all at once.5

*WhatsApp must be downloaded separately.
Camera
A breakthrough camera system for epic photos from any angle
Capture it all, no matter how you hold it.
With six pro-grade cameras, you're sure to capture stunning photos and videos. And you can use the Infinity Flex Display as a massive viewfinder.
*Using Infinity Flex Display as viewfinder only available when using the rear and front cameras.


Performance
Performs like no other smartphone, because it's like no other phone
The future of speed and storage.
With 12GB of RAM for intensive multitasking — from gaming to streaming, and even live broadcasting all at once. Plus, 512GB built in storage is ample space for your apps and media.6
*Image simulated for illustration purposes.


The dual battery delivering smarter power.
Combining the energy from two batteries into one long-lasting, revolutionary power source, the Galaxy Fold's dual battery is a complete game-changer. Plus, intelligent battery management puts apps you're not using on the backburner, saving power for the things you do most.7


*Image simulated for illustration purposes.
*Netflix streaming membership required. The Netflix app must be downloaded separately.
Accessories
Galaxy Fold is just the beginning


Covered with Galaxy Fold Premier Service
An exclusive team of experts. Face-to-face video chat. Personalized tutorials, and more.

A dedicated support team, at your service
The Galaxy Fold includes exclusive access to a dedicated support team, ready to assist you on demand by phone or video chat, white glove care, in-person onboarding, tutorials and enhanced options for mail-in repair8.

Even more coverage
Accidents happen. That's why the Galaxy Fold is covered for a first-time inner screen replacement at a reduced cost of $149 with same-day service at designated locations9 or next-day mail service10.

Fast, easy checkout with Shop Samsung App
Easy sign-in, Samsung Pay, notifications, and more!
Or continue shopping on Samsung.com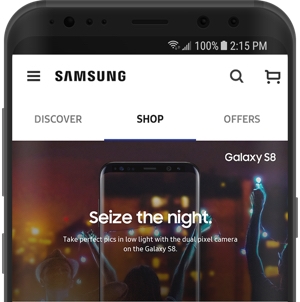 ×
You Are About To Be Redirected To Investor Relations Information for U.S.
Thank you for visiting Samsung U.S. Investor Relations. You will be redirected via a new browser window to the Samsung Global website for U.S. investor relations information.
×
Redirect Notification
As of Nov. 1, 2017, the Samsung Electronics Co., Ltd. printer business and its related affiliates were transferred to HP Inc.
For more information, please visit HP's website:
http://www.hp.com/go/samsung
Select CONTINUE to visit HP's website.