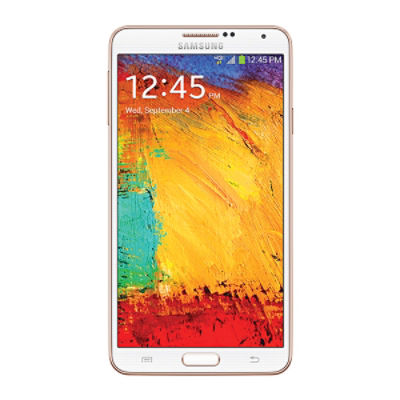 Galaxy Note 3 32GB (Verizon)
SM-N900VWDEVZW
Galaxy Note 3 32GB (Verizon)
is rated out of
5
by
1789
.
Rated

5

out of

5
by
razzell2
from
Maybe best Samsung mobile phone ever
I have owned many, many Samsung cellphones. I currently use the S7 Edge. I had the Note 7 but we all know what happened with those, and I have been waiting quite impatiently for the new Note 8. But of all the phones I have owned my favorite was the Note 3. With the S Pen. Adaptable storage, removable battery, great access with "My Files" which I think was introduced in that model. Just a great little computer, phone, date keeper, note keeper, camera, social media connection.... the phone had it all. Many more features that are now pretty much standard on all Samsung phones. The screen size was perfect, and dominant for its time. We have moved on several generations, have gone to this slimmer, longer screen, beveled edge, etc. I am not sure I like the new screens better than the large, square, flat surface of the Note 3. And I am sure I will love my Note 8 when it comes out in a few weeks. But until the Note 8 gets here my favorite will always be the Note 3. Actually, when I exchanged my Note 7 for the S7, the wife got the Note 3 and uses it to this day and she is totally in love with it. It was quite a step up for her from the little S3. There may never be another cellphone as perfect as the Note 3.
Date published: 2017-08-14
Rated

5

out of

5
by
shyworkaholic
from
useful
I always used the pen when taking quick notes, then I would call the number I just wrote down.
Date published: 2017-04-22
Rated

5

out of

5
by
GingerRage
from
The modern day Nokia 3310 (indestructible)
10 years from now I'm convinced that this phone will be photoshopped all over a police vest insinuating the vest is now bulletproof. I've had the phone for two years with no case on it, averaging a drop from waist height per day. The outer chrome has flaked off and the plastic is dented from the numerous blows it has taken on the chin but the phone functions flawlessly and I've never had to replace the screen. The downside is that the phone gets very hot. If I turn the screen off with an app running and stick the phone on my desk it will feel as if I left it on the roof of my car when I pick it back up. It has done this since the day I picked the phone up. I have no experience with the USB C charging port yet but I really, REALLY liked the USB 3.0 Micro B port. It never failed me (or my wife). I'm a little concerned the new charger will not measure up but time will tell.
Date published: 2017-04-18
Rated

5

out of

5
by
erigalaxy
from
This product is totally awesome! !!
I can't stay one minute without my Note3 . I'm totally in love with him. Is being part of my life .
Date published: 2017-03-16