Introducing
Galaxy Watch Active2
The Samsung Galaxy Watch Active2 is designed to help you learn more so you can achieve more. It goes beyond tracking steps and calories to offer actionable insights on everything from your running style to your heart rate.¹

Get a free Wireless Charger Portable Battery when you pre-order the Galaxy Watch Active2 today.²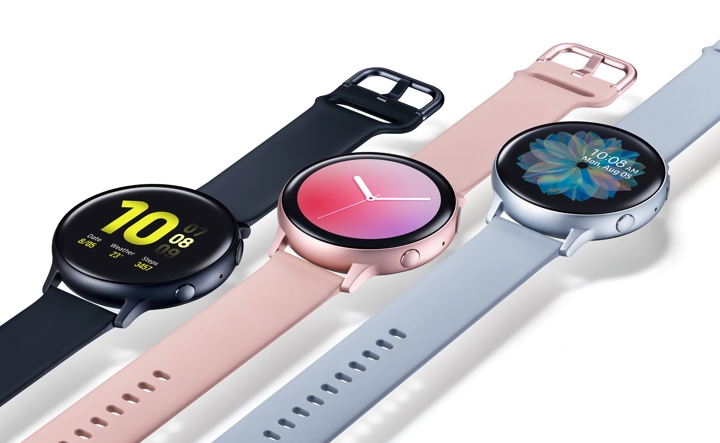 Run your day, like Roy Choi.

Discover how this acclaimed chef, restaurateur, and entrepreneur stays healthy and runs his day with a little help from the Galaxy Watch Active2.

Run your day, like Roy Choi.

Discover how this acclaimed chef, restaurateur, and entrepreneur stays healthy and runs his day with a little help from the Galaxy Watch Active2.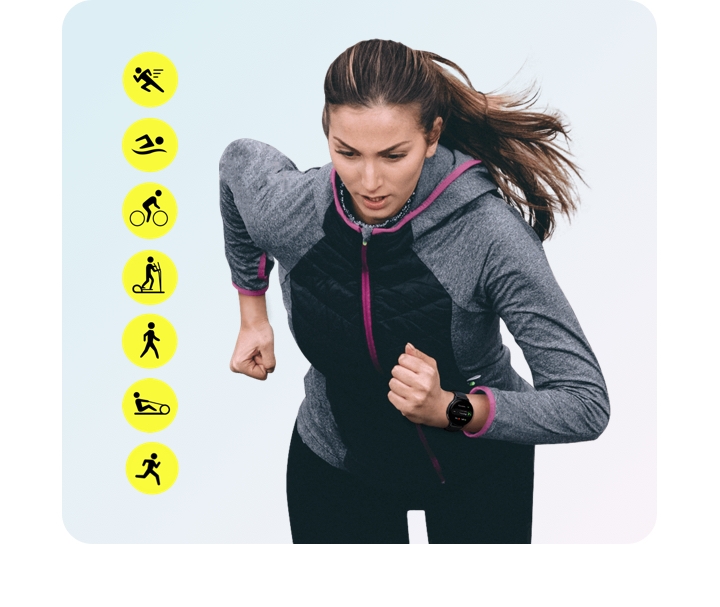 Better insights to reach your fitness goals

Get more out of every movement with the Galaxy Watch Active2. Its advanced sensors keep your pace on a jog, helping you better achieve your goals. It also automatically tracks your most popular activities, from cycling to swimming, and lets you manually track other exercises.
Outrun the rest
Go farther, faster with the exclusive Galaxy Watch Active2 Under Armour edition.³ Launch the MapMyRun app right out of the box, and go MVP with 6 months of premium benefits—for free. With Samsung and MapMyRun's personalized form and fitness coaching, get real-time workout feedback for a performance-enhancing experience like no other.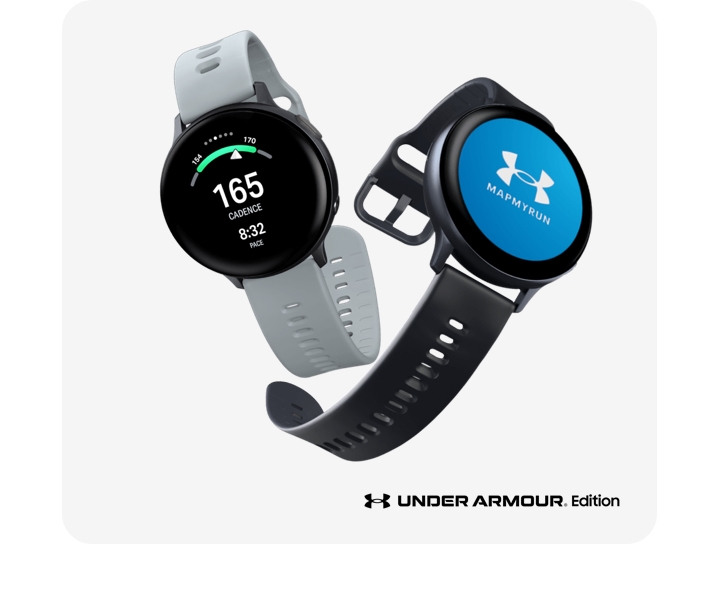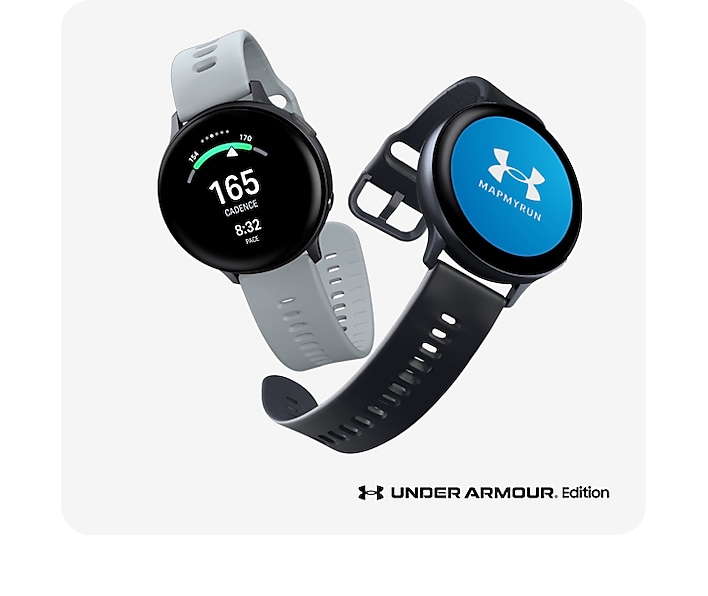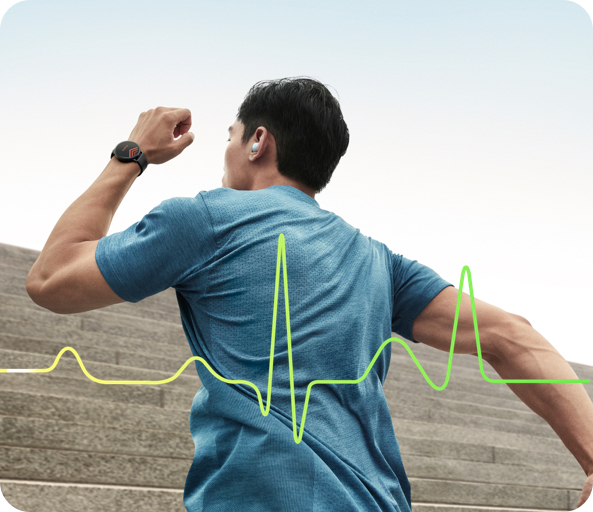 Keep your beat.
You can see if your heart rate is where you want it with the Galaxy Watch Active2. Get automatically alerted if your watch detects a high or a low heart rate.¹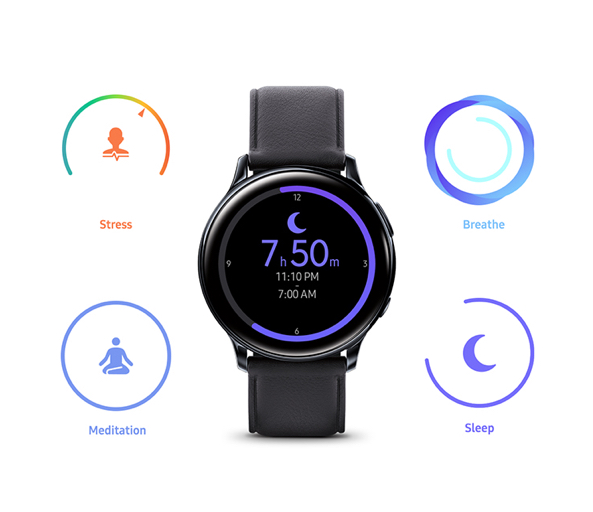 Level up your downtime.
Galaxy Watch Active2's built-in sleep tracker offers valuable insights on how to get a better night's sleep. It also monitors your stress level and helps you recenter with the integrated Calm app.¹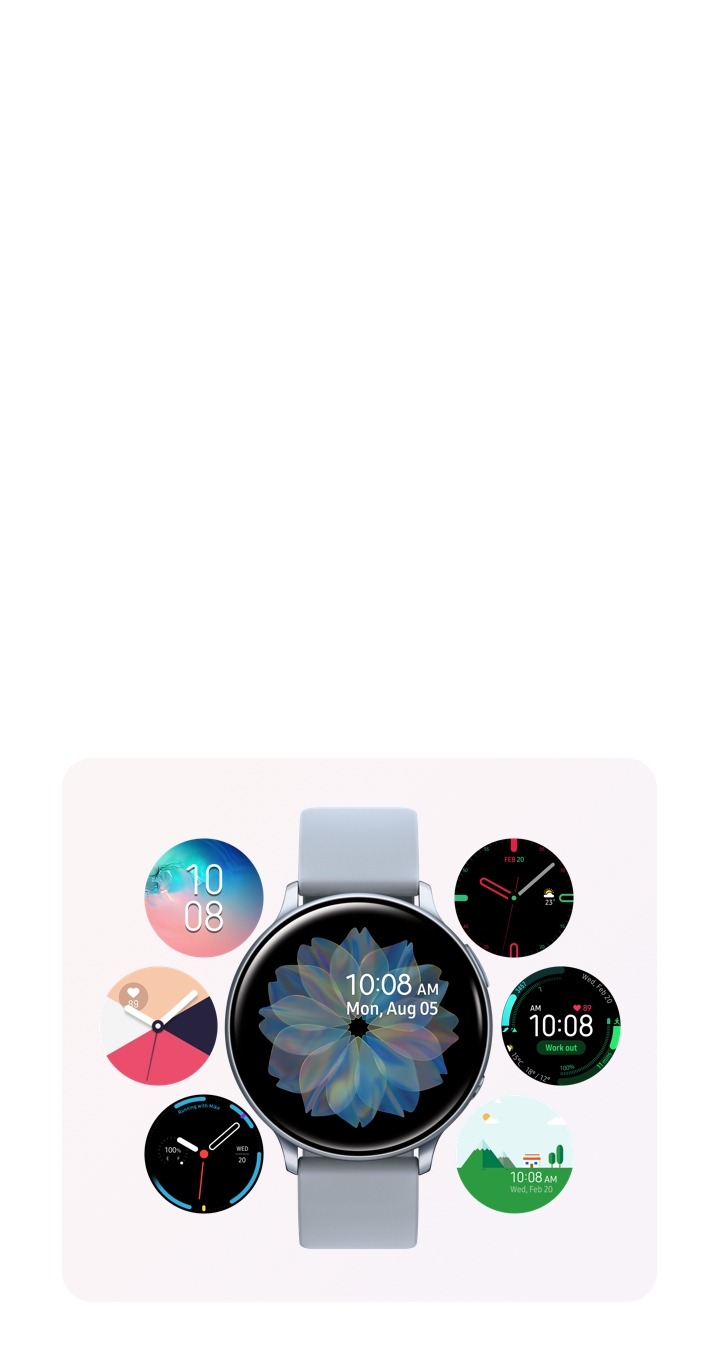 Comfortably sleek design for any style
With a thin, light design, Galaxy Watch Active2 is fit for any time and for any occasion, from working out to sleeping in. The Super AMOLED display is all screen from edge to edge. The touch bezel allows you to easily navigate with a quick turn, touch or tap. Available in chic aluminum or stylish stainless steel and with a variety of faces, bands and finishes, there's a Galaxy Watch Active2 for any style.
Colors
Choose from a select range of colors for the stainless steel and aluminum designs.

Colors
Choose from a select range of colors for the stainless steel and aluminum designs.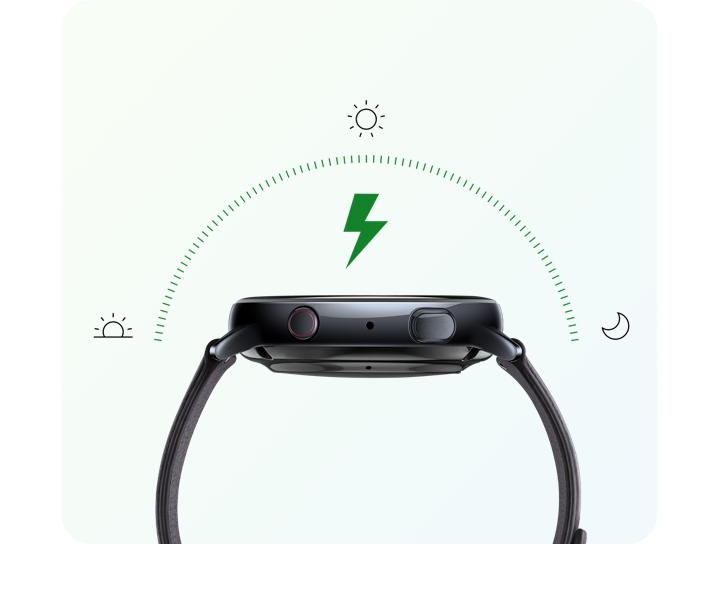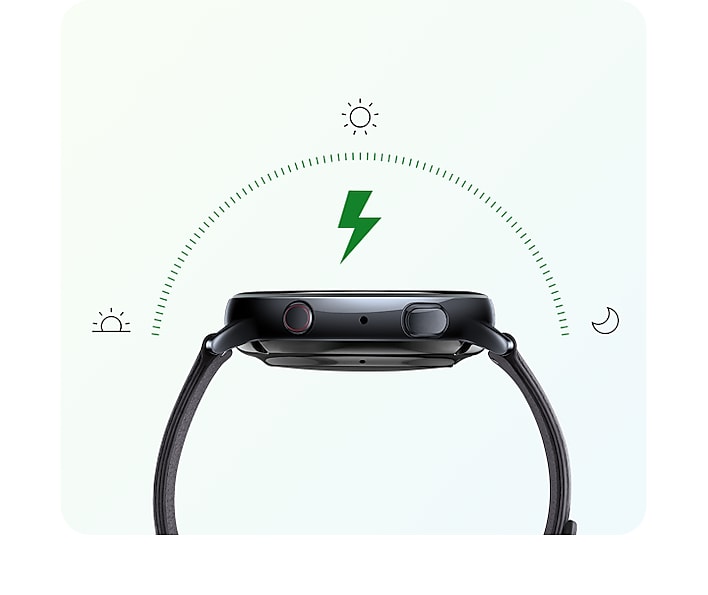 Battery built for endurance
The Galaxy Watch Active2's long-lasting battery can go for days on a single charge, and you can always get a quick boost from your compatible Galaxy phone with Wireless PowerShare.⁴ ⁵
Connected, even on the move
With LTE connectivity, you can leave your phone behind.⁶ Call, text, pay or stream Spotify or YouTube right from your wrist; and receive all of your notifications quickly and discreetly.⁷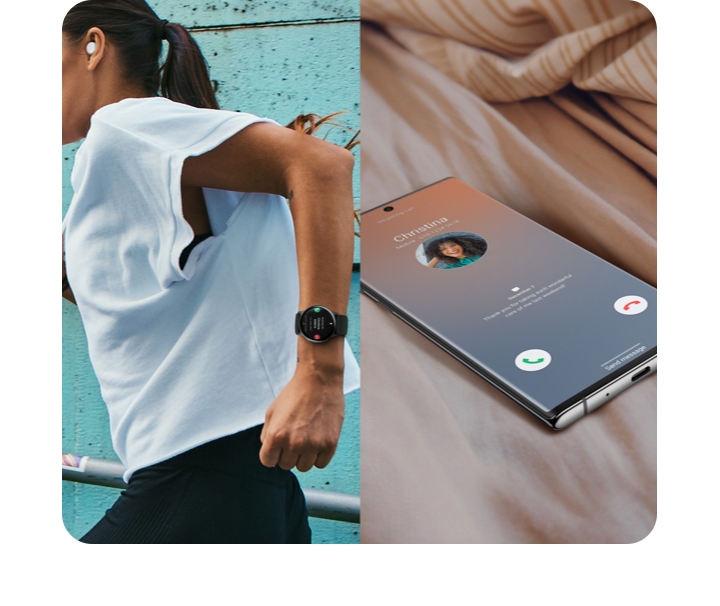 Seamless integration
with your favorite apps
Seamless integration
with your favorite apps
Do more with Bixby.

Galaxy Watch Active2 listens to your commands with Bixby voice functionality.⁸ Tell it to read your texts, make a call or crank up your Spotify playlist.

Forget your wallet.

Leave your wallet at home; Samsung Pay, accepted at most standard checkouts, is right on your Galaxy Watch Active2.⁷

Understand your health.

Take a deeper dive with the Samsung Health app on your phone to gain better insights into your overall health data so you can set new goals.¹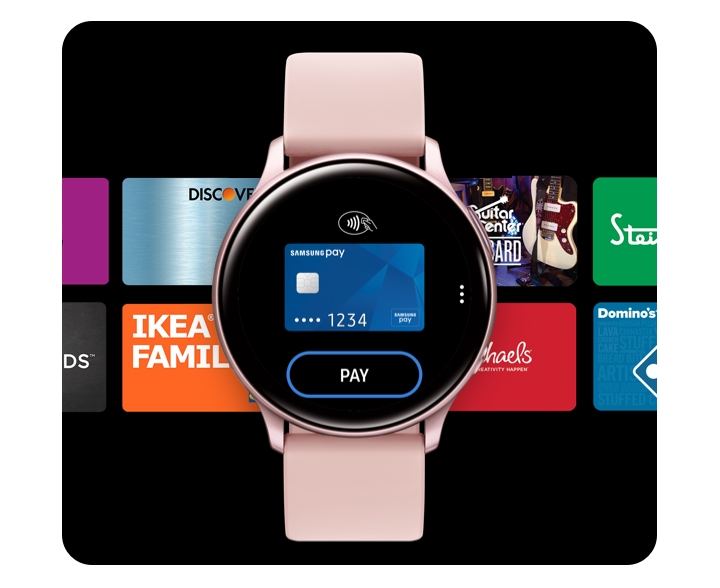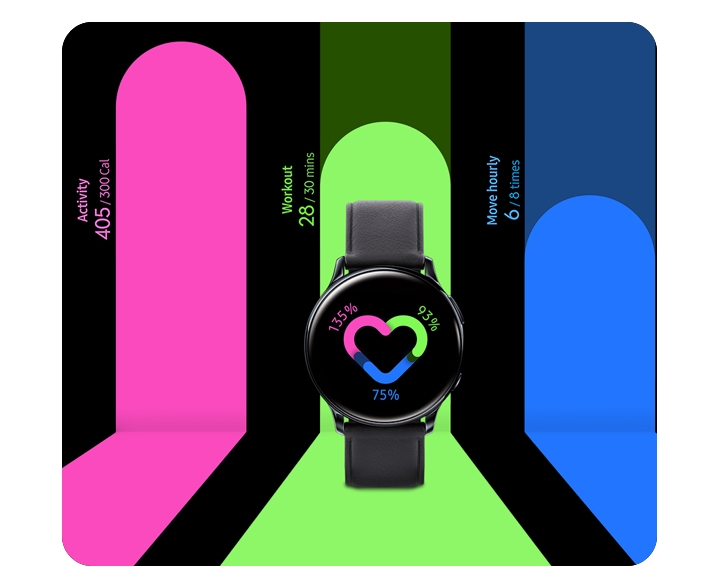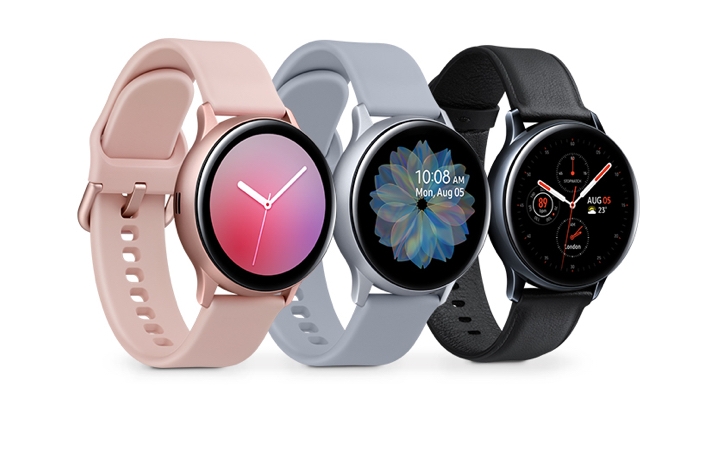 Android or iOS compatible
The stainless steel Galaxy Watch Active2 pairs seamlessly with Android devices while the aluminum watch pairs with Android and iOS compatible devices.⁹

1 This device and related software are not intended for use in the diagnosis of disease or other conditions, or in the cure, mitigation, treatment or prevention of disease.
2 Must be a resident of 50 US/DC (excluding AK/HI) & at least 18 years old. This Offer is available only at participating retail locations. Call Samsung customer support if you have any questions 1-866-888-5503. Between 9/6/19 and 9/26/19, pre-order or purchase (at full retail price), from a participating Costco, Best Buy, B&H Photo Video, Curacao, Electronic Express, Microsoft Stores, Nebraska Furniture Mart, PC Richards, Walmart, Samsung.com, Amazon.com, or Newegg.com a qualifying Samsung Galaxy Watch Active2 device and follow instructions at samsungpromotions.com/GWA2 to submit an Offer Claim Form and valid receipt by 10/24/19 at 11:59:59 PM ET. The following devices are not eligible for this offer: SM-R825USKAXAR, SM-R825USSAXAR, SM-R825USDAXAR, SM-R835USKAXAR, SM-R835USSAXAR, SM-R835USDAXAR. Subject to Offer claim submission and verification, participant will be sent a free Samsung Wireless Charger Portable Battery (silver EB – u1200CSELUS) (approx. value $59.99) (an "Offer Item"), while supplies last.  No more than 10,000 Offer Items will be available. Samsung reserves the right to substitute an Offer Item for another item of equal or greater value in the event of item unavailability. Offer Items will be mailed approx. 12 weeks after verification. Limit one (1) Offer Item per qualifying purchase. Offer is non-transferrable. This Offer may not be combined with any other offer, discount, or rebate. Additional restrictions apply. Offer subject to additional terms here. Samsung reserves the right to modify or discontinue offer at any time by posting notice on the app or website.

3 Availability of the Under Armour Edition may vary by country.
4 44mm version lasts longer than 40mm version. Average expected performance based on typical use. Results may vary.
5 Works with Qi compatible Samsung devices (compatibility with non-Samsung Qi devices not guaranteed); speed and power efficiency of charge varies by device.
⁶ 4G LTE standalone connectivity only available on Samsung Galaxy Watch Active2 LTE version. Standalone voice calling on LTE version requires initial pairing with eligible Samsung Galaxy device and separate qualifying wireless plan. Your carrier may not support standalone voice calling, or support may be available only in certain areas. Please check with your carrier for more information regarding wireless service plan for cellular service. Standalone functionality limited if paired phone is not powered on or connected to a wireless network.
⁷ Samsung Pay is not available on iOS smartphones. After initial setup, Samsung Pay on Galaxy Watch Active2 can make at least five transactions without reconnecting to a network. Samsung Pay on Galaxy Watch Active2 requires network connection through LTE or Wi-Fi or via Bluetooth pairing with compatible smartphone. Samsung Pay on the Galaxy Watch Active2 is only compatible with select cards, carriers, and Samsung devices and non-Samsung Android phones. Samsung Pay on the Galaxy Watch Active2 is compatible only with NFC-type payment terminals.
⁸ Most Bixby voice functionality requires LTE or Bluetooth connection to a phone. LTE version requires initial set up for standalone use.

⁹ Compatible with select Bluetooth-capable smartphones. Galaxy Watch Active2-supported features may vary by carrier and compatible device. For a list of compatible smartphones and features, please visit https://www.samsung.com/galaxywatch/device-compatibility. For best results, connect with compatible Samsung Galaxy smartphones.