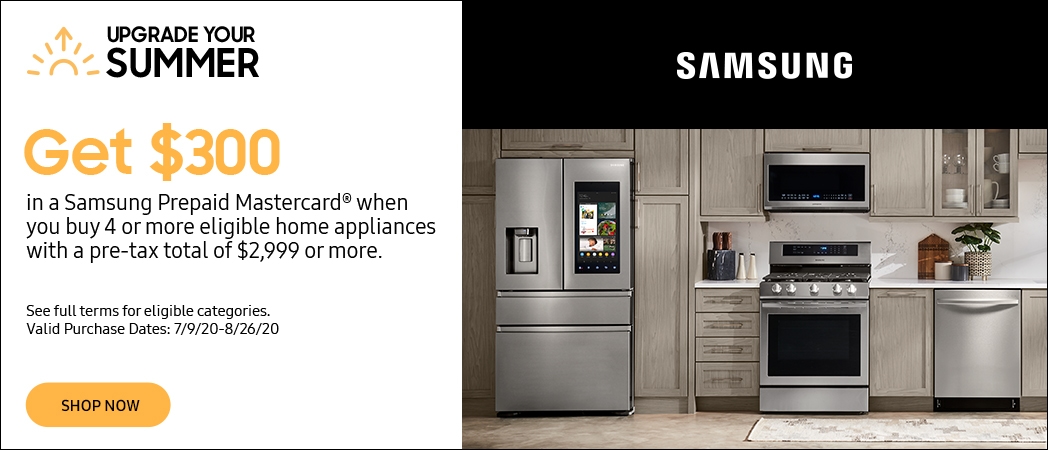 Samsung Summer Home Appliance Package Promotion
Valid Purchase Dates: 07/09/2020 - 08/26/2020
Get a $300 Samsung Prepaid Mastercard® when you purchase an appliance suite of four (4) or more different Samsung products, $2,999 or more (pre tax), from eligible categories ¹⁴.

Frequently Asked Questions
Do I have an eligible purchase?

When can I expect my Prepaid Mastercard®?

How do I redeem this offer?

Can I submit for more than one qualifying purchase?

I bought the Samsung Appliance Products from a non-participating retailer, am I eligible for this Offer?

I previously bought qualifying products in one single transaction from a participating retailer, can I still participate in this Offer?

What information do I need to submit?

Where do I find serial numbers on my home appliance?

I lost my receipt/proof of purchase to the qualifying home appliance purchase; can I still participate?

What happens if I don't submit my information online by November 24, 2020?

What do I do if I get the error message "Invalid Serial Number" when inputting my serial number for my home appliance?

What happens if I'm having problems submitting my claim?

How can I check the status of my claim?

I submitted my information but I haven't gotten an email confirmation in 5 business days. What do I do?

What is my course of action if I am rejected?
SEE MORE
Need help?

Start a live chat
Text chat with an agent right now, 24/7.

Check gift status

Give us a call
1-866-888-5503

Monday - Friday: 8:00 a.m. - 12:00 a.m. ET
Saturday - Sunday: 9:00 a.m. - 12:00 a.m. ET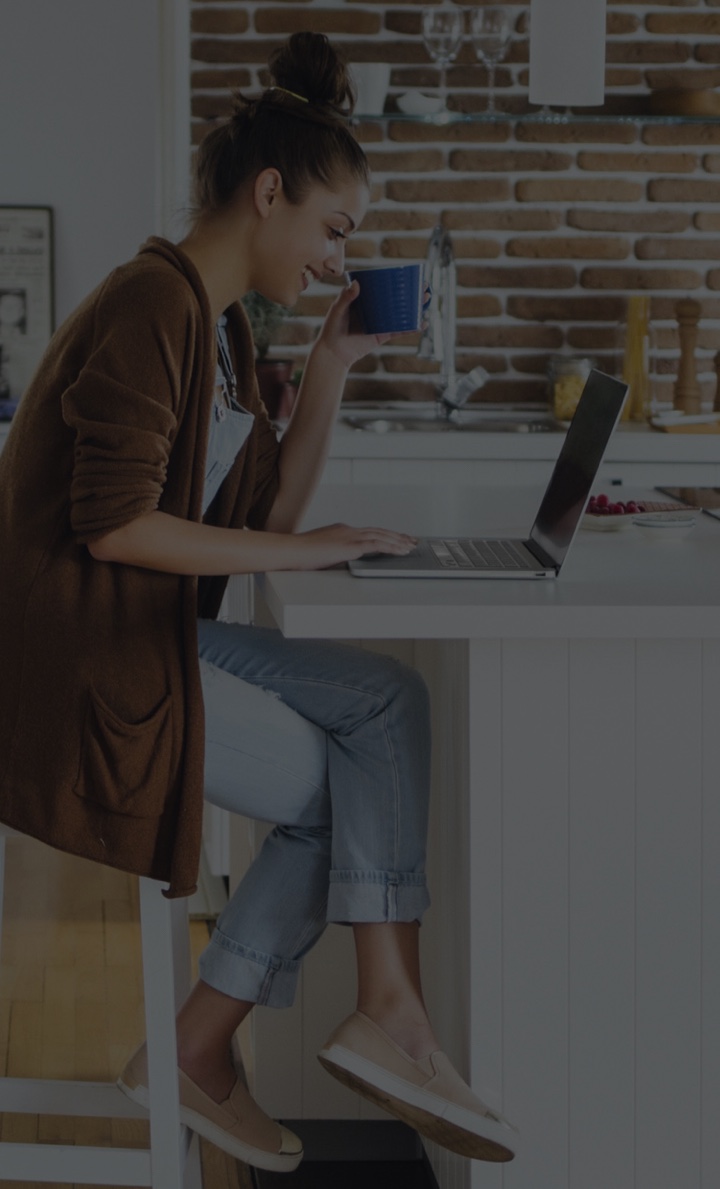 ¹⁴ After submitting valid Offer Claim Form and receipt. ALL appliances must be purchased in the same transaction (i.e., can purchase one [1] eligible Built-In Wall Oven, one [1] eligible Cooktop, one [1] eligible Washer and one [1] eligible Dyer). This offer is only valid on purchases made from A&A Quality Appliance, ABC Warehouse, ABT Electronics, Cowboy Maloney Appliance, Electronic Express, Interbond Corp of America (BrandsMart), La Curacao, Nebraska Furniture Mart, P.C. Richard & Son, R.C. Wiley, and Warehouse Discount Center. Offer claim form must be submitted online or postmarked by November 24, 2020 and received by October 1, 2020. While supplies last. Limited quantities available.